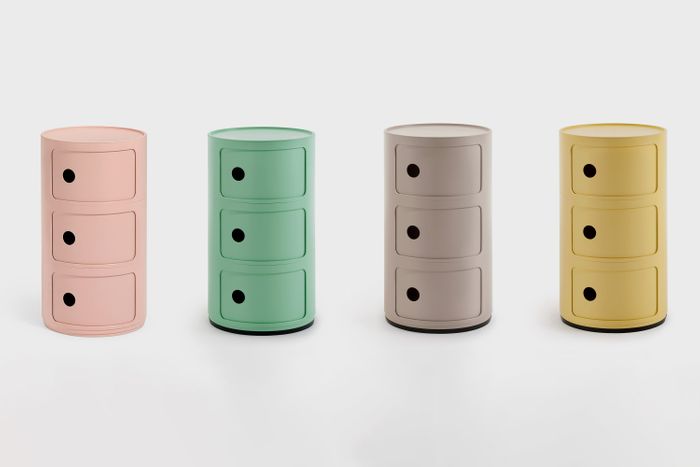 Photo: Courtesy of MoMA Design Store
When the furniture company Kartell introduced the Componibili to American audiences via MoMA's 1972 exhibition about Italian design, it was also displayed at Bloomingdale's, where it was arranged in the shape of the New York City skyline. The stackable cylindrical storage system, which its designer, the architect Anna Castelli Ferrieri, debuted at the 1967 Milan Furniture Fair, was created specifically for people who live in cities and has since become a go-to product for anyone who wants a good-looking way to hide all of their not-so-good-looking stuff. The Componibili has been perennially popular for Kartell (which has sold over 10 million units) and has been adapted over the years in different colors and shapes.
Most furniture in the postwar era was designed for specific uses and for specific rooms, but the Componibili was meant to fit in anywhere and could be used for anything. Today, you'll find it used as a bathroom cabinet, a bedside table, a catchall for kids' toys, or as bait for interior-design influencers. The ever-morphing abilities of the product led MoMA's design curator Paola Antonelli to describe it as a "tiny metabolist-style architectural construction." Now it comes in a more environmentally friendly bioplastic version, which just went on sale at the MoMA Design Store. Developed with Bio-on, an Italian manufacturer of plant-derived bioplastics, this iteration of the Componibili comes in four pastel colors — pink, cream, yellow, and green — that are made with water-based dyes.
This is both a departure from and a continuation of Kartell's vision of plastics in our future. In 1949, when Castelli Ferrieri and her husband, Giulio Castelli, a chemical engineer, founded Kartell, plastic was still one of those revolutionary wonder materials. And the Componibili was one of the first products Kartell made using ABS, an ultrastrong type of plastic (the same that's used in LEGO bricks) that hadn't been used for mass-produced furniture before. Castelli Ferrieri believed she was changing the world with this application of the material and that artificial materials contained "much more hope than natural materials, which end up dying."
Today, of course, plastic's reputation has changed. It's at the center of an environmental catastrophe of epic proportions due to the material's ubiquity and near inability to degrade. The manufacturers of plastic products are facing a reckoning of sorts — or at least are trying to wipe their consciences clean — and are trying to find more environmentally friendly alternatives to the petroleum-based material, Kartell included. Bioplastics have become one solution, though the claims of its eco-friendliness ought to be treated with skepticism: There's still a lot of carbon involved in bioplastic production, and the materials don't actually degrade unless industrial composting is involved. Plus, recycling doesn't really keep that much plastic out of landfills. (The most environmentally friendly furniture is what you can buy secondhand.) That said, the material invention in this latest iteration of the Componibili represents the same spirit that Castelli Ferrieri had when she first created the design. It might be near impossible to score a vintage Componibili, but this could be the next best thing.
Kartell Bio Componibili 3-Tier Storage, $290 ($232 for MoMA members), store.moma.org