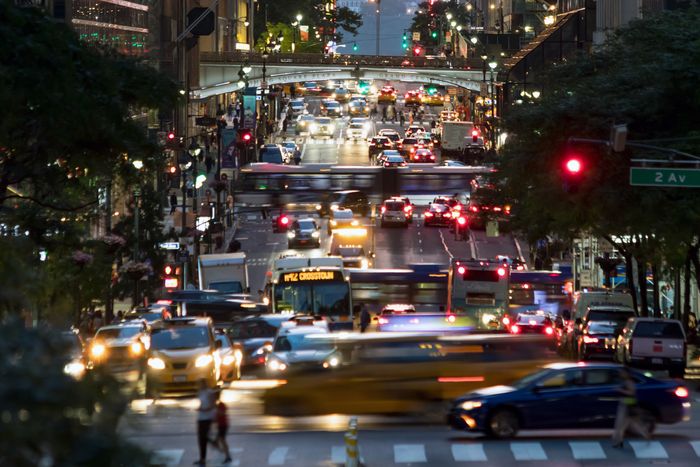 Quick, before the traffic comes back.
Photo: deberarr/Getty Images/iStockphoto
Almost a year ago, transportation planners looked out at a city void of commuters, wondering about the fate of the congestion-pricing proposal that would have, under vastly different circumstances, also reduced the number of cars in New York City. As that figure crept back up to normal — by October 2020, travel on bridges and tunnels was at 90 percent of pre-pandemic levels — it seemed increasingly unlikely that the city would move forward with any car-mitigation proposal amid the pandemic, with newly minted drivers hoping to protect themselves from COVID-19 swamping New York in apocalypse-grade rush-hour traffic. At Thursday's MTA board meeting, chief development officer Janno Lieber confirmed that not only was the city's congestion-pricing plan still on, it would be getting a boost by Transportation Secretary Pete Buttigieg — who is granting the approval that had stalled owing to inaction by the Trump administration.
"In recent weeks we've heard from the Federal Highway Administration that they are going to fast-track our environmental process," Lieber said. The city's pricing plan, which was authorized in 2019 by a state budget agreement, would bring in more than $1 billion per year for the MTA's capital plan by tolling drivers to access more heavily trafficked parts of the city during certain times of day.
The new USDOT leadership could not only accelerate New York's plan but also give it more punch. Since all congestion-pricing plans on federal roads (which includes parts of the highways ringing the Manhattan shoreline as well as a section of Canal Street) must get federal approval through the USDOT program — called the Value Pricing Pilot Program, or VPPP — Buttigieg's team has the authority to adjust its stated goals. That means he can declare that the program is intended to reduce not just traffic but also emissions. "If all we do is make morning commutes a little faster, it doesn't accomplish everything we want to achieve," says Amy Turner, senior fellow at Columbia's Sabin Center for Climate Change Law, "so it makes sense for the federal government to change the goals of the program. What DOT could do is redefine what congestion pricing means."
That would also bring the program more in alignment with Buttigieg's vision of achieving environmental justice through transportation projects. The department's new language in its INFRA grant application, published last week, calls for projects that "explicitly address climate change and racial equity" through strategies like greenhouse-gas reduction and incentivizing less driving. While improved air quality is a byproduct of congestion pricing (fewer cars equals fewer emissions), a purposeful shift in the federal program's focus could not only discourage vehicle use on certain roads but also work actively to reverse vehicular impact on local communities. That could also potentially address some of the equity concerns that have been raised to ensure that certain groups, like New Yorkers who rely on cars for work, would not pay more than their share of tolls. If this is all done right, it'll keep low-income neighborhoods from being filled with exhaust fumes without strangling the ability to make a living there.
With the economy starting to reopen in earnest, we're already way behind schedule. New York's program to begin charging drivers to enter Manhattan below 60th Street was supposed to start in early 2021. Even with the Trump hurdle out of the way, the "fast track" environmental review might still take months, and then there's the infrastructure like cameras and signage to install, plus the software that charges drivers. From the time federal approval is complete, it could still be "roughly a year," Lieber said at a Manhattan Institute event in July 2020. In the meantime, however, the congestion-pricing green light is among several recent pieces of good news for the financially desperate MTA. Last month, a planned fare hike was postponed after the agency learned that it would receive a much-needed burst of funding, potentially as much as $8 billion, from the latest pandemic relief bill. With study after study confirming that the risk of viral transmission is low on mass transit, the subway finally resuming almost-all-night service, and scooters soon to join the city's bike shares, New Yorkers may find it ever easier to leave the car behind.