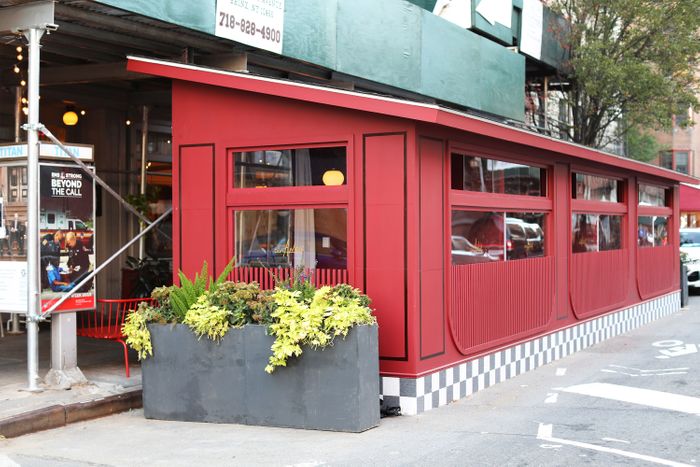 The Greenpoint-based design firm GRT Architects has made a name for itself by designing restaurants for celebrity chefs, jaw-dropping homes in the Hudson Valley, and extremely gorgeous renovations of Brooklyn row houses. And now, streeteries.
"We get bigger every year, and it becomes harder to take on small projects, which we miss," says Rustam-Marc Mehta, who cofounded GRT in 2014 with Tal Schori. "It's fun to be hands on and quick."
The firm isn't setting out to be the studio of streeteries, but so far it's created some of the city's nicest — and coziest — ones, like the outdoor spots for Don Angie in the West Village, COTE Korean Steakhouse in Flatiron, and Quality Eats restaurants all across the city.
Before streeteries was even a word, GRT reached out to its clients offering pro-bono help when the pandemic hit. It started out with a few fairly simple projects: They helped a bakery transition to become more of a grocery store and consulted restaurants and cafés. They made sketches indicating possibilites for taking advantage of outdoor spaces — like sidewalks and parking spots — for outdoor dining long before the city offered any guidelines. Then came the outdoor dining areas.
These aren't money-making projects for the firm — GRT just breaks even and they only account for five percent of its business — but they have become ways to have instant gratification when it comes to experimentation. While a typical build-out might take years to complete, these are done in just a couple of weeks. But with that comes a lot of creative opportunity.
"No one is pointing to something on Pinterest and saying, 'This is what we want,' Mehta says. "We're inventing something new."
Here's how they're trying to do just that for three businesses.
Don Angie
The West Village Italian restaurant Don Angie was GRT's first client to go all in on a cold-weather streetery. The owners predicted that COVID would be around for a while and were willing to gamble that these would be needed a lot longer than the city had initially stated. And a well-executed design could help nudge the city along, too.
"Something Don Angie identified, and that we were part of, is that streeteries are part of a self-reflexive system," Mehta says. "If they aren't dangerous and don't look terrible, there's a greater chance of them becoming a long-term part of the city. If they're a nuisance, no one will like the tradeoff of a parking space."
The design riffs on the restaurant, which GRT designed back in 2017, from the brick-red color to the rounded windows with stripes painted on the bottom half. The pendant lights are the Estee design from Hudson Valley Lighting — a quick-ship product they didn't have to wait long to source. The streetery is built just like an ordinary structure, with two-by-four framing and spray-foam insulation within the walls to buffer street noise and help keep the booths warm. Below the main wall panels, the firm applied durable linoleum from Canal Rubber in a checkerboard pattern as a way to protect the base of the streetery from snow, rain, and wear and tear, and used the same material for the interior flooring.
Quality Eats, Upper East Side
GRT has designed four streeteries for Quality Eats's restaurants in New York City and in Denver. The basic idea for these structures is similar to Don Angie: private booths in a structure that feels like an outdoor extension of the restaurant, with Robin's Egg blue paint, naturally finished wood seating, and pendant lights hanging above the table. "We do feel like these are naturally safer for the diners and servers," Mehta says. "Only a single party of diners shares the same atmosphere, and the server never has to step inside."
Doing so many spaces for the restaurant taught the firm how to make construction more efficient, like making sure all materials are available at the nearest big-box construction supply store, and visiting the site during construction. "Speed is such a requirement with these build-outs," Schori says."With every single one of these streeteries, once framing is up, restaurants seat people under the 2x4s." It's also led them to improve the function of the structure, like designing a small grate where the floor meets the curb (it's flush) so that rainwater drains and doesn't flow into the booths.
Cote
When GRT began working on the design for Cote's streetery in December, there was rising public concern about the safety of outdoor dining. Were these spaces actually safe, or just indoor dining happening at the curb? "We had conversations with the owners on how to make the streetery safe and how to advertise the safeness, to a certain degree," Tal says. The very visible exhaust fans accomplished that. Making streetery infrastructure obvious has also been a request of other clients. While GRT usually installs heaters underneath tables and seating — an effective way to warm the space since heat rises — some clients have requested additional overhead heaters so that customers can immediately see them.
Meanwhile, cold-weather streeteries were all starting to look the same and the designers wanted to do something different with the pitch of the roof (it's more like a gable than a shed) and the exterior finishes to separate Cote from the pack. The designers wrapped the outside in asphalt roofing paper instead of just painting the wood structure, which was an affordable and unexpected way to riff on the dark, moody interior of the restaurant. From afar, it looks like a cozy charred-wood cabin, complete with porthole windows.
"With every successive streetery, we're trying to figure out how to have a unique identity in its form, colors, and decoration," Schori says.
Inside, GRT installed plexi-glass windows between the enclosed booths as a way to make the experience feel even more like dining out in normal times, but in a safer way. "It's this sense of eating among people, which is one part of restaurants that is the most fun in New York City," Schori says.