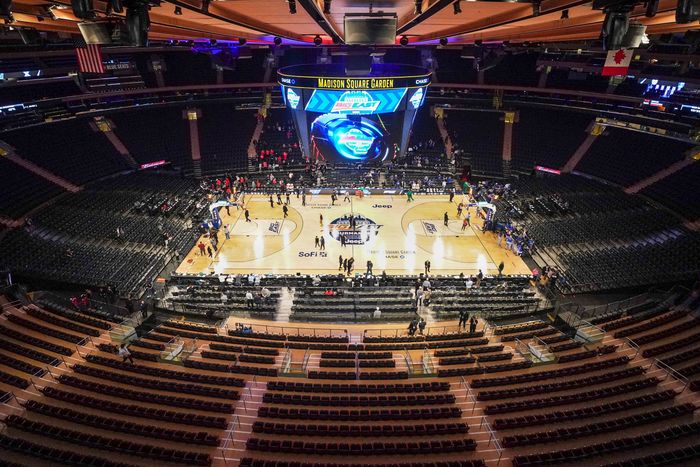 Photo: Porter Binks/Getty Images
If one of your biggest pandemic sacrifices was no longer being able to sit in a billion-dollar taxpayer-funded arena as implausibly tall humans try to toss an orange ball into a small hoop, you're in luck. Governor Andrew Cuomo announced Wednesday that sporting venues can soon reopen at 10 percent capacity on February 23. The Knicks and Nets each take the court that night, in the first sporting events in the city played in front of fans since the Big East basketball tournament last March. With the seven-day COVID positivity rate down to 5 percent, Cuomo is lifting many of the restrictions that helped bring case numbers down in the first place, including the ban on indoor dining, paradoxically because they're starting to work.
As Yankee Stadium and Citi Field are being used as vaccination sites while baseball is still dormant, Barclays Center and Madison Square Garden will be allowed to host about 2,000 fans to see the three New York teams (Knicks, Nets, and Rangers) whose sports are in season. Those ticket holders will each have to wear a mask and test negative for COVID-19 within 72 hours of the start of the game, because as Cuomo told The Wall Street Journal, "If you're negative, you're negative" — bulletproof logic that was also infamously embraced by the Trump White House. The NFL allowed about 38 percent capacity at the Super Bowl in the outdoors Raymond James Stadium and required fans to wear masks, but not to produce a negative test.
Cuomo is hoping that the two baseball stadiums will get to a point where 3,000 vaccinations are administered at each site daily, but for now the pace is much slower. As of Wednesday, Citi Field only had 800 doses for the rest of the week, and Yankee Stadium is delivering about 2,200 doses daily. If the full 2,000 fans attend each basketball or hockey match, it's conceivable that the two indoor arenas may be exposing more people to the virus on a given game day than the two baseball stadiums are vaccinating.