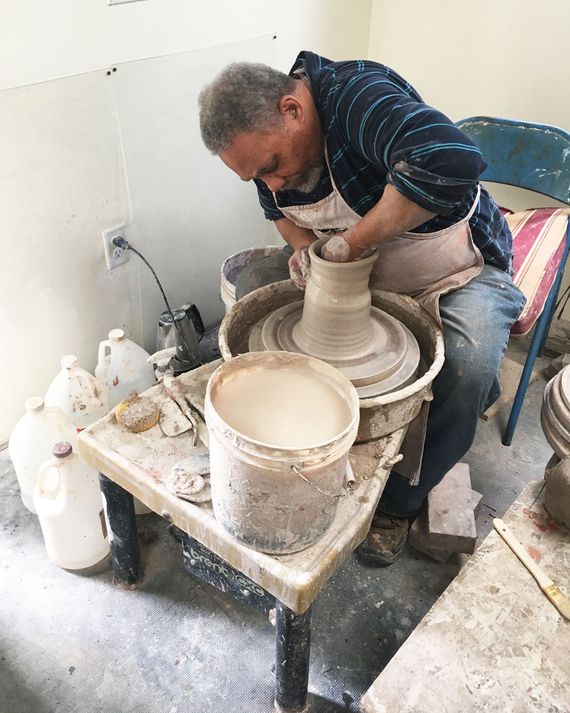 "I have five-gallon buckets of clay when I am making pots," Jim McDowell says, "and the slop I put in the buckets — now, the old-timers used to spit tobacco juice. I don't do that." He laughs. "I just pour apple-cider vinegar."
Photo: Jan Fisher
Face jugs have a long history, going back to generations of enslaved people who created pottery with a spiritual purpose. Ceramicist Jim McDowell continues this tradition with his own work. He tells me his ancestors "amalgamated three religions: ancestor worship in Africa, voodoo in the islands, and Christianity," and face jugs were a part of that. Because enslaved people were not permitted to have headstones, ceramics were often used to mark their graves; placing a face jug there served double duty. "They were so ugly they would scare the devil away from your grave so your soul could go to heaven," McDowell says. And when installed near the house of the living, they could ward off evil.
Gallerist Alex Tieghi-Walker introduced us; he discovered McDowell on Instagram about a year ago. McDowell lives in Weaverville, North Carolina, with his wife, Jan, and they spoke with me about the art of this tradition.
McDowell was born in Norfolk, Virginia, and grew up in Washington, D.C. His father, James T. McDowell, was a Navy man and an artist and was known to the family as Ol'Pa. The McDowells have many of Ol'Pa's paintings in their art-filled home.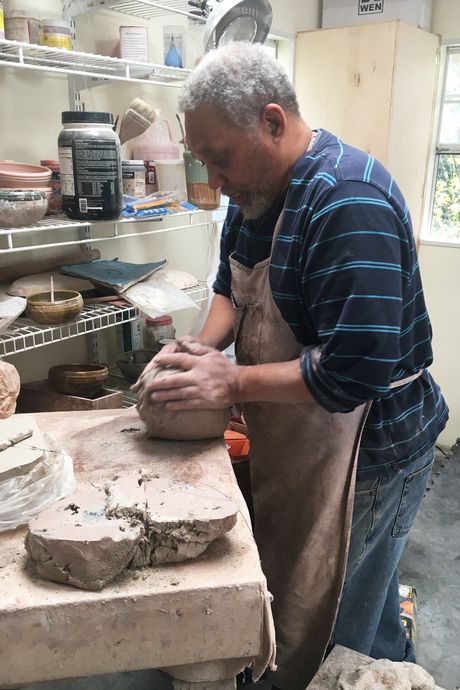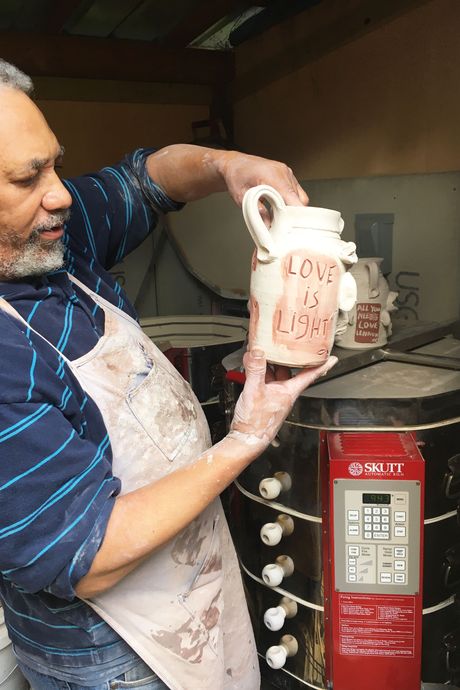 He learned to use a potter's wheel when he was in the Army stationed near Nuremberg, Germany, in the late '60s. But even before then, he claims, "when I was 18 months old, I was in the sandbox playing with a substance that I thought was clay; it had a smell to it, and I liked it. And that stayed with me." He starts laughing, perhaps thinking that it might sound odd to recall such an early memory, yet the work McDowell is now gaining fame for speaks to a blood memory that goes back over centuries. McDowell's grandfather Boyce McDowell told him that his great, great, great, great grandmother Evangeline was a potter when she was enslaved in Jamaica.
McDowell's personal path to working in clay began 35 years ago and really took off after he enrolled in a workshop with the potter David Robinson in Weare, New Hampshire. As McDowell explains on his website, he will often write on his face jugs to honor the bravery of the slave and potter David Drake, who was not only literate but signed his name on the pottery he created.