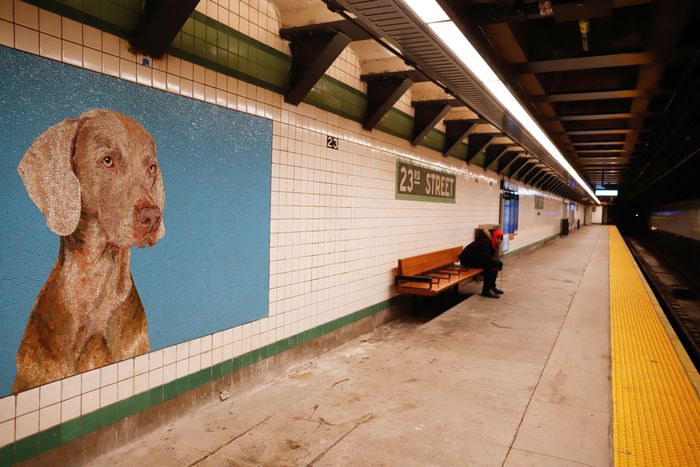 A bench at the 23rd Street station on the F/M line before it was temporarily removed by the MTA.
Photo: Vanessa Carvalho/Shutterstock
The subway benches are back — or at least some of them are. Less than a week after the MTA tweeted that benches were removed from the 23rd Street station on the F/M line "to prevent the homeless from sleeping on them" — and subsequently caught the ire of the internet — the agency has put them back. Representatives for the MTA insist that the since-deleted tweet was "posted in error," but has refused to say how many benches it's removed systemwide and exactly why. The official word is that the 23rd Street seats were being "deep cleaned and disinfected due to an unsanitary condition," according to the agency's communication director Tim Minton. He added that the city is "facing a mental health and housing crisis that has been exacerbated by the pandemic and we continue to urgently call for more resources so that vulnerable New Yorkers have access to the services they need and deserve."
Hard to argue with that. But the transit agency has also openly discouraged homeless New Yorkers from spending the night in the system — and it has embraced hostile architecture to do it. Last February, the MTA removed the backs of subway benches to stop people from sleeping in its stations, and when the agency overhauled a handful of stops in 2017, it introduced "leaning bars" — slats of wood bolted down near walls — that were widely criticized on similar grounds. The benches that were reinstalled today are the familiar chunky wooden ones — which also have dividers that make it difficult to lie down — but they are, at least, a place to sit, no matter whether the sitter has a home to go to.