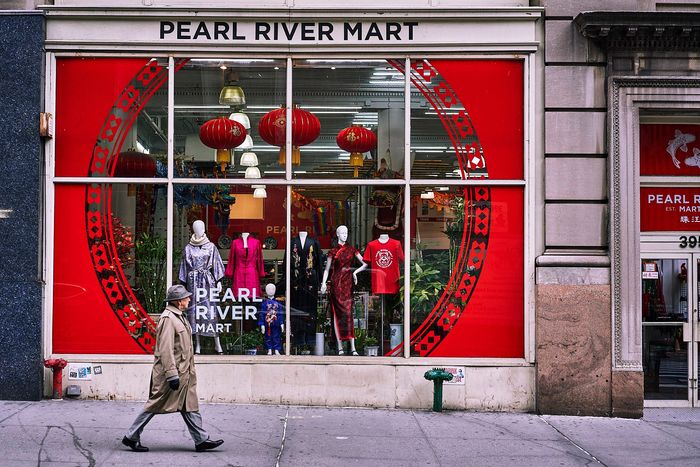 Photo: Courtesy of Pearl River Mart
Over its nearly 50 years in business, Pearl River Mart has survived fivefold rent hikes, five moves, and many moments when it seemed like New Yorkers would have to say good-bye. That includes last December, when the beloved Asian-goods store announced that it would close its main Tribeca location at 395 Broadway in the spring. And although Pearl River now has two smaller outposts, the news of the big store's closing felt like yet another dispiriting thud. But no: This week came the very welcome news that the flagship will return to Soho later this spring, at 452 Broadway.
Ming Yi Chen opened the shop in a sprawling space on Chinatown's Catherine Street in 1971, a year before President Richard Nixon's trip to China and the normalizing of trade relations that gradually followed. Chen, then a chemistry professor, became one of the first retailers in the country to import goods from mainland China, and Pearl River quickly became more than a shop: It was a gathering place for New York City's Asian communities, and eventually many others as well. Growing up in Astoria in the 1980s, Pearl River president Joanne Kwong (who is married to Chen's son Gene Hu) remembers taking the N or R train to the store on weekends with her parents. "Either Saturday or Sunday, you would always go to Chinatown either to get your food for the week or your eyeglasses, blue jeans, sneakers," she says. At Pearl River, her parents would stock up on Bee & Flower soap and pantry items like noodles and sauces; if she behaved well, she would also get candy. "Pearl River was a huge part of that tradition for a lot of Chinese Americans who grew up in the city," Kwong said — a tradition that many mourned last year when it looked like it would be lost.
The past few years' rising rents have been tough on Pearl River. In 2016, the Chens were forced to vacate their enormous store at 477 Broadway when their landlord suddenly boosted their monthly rent from $100,000 to more than $500,000 (the landlord denies having raised the rent by that amount). That's when Kwong (who was previously a communications VP at Barnard College) stepped in and began helping with the relocation to the current 7,000-square-foot Tribeca store as well as building a new strategy to strengthen their e-commerce operation and open smaller locations around town to avoid being "at the mercy of one landlord," Kwong says. Those included a food-focused mini-market at Chelsea Market and the shop at the Museum of Chinese in America.
It was all working, too: Both satellites were successful, and the Tribeca store was thriving, and a new events series — bringing everything from dumpling-making classes to art shows to the mezzanine — was taking off. Kwong had even been having conversations with the store's landlord about possibly lowering their rent in line with current trends. But then the pandemic hit, and Pearl River had to shut down, and things began to look grim. The company was able to get a PPP loan around the summer, but the lease continued to be a burden. That's when Kwong started to consider closing the main store indefinitely and keeping just the Chelsea Market outpost and the e-commerce operation going. (The MOCA shop closed along with the museum because of the pandemic.)
But as she looked for alternatives within a few blocks' radius of the Broadway store, Kwong found a more affordable option: a one-story 6,000-square-foot Soho space, just two blocks up from the Tribeca one. Kwong is trying to make sure that the new space has room for all of their inventory, plus the art gallery and other community programming that has quickly become a part of Pearl River's identity. She says that the store's finances are still touch and go. "As a small business, I think we are in limbo. We're just making decisions kind of like in a muddy puddle," she says. "But we're doing the best that we can." And here's a good sign: Usually the crowds at the store abate after the peak from Black Friday to Lunar New Year. This year, owing to the e-commerce boom, everything's still going strong.