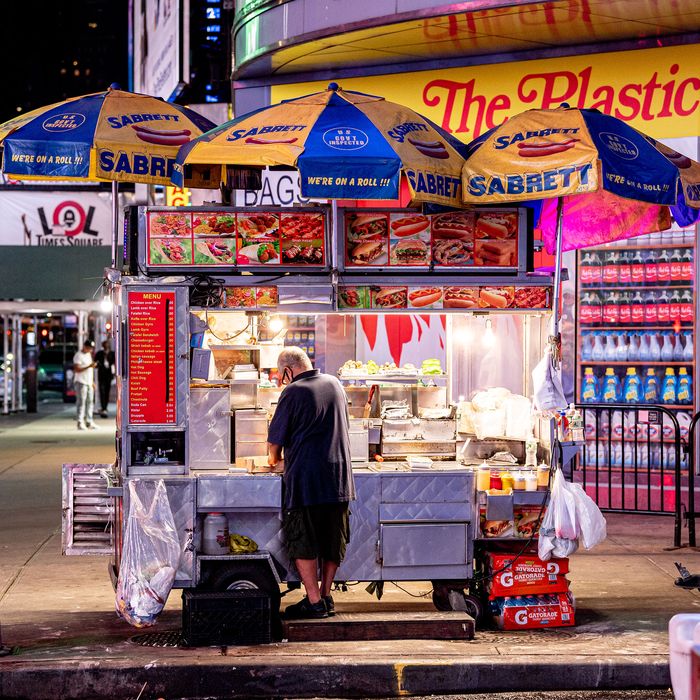 A hot-dog vendor in Times Square.
Photo: Roy Rochlin/Getty Images
Thousands of halal and hot-dog cart operators, taqueros, and tamal vendors finally got some relief in late January when the City Council passed a long-awaited overhaul to the street-vendor permit system. Starting next year, the law will create 4,000 new permits over the course of a decade. It will also create a dedicated civil enforcement unit within the Department of Consumer and Worker Protection, rather than relying on the NYPD. This brings an end to the 1980s cap that limited the number of permits to 3,000. No longer is it futile to dream of receiving a permit or of getting off the wait list that has been closed since 2007, which meant it was impossible to get one for the last 13 years.
There are a total of around 20,000 individual vendors in the city, according to the Street Vendor Project, and about half are unlicensed. These largely immigrant business owners have instead relied on an underground market to rent permits for as much as $10,000 a year, or face the police harassment and fines that come with operating without one. "Thousands of people who are dealing with the underground market [will now] save tens of thousands of dollars every year," says Mohamed Attia, director of the Street Vendor Project. "This legislation will basically reform the whole vending system and show that people can survive and thrive as street vendors in New York City."
We spoke to four vendors about their experiences navigating the outdated street-vending system and what reform means for their futures.
Narcisa Cárdenas
From: Riobamba, Ecuador
Her specialty: Ecuadorian food — papas con cuero, guatita, ceviche — from a food cart on Roosevelt Avenue in Queens
How long she's been in business: Seven years.
Total spent on permit rent: Approximately $140,000
Because of the pandemic, we're only working on the weekends from 6 a.m until 4 or 5 p.m., because we don't make enough during the week to be able to work every day. I just help my business partner, and with what he pays me, I try to make ends meet, and I work at another place to be able to survive — I clean homes.
We rented a license on the underground market for about $25,000 every two years, and now with this situation that we're going through with the pandemic, it is so hard for us to have that kind of money. The lady who used to rent it to us passed away, and then people wanted to charge us between $22,000 and $25,000, and we can't pay that right now. Sometimes they want to get $500 per week — but then what would we be left with? We would be left with nothing.
I'm so happy knowing that now we'll be able to have our own permit. Before, the little we used to make in sales would go to that.
Hui Jun Wang
From: China's Henan province
Her specialty: Barbecue skewers in Flushing, Queens.
How long she's been in business: 14 years
Recent venture: A brick-and-mortar Chinese barbecue restaurant
Total spent on permit rent: Approximately $280,000
Part of the reason I wanted to start the restaurant is because I didn't want to pay for the permit anymore. Before the pandemic, the restaurant was doing really well because someone wrote about it, and a lot of people started going there. Things were looking up! But then the pandemic hit. There was not a lot of business even back in the summer; we were back on the streets [with our food cart] for a few months and stopped again in the winter. We are now running the food cart sporadically — we have to survive, and this is our only source of income.
I have two sons and they help out with the truck, and they also don't speak a lot of English. One time in 2016, the police came, and they made them move; they took our permit, and they harassed them. So then we had to find another permit to be able to operate. It was really traumatizing for one of my sons who was working there that day; he would have nightmares for a long time afterward because of the harassment. Another time, in 2018, my sons were on a different street and an officer came and told them they needed to move. Not knowing a lot of English, they were really scared, and they weren't given an explanation. We felt discriminated against.
Now, I'm really excited — and relieved, mostly — that the legislation has finally passed. I've been involved in the campaign to raise the cap for a while, so it's exciting to have a permit of my own.
Ahmed Mohsen
From: Alexandria, Egypt
His specialty: Halal food in midtown
How long he's been in business: Over ten years
Total spent on permit rent: $100,000
Before the pandemic, I worked with two people, but now I can't. I do everything by myself. I don't have any help now because I don't have enough money to pay them. I work five days a week. Before the pandemic, I'd work six or seven days a week. I work from 7 in the morning until 5 p.m. The business is too slow now. Aside from that, you always have a lot of problems in the street with the police, with the Health Department; people don't want you to work on the street, like some restaurant owners. Sometimes the police come for something like being too close to the crosswalk, because I work with a truck, and they give me a parking ticket.
With my own permit, I'm going to save a lot of money. We spend $20,000 or sometimes $22,000 just to rent a permit every two years. Maybe in the future I'll even be able to open my own restaurant.
Sonia Pérez
From: Morelos, Mexico
Her specialty: Tamales from a grocery-store cart in Bushwick
How long she has been in business: 20 years
Time on permit wait list: 13 years
Before the pandemic, I would work six days a week. I started cooking from 9 p.m. to 3 a.m. to leave [the house] at 6 a.m., and I'd be back at 12 p.m. But now, I haven't really been able to work. I tried in October, but sales were bad, and I am diabetic, so it's a risk. I haven't had any economic support during the pandemic because us immigrants have been excluded.
I've had several situations with the police, but there's one that I remember the most, which was very stressful for me and for my two daughters who were there that day. It was three years ago. The police came; I had a license to be on the street [from the Department of Health] with the food inside a grocery cart, and they said I couldn't be there, that it wasn't legal, and that I had to move. They said I could get a $25,000 or $50,000 ticket, which I couldn't have paid with my life. It was very distressing. They said I had to move and that if they came back and saw me there that they could arrest me and throw my things away. My daughters were really scared and said, "Mom, let's just leave," so we did. I've had to witness similar situations with fellow vendors in the area — how their things are thrown to the floor, how they're arrested. And as much as you'd want to help, you can't because you're scared that you could also be arrested.
It would be a blessing to get a permit — I could even help other people, hire them to work with me and help my own community.