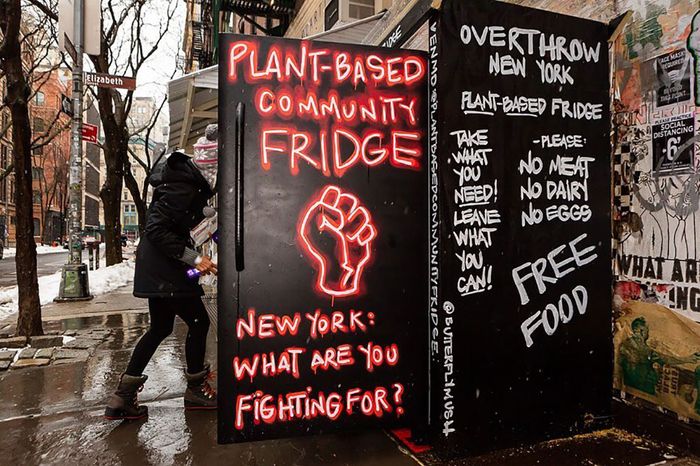 Photo: @Mikiodo, Courtesy of Overthrow Community Fridge
At the Overthrow Boxing Club on Bleecker Street, you won't see the next Rocky Balboa chugging raw eggs or pummeling sides of beef. The club's fighting spirit is less Stallone and more Kaepernick: The Club hosts the Transgender Boxing Collective, teaches people battling Parkinson's disease how to throw a punch, and has sessions on healthy eating for kids. And as of last week, there's also a plywood-covered black refrigerator out front with the gym's tagline, NEW YORK: WHAT ARE YOU FIGHTING FOR?, painted in bright red along the side. While community fridges have become a common sight since the beginning of the pandemic, Overthrow's stands out: It's the city's first fully vegan one.
Pugilism and red meat go way back, and a boxing gym that sponsors a vegan fridge may sound a little like a Portlandia gag. But it makes a lot of sense, too. The club is devoted to athleticism, not merely fighting; lean protein, we've all been told, is a route to muscle bulk. (Besides, it's on the edge of the East Village, still a place where you might spot a Meat Is Murder sign.) The idea for the fridge started last spring, when the gym's community programmer, Power Malu, joined a group of Lower East Side volunteers delivering meals and saw how the food essentially consisted of "mashed together meat, basically scraps," he says. He wanted to offer healthier food to his neighbors, and for free. In the week since it was installed, around 500 people have stopped by either to take or donate fresh veggies and fruits. There's also a wooden bookshelf-shaped pantry next to the fridge filled with items like lentils, rice, and vegan hot chocolate. Other groups have chipped in to keep the fridge going, like Eloisa Trinidad, director of the vegan meal-share program Chilis on Wheels, as well as groups including the Vegan Activist Alliance, and Hip Hop Is Green.
But who makes sure no errant mac 'n' cheese boxes or eggy baked goods get mixed into the supply? If someone happens to miss the "PLANT-BASED FRIDGE" sign or the giant "NO MEAT, NO DAIRY, NO EGGS" text on the side of the fridge in thick white letters, it's all right. Malu and others from the gym regularly check the contents. And if a non-vegan product does slip in, Overthrow donates it to another neighborhood food organization.
But ultimately Malu doesn't see animal products showing up being much of a problem. "We don't foresee it happening because we are building community around this fridge," he said. There will always be someone around looking to engage passersby, answering questions about veganism and the benefits of plant-based eating. "We have other people within the community that are looking out for it."