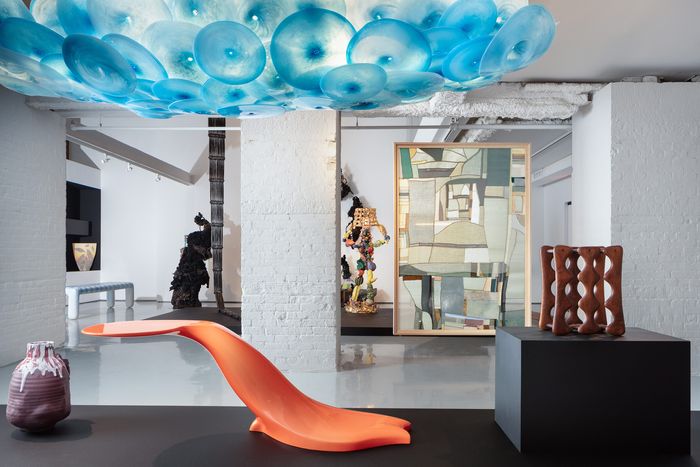 Objects USA: 2020
at R & Company shows the work of modern and contemporary collectible design.
Photo: Joe Kramm, Courtesy of R & Company
From time to time, I'll be sharing the objects (and the people who make them) that I'm particularly excited about, as well as noteworthy design news and goings-on.
Of the many things that I've missed during the pandemic, visiting gallery shows and exhibitions ranks toward the top of the list. And after a year of living through screens, seeing art and design in person has felt like I'm seeing the world anew. Here are a few recent openings that I've enjoyed.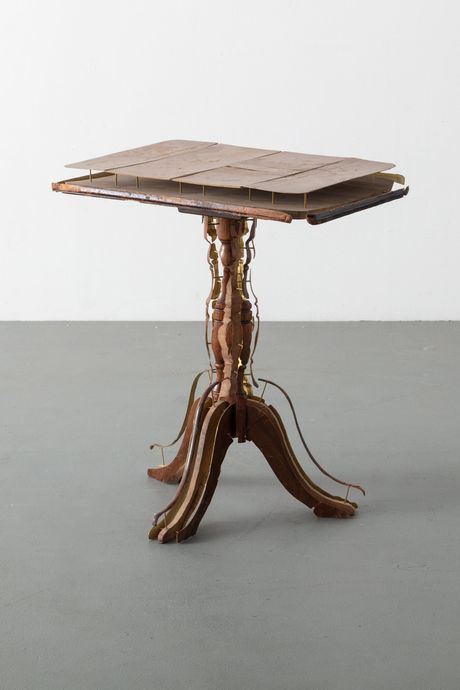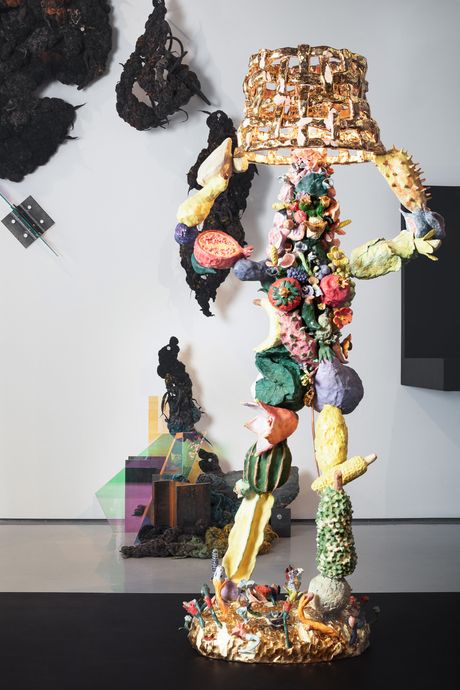 I was really looking forward to this Glenn Adamson, Evan Snyderman, James Zemaitis, and Abby Bangser-curated show, which revives the Smithsonian's 1969 exhibition Objects USA for our era. The 1969 show, a survey of contemporary studio craft and design across the country, was a defining exhibit of the post-war era that included work from George Nakashima, Anni Albers, and Wendell Castle — to name a few — and also helped to launch the careers of JB Blunk and Michelle Oka Doner.
This show includes many of their works, but also significantly expands the roster with many contemporary artists and many artists of color. I loved Joyce Lin's "Skinned Table" — a found object whose veneers have been peeled back, painted gold, and re-attached an inch or so from the surface, like an exploded diagram. Meanwhile, I could stare for hours at Katie Stout's "Fruit Lady Floor Lamp" (which is exactly, as the name suggests, a woman's figure composed of ceramic fruit) and never get bored. And don't miss the miniscule weed pots of Doyle Lane, a potter who was included in the original exhibition. The accompanying catalog, published by Monacelli Press, is one I'll be keeping on my bookshelf. Closing July 2021.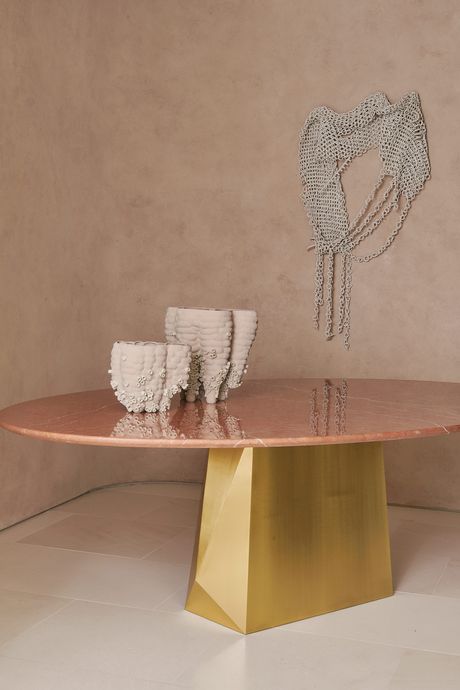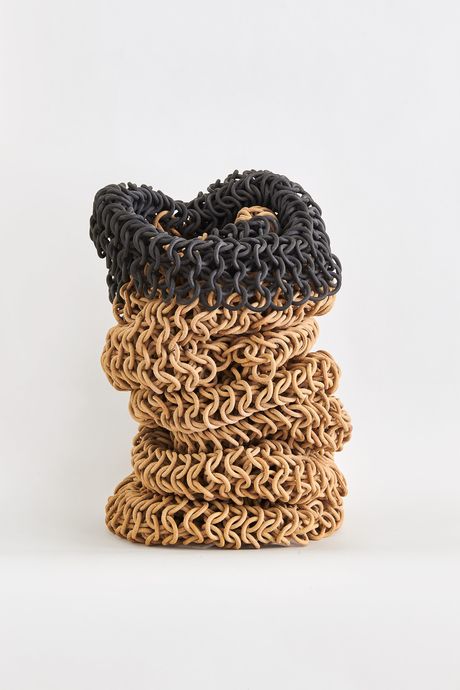 I'm always excited about the art shows that the design studio Egg Collective — founded by three women who have backgrounds in architecture, sculpture, and fine woodworking — curates in its showroom in Tribeca. The current show, organized by Tealia Ellis Ritter, is called "Support Systems," which is meant to be a "play on words for the specific need of support that both artists and society have felt so deeply during the pandemic." It includes the meticulous porcelain chainmail that Taylor Kibby turns into sculptures, ranging from slouchy ceramics that look as hard as metal to pieces that look as soft as textile weavings. Closes April 16.
Kristen Wentrcek and Andrew Zebulon's Immersive Crawl Space at Larrie
Walking inside Kristen Wentrcek and Andrew Zebulon's show, I felt as if I had wandered into a mad scientist's lab, which isn't too far off from how the two work: They apply a material used in one context to another and push it to its limit, encasing found industrial materials in urethane or stuffing them with fur. They sourced materials for the show from orthodontics and medical suppliers, gardening stores, eBay, and hardware stores. "We feel like a material or a texture or a scent can trigger reactions without you necessarily even knowing where they come from or why," Wentrcek and Zebulon explain.
Over the years, Wentrcek and Zebulon have moved between the worlds of furniture design, functional artwork, and art. So it's exciting to see them work in the context of an immersive show that contains all of those perspectives. Closing May 11.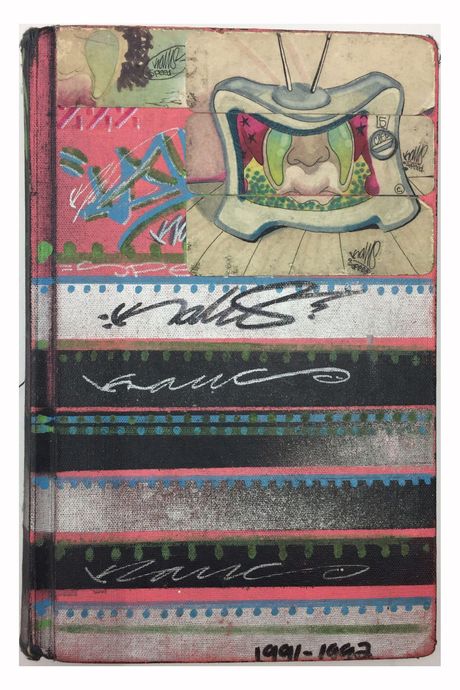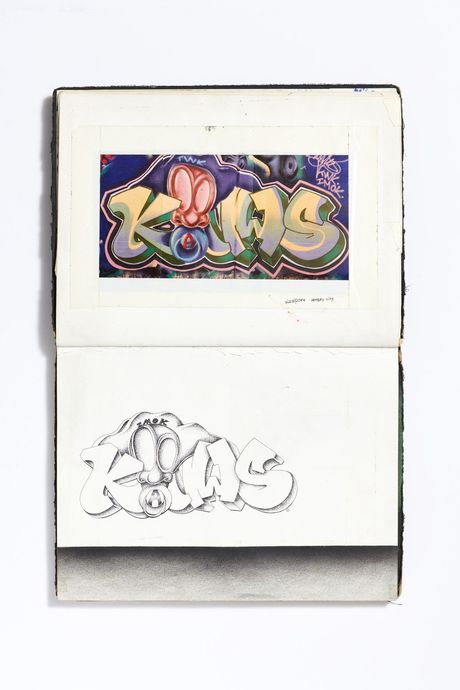 It's wild to see how Brian Donnelly (aka KAWS) went from tagging bus shelter ads on the sly to making 130-foot inflatable sculptures that tourists line up to see, through a 25-year arc laid out in a single show. There's a sense that the point of it all is really the gift shop — which is brimming with every kind of merchandise, from limited-edition toys and apparel to collectible plates, books, and more, and is placed in a soaring gallery. But also that the art establishment is finally taking him seriously, not just as an art market sensation. Of all the things in the survey, I enjoyed looking inside KAWS's early sketchbooks the most. I could see the evolution of his experiments with lettering, some of his early graffiti work that only exists in his personal photographs, and how he came up with his tag — all before he became famous. Closing September 5.
This crowdsourced "virtual archive built by everyone, about everyone, for everyone" has been one of my favorite recent Instagram follows. This month it's been sharing the work of Black designers like Reynold Ruffins, a partner at Push Pin (he illustrated a very heartwarming 1976 cover for Sesame Street magazine featuring Roosevelt Franklin drawing "I Love You" Valentine's); Pedro Bell, a designer who worked on album covers for Funkadelic; and Lisa Lyons, Dorothy Zellner, and Ruth Howard, the designers of the Black Panther Party's logo.