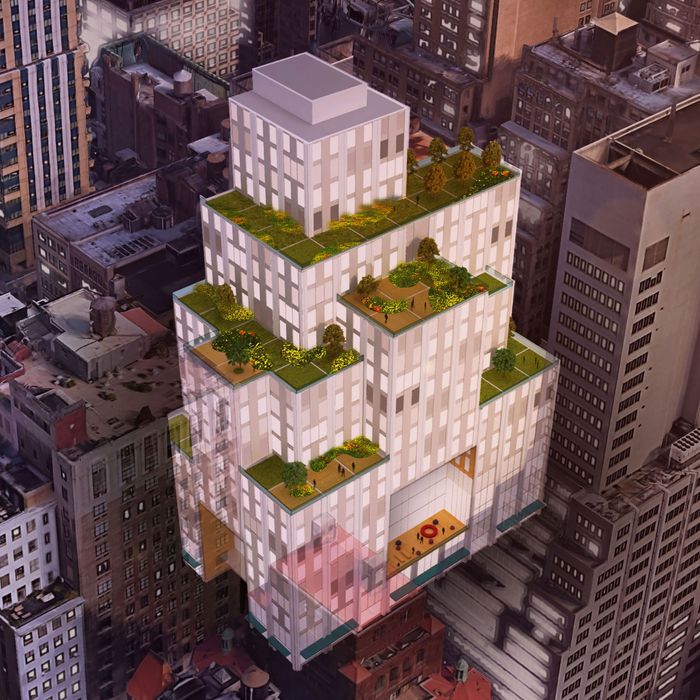 ARO reimagined 260 Madison Avenue for us.
Photo: Left: Google Maps, Right: Architecture Research Office
Even as a new herd of giraffe-like towers cranes over the midtown skyline and airy work dens keep popping up at the edges, a vast stash of 50- to 70-year-old modernist office buildings sits in Manhattan's wide midsection, begging for new purpose. Unglamorous and unloved, with low ceilings and leaky joints, many have let themselves go. Their air is stale, their elevators slow, their future murky.
When companies do trickle back to midtown, they may gravitate to younger, sleeker towers, leaving these buildings, long since demoted to Class B and C status, to struggle in a discombobulated market. The law of supply and demand presents an obvious solution: convert them to apartments, which are chronically scarce. That approach worked in the Financial District; a couple of decades ago, bankers and their families started moving into elegant masonry towers that their employers had abandoned. These days, much of the available workplace real estate has less intrinsic charm and could be commandeered for a less grandiose population — like, say, middle-class New Yorkers. A COVID-induced dip in real-estate prices has made New York a smidge cheaper around the edges, but the rent is still too damn high, leaving affordable housing in perpetual demand.
Governor Andrew Cuomo has floated the idea of turning Manhattan's stock of forlorn office buildings into a housing pipeline, mostly by allowing the state to pre-empt the city's zoning code. At first blush, this looks like an easy and obvious move: rip out some elevators, partition off cubicles, add some plumbing, and voilà. On second thought, it seems like a near-impossibility, since a fat building's deep interior, close to the mail room and far from the windows, would be too dark and airless for anyone to live in—either pleasantly or legally.
To see how cubicles and conference rooms might be magicked into kitchens and bedrooms, I turned to a small but feisty New York firm, Architecture Research Office, founded in 1993 by Stephen Cassell, Kim Yao, and Adam Yarinsky. Working on short notice and for the eminently reasonable fee of zero dollars, the architects engaged in a whirlwind bout of research and creative thinking. They concluded (and convinced me) that a quick-and-dirty rehab would generate more problems than it would solve, but that a more thoughtful design approach would address issues undreamt of in the governor's proposal.
The ideal version of ARO's design would require some changes to the zoning and building codes, which can be more challenging to alter than a concrete bunker. The good news is that a few nuanced regulatory tweaks could unstopper a wave of rehabs. (Also, architects are good at working around prohibitions.) "It quickly became apparent that the question of what to do with these buildings intersects with a whole series of larger issues: affordable housing, climate change, energy efficiency, and the livable, walkable city," Cassell says. Suddenly, a stopgap looked like a long-term strategy.
As their candidate for rejuvenation, ARO chose 260 Madison Avenue, between 38th and 39th Street, a bad building by an architect who had once been good. In the 1930s, the Austrian-born Sylvan Bien designed some flamboyantly New York–y hotels like the Carlyle and the Beverly (now the Benjamin), all stripes and crowns and crenellations. After World War II, he retooled as a sober modernist, and in 1950 replaced New York's most extravagantly baronial residence, Charles Schwab's Riverside Drive mansion, with the no-frills red-brick Schwab House. The stepped stack of 18 floors at 260 Madison Avenue was in the works by then, its appeal boosted by a timely amenity: a nuclear fallout shelter big enough for 4,000. It opened in 1952, and even the upper floors felt slightly bunker-like; commercial-grade ducts give the offices 8.5-foot ceilings, low enough to make a tall man slouch preemptively. (A residential rehab would raise the ceiling height to an adequate, if not palatial, ten feet.)
To make the base of the ziggurat more livable, ARO's design excises a chunk on each of the three sides, so that the façade folds in to form an outdoor terrace. Like many buildings that predate the 1961 zoning code, 260 Madison couldn't be built today. It's stuffed with half a million square feet of interior space, about 80,000 more than the law allows. And yet every one of those square feet is the equivalent of a box of cash: no developer willingly throws one away. Accordingly, the architects slide the missing mass up a handful of floors, affixing a new structure onto the existing one. The result is a shape that turns more corners, captures more daylight, and sculpts a more varied form.
That kind of shape-shuffling is easy to accomplish on a computer desktop but makes me wonder whether it wouldn't be cheaper to tear the whole building down and start from scratch. No, as it turns out: Excavation, foundations, superstructure, and elevator shafts account for some 30 to 40 percent of a building's value, and preserving them saves tens of millions of dollars. To make sure the designers weren't venturing into financial fantasyland, they asked David McCarty, an executive at the Brooklyn-based development firm Alloy, to look over the plans. McCarty told the architects that their approach made a surprising amount of sense. "It's hard to assess the viability of any given project without digging into the specifics," he tells me, "but there are a few macro trends in the city right now that make this project pass the smell test."
Owners of commercial properties have good reason to look for creative ideas. As their tenants decamp (or default) and rents fall, investors are understandably reluctant to pony up more cash. Want to erect or renovate an office building? Good luck finding the money. On top of that, in 2019 the city passed the Climate Mobilization Act, which requires large buildings (over 25,000 square feet) to meet targets for energy efficiency and greenhouse-gas emissions in the coming years or face fines that can potentially rise into the millions. That's where the carrots come in. Through a combination of zoning changes and tax incentives, the city and state can coax owners into turn their carbon-spewing old clunkers into green affordable housing.
ARO also consulted the Building Energy Exchange, an organization that helps pilot developers, architects, and policymakers towards a low-carbon future. The coming years will likely bring a new set of standards, requiring builders to account not only for the carbon a structure pumps out daily, but also the carbon emitted during construction. All the smelting, shipping, mixing, manufacturing, welding, and trucking leaves its mark on the atmosphere. That consideration led the architects to two crucial design decisions: construct the new portions out of mass timber, rather than concrete and steel, and reskin the whole structure with an ultra-tight, lavishly insulated façade. The first intervention requires a change in the code, since building high-rise structures out of wood, increasingly common in Europe and the Northwest, is still mystifyingly illegal in New York. The second just requires plenty of money, an expense amortized by lower heating and cooling bills, plus a deferred climate apocalypse.
None of this prudence and virtue would matter much if it yielded an uncomfortable or impractical building, but ARO's creation looks like a fun place to live. A third of the building remains devoted to offices, which means that even some tenants who don't work at home can still commute by elevator. Residents and employees share amenities, like a daycare center, bike parking, and the gym. Far more important, the conversion helps to turn business districts into bone fide neighborhoods.
The building at 260 Madison lies inside the area that Cuomo has identified as ripe for such conversions (roughly Union Square to Central Park, between Park Avenue and Ninth Avenue). That stretch of Manhattan contains roughly 10 million square feet of offices built between 1930 and 1976, which could in theory yield nearly 10,000 apartments, at least 2000 of them (and potentially many more) rent regulated. The process won't be quick and may not be thorough, but it's still sizable enough to provoke true transformation. Neighborhoods accustomed to an early morning and evening hush would acquire a new rhythm. They'd also need dog runs, schools, and playgrounds. New commuting patterns could materialize, rush hour might start to blur and fade, and the hard sheen of midtown would soften. Just as important, such a metamorphosis would bring low-income New Yorkers into the heart of Manhattan, without inflicting high prices on fragile neighborhoods or triggering another bout of displacement. A new population should even reinvigorate storefronts and enliven the streetscape, all while leaving the skyline intact.
It's rare for so many different desire lines to lead in the same direction. Dealing with a glut of second-rate office space winds up pleasing activists, satisfying investors, keeping developers prosperous, and giving people a place to live. In a miraculous alignment, what's good for the building is also good for the block, the neighborhood, the city, and the planet. I dare you to show me the downside.