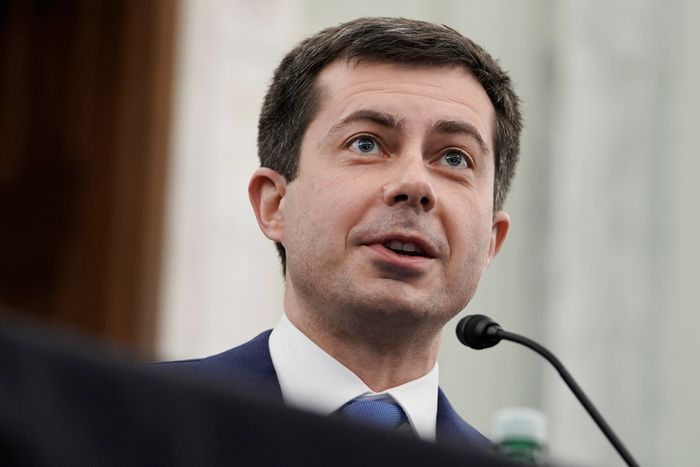 He's in.
Photo: Ken Cedeno-Pool/Getty Images
With this morning's 86–13 confirmation vote, it's official: Pete Buttigieg is the new Transportation secretary. Buttigieg joins what has been called a "dream team" of appointees to the U.S. Department of Transportation, including former New York City transportation director Polly Trottenberg who will serve as deputy secretary. Suddenly — for the first time in a long while — the future of U.S. transportation looks extremely bright.
Change can't come soon enough for the sector of the economy that generates one-third of all greenhouse gases, and as Buttigieg noted at his confirmation hearings, that's Biden's priority — not just for this department but across all federal agencies. Just last week, the president established a brand-new domestic climate office to coordinate the response, which director Gina McCarthy promises will be governed by policies grounded in racial justice. There's even a climate expert running the much-maligned vehicle safety agency now: Steve Cliff, a former California Air Resources Board director, will be leading the National Highway Traffic Safety Administration.
Buttigieg — the first openly gay Cabinet member to be confirmed by the Senate — is stepping into a role where his policy decisions could very directly improve the health and well-being of virtually every American at a time when the country is recovering from a colossal socioeconomic crisis. It's an opportunity to deploy initiatives quickly that could not only decrease emissions but also deliver other immediate benefits: reducing traffic deaths, improving air quality, and saving households money. There's no time to waste, and here are nine game-changing transportation projects Buttigieg could tackle right away.
Electrify Every Fleet
Through a series of executive orders signed in the first few days of his presidency, Biden laid out his plan to get the country to net-zero emissions by 2050. Within the next 90 days, all federal departments are required to report back with strategies for electrifying their fleets, over 645,000 vehicles in all. But Biden's mandate is just the tip of the electric-vehicle (EV) iceberg. If every state and city government did this, too, that'd be 1.3 million additional EVs, essentially doubling the number of electric vehicles already on the road today. Not only would this set a good example, but the purchasing power would juice the EV market. Buttigieg could issue his own challenge for other large fleets — rental cars, delivery trucks, transit — to lead the way.
Boost the EV-Charging Network
Biden's plan calls for 550,000 electric-vehicle charging stations nationwide by 2030, a goal that seems audacious when you consider there are only 84,000 public plugs currently available right now. But the real conundrum is figuring out where they go. If Buttigieg can manage to speed up installation of chargers along long-distance highway corridors — Walmart is working on it — cities can focus on getting them into spots accessible to apartment-dwellers who might not have garage space, or provide electric-car-sharing services instead.
Make Clean Vehicles Irresistible
California's plan to phase out gas-powered cars by 2035 seems likely to ripple across the country. The Environmental Protection Agency could change fuel-economy standards as early as July, and with GM announcing its plan to go entirely electric, it's almost guaranteed other automakers will follow. But for emissions to fall fast, Buttigieg must deeply incentivize the electric-vehicle purchases — and, most important, they can't all just be cars. We need more scooters, mopeds, cargo bikes. New legislation was proposed this week that would allow commuter tax benefits to be extended for the purchase of bicycles and electric bikes, as well as bike-share memberships.
Approve Congestion Pricing
With the stroke of a pen, Buttigieg could provide the federal approval needed to move New York City's congestion pricing plan forward, something Councilmember Corey Johnson (among other local elected officials) has been asking for as a day-one action. New York's road-pricing scheme would dramatically transform the city — London's Ultra Low Emission Zone cut air pollution by one-third — while generating much-needed money for buses and trains and providing a model for other large U.S. cities to follow.
Remove Highways
Biden's racial-justice mandate explicitly calls out highway construction as a tool of discrimination, and some federal dollars are already being allocated to study the removal of those roads. Buttigieg, who has been outspoken about the harm of urban highways, could dole out money for eliminating them the same way former USDOT head Anthony Foxx did during the Obama years. A few cities are already prepped for demo; Dallas's I-345, for example, is a goner. Bye-bye to the BQE?
Eliminate the Gas Tax
For decades the gas tax has pumped dollars into the Highway Trust Fund. Yet the tax hasn't kept pace with inflation, rendering it ineffective, and raising it is almost impossible politically. During his confirmation hearings, Buttigieg hinted that he'd be open to changing the tax, and many legislators and experts have championed eliminating it entirely, saying that switching to a vehicle-miles traveled (VMT) tax would disincentivize driving overall — in any kind of vehicle. That money can then be used more equitably to pay for more bus service and bike lanes, not just roads.
Dig the Gateway Tunnel
Arguably one of the most important infrastructure projects in the country, a new rail tunnel between New York and New Jersey is terrifyingly necessary. The design is basically done, but construction was waylaid by the Trump administration in what was widely seen as brazen political punishment levied against New York officials. It would accommodate another century of travel into and out of the largest, most mass-transit-dependent city in the country and could be prioritized by Buttigieg as a signature climate-adaptation project. Or at least that's how Senate Majority Leader Chuck Schumer is pitching it.
Fund California's High-Speed Rail
Contrary to recurring headlines that claim the project has been spiked, California's high-speed rail network is definitely under construction, but it desperately needs additional federal dollars to accelerate building and provide crucial electrification for existing stretches. California's is not the only shovel-ready scheme of its kind in a proposed nationwide network: High-speed rail projects in Texas and Florida are also moving forward but could use a boost — of both finances and confidence — from Buttigieg, a self-professed foamer.
Fix Every Broken Sidewalk
We know Buttigieg is a sidewalk enthusiast: He laid handsome brick pavers down as part of a "complete streets" program in downtown South Bend, Indiana. Sidewalks are something every city needs and, paired with Trottenberg's Vision Zero experience, could meaningfully contribute toward a federal policy to eliminate traffic deaths. (Advocates are tagging their safe-streets requests #DearSecretaryPete.) Funneling more money into building and widening sidewalks (as well as important improvements like trees and bus shelters) would also signify the first nationwide push to make all pedestrian rights-of-way truly ADA-compliant — an effort that has been left behind, if not completely ignored, in most U.S. cities.