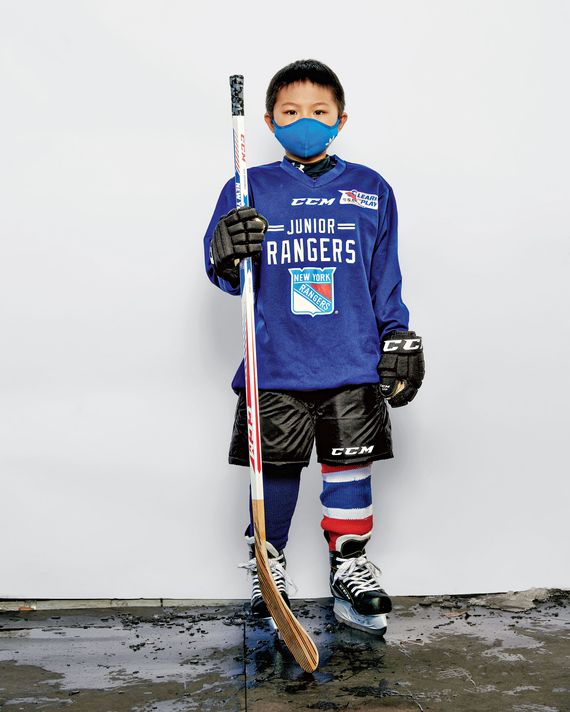 Kenneth Chong.
Photo: Victor Llorente
Kenneth Chong (picture above), First grade, Park Slope.
How long have you been playing hockey here, Kenneth?
Just a month. With my brother, Kristian, and some friends. Kristian is always older than me and can never stop being older. He's 9 years old and almost 10. My birthday is June 4. I'm 6 and a half.
Have you made any new friends?
Yes, and I don't remember their names.
And what do you do when you get out there?
I can't do a spin, but I can turn and slide. Sometimes I fall, but I wear so much hockey armor, so it doesn't hurt.
How long does it take you to get all that gear on by the way?
Oh, nine minutes, 59 seconds, and 9,999 milliseconds.
What else do you do when you're not in school?
Well, I like to play with friends. My best friend is Raffi. We don't see each other. I miss him.
What's the most fun part about practice?
There's a drill that we do where we play soccer with our skates and without a stick. It's hard. It's called sockey. I also play soccer. I love soccer. I like soccer more because I know more people, and I've been playing soccer since I was 3 years old. I'm also really good at it.
Have you met anyone new?
I actually made two friends in hockey, Kenny and Jude. First, Kenny asked me if I wanted to play tag with them, and I said, "Yes, after I'm done eating my raisin bagel with strawberry." And then, when I was done, we all played tag. They always stay with each other. And they love playing tag.
What's your favorite part about playing?
Falling. And I basically fall the whole time.
*This article appears in the February 15, 2021, issue of New York Magazine. Subscribe Now!