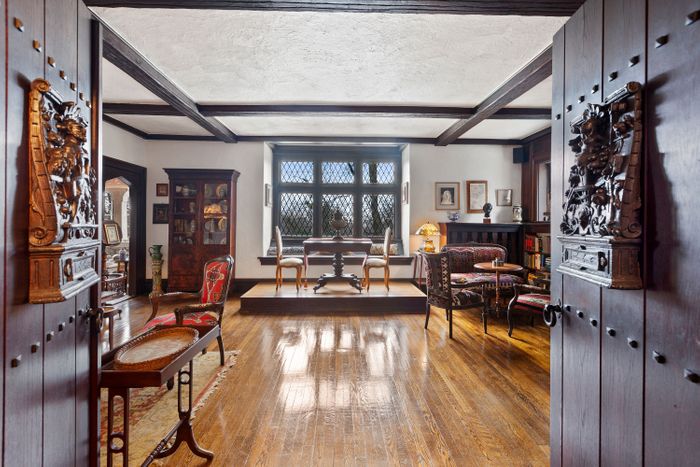 Photo: Courtesy of Douglas Elliman
Riverdale's Fieldston neighborhood only has some 250 homes — virtually all of them large, single family, and located on winding roads with densely wooded lots (the community is also completely privately-owned).
There are 11 houses for sale in the neighborhood right now, including this five-bedroom built on a hill in 1911, one of the earliest buildings in the area. On the market for the first time in more than 30 years, the home is currently owned by an art and architectural historian, who says the slate-roofed structure, despite its half-timbered upper facade, is more Edwardian style than a true Tudor Revival.
He and his wife, who are in their 80s and 70s, respectively, are only the second stewards of the property. They bought it from the son of artist Isabel Bishop, known for her depictions of women living everyday city life in Union Square. "They took very good care of the house," the current owners say.
Rooms on the first floor are large and open. The south-facing living room has an original wood-burning fireplace, wall-to-wall paneling, a raised sitting area next to diamond leaded-glass windows, and a doorway on the left to a stone-walled sunroom. There, carved double doors open to the dining room, which leads to the large kitchen. Upstairs, the master bedroom has a second huge fireplace. Another bedroom is as big as the master and has huge casement windows on three sides.
In the kitchen, the owners exposed previously hidden ceiling beams and put in blue-and-white floral tiles (from Country Floors on East 16th Street) over the counters, backsplash, and range hood. The bathrooms all have colorful patterned tile too — one with a geometric Moorish design.
"We were told that new buyers want white-washed interiors," the owners say. "But we wouldn't change anything."