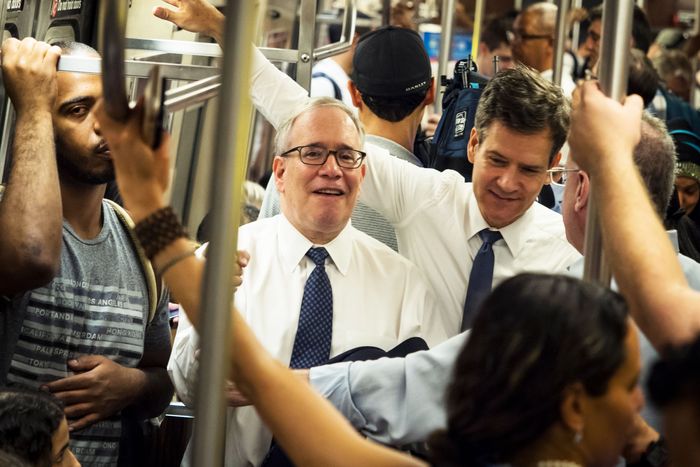 Stringer, straphanger.
Photo: Anthony DelMundo/NY Daily News via Getty Images
On a map, or an app, New York's transportation system looks like a skein of colored lines, organized to answer questions like How do you get from Eastchester/Dyre Avenue to Coney Island? (Answer: The 5 to the Q, and it'll take a couple of hours.) Real-life transportation scenarios, the kinds that politicians' strategic plans tend to ignore, are more complex: Pop the kid in a stroller and pray that someone has shoveled the sidewalk in front of all the empty stores, or at least left a navigable channel between the restaurant enclosures and the piles of garbage. Then drop her off at day care and hope you can locate a Citi Bike (and, if you do, that no delivery trucks are blocking the bike lane) because at this time of day, the bus will surely be seized up in traffic and you need to bike to a subway station with a working elevator to get to work; since the knee injury, you can pedal but you can't manage stairs.
Politics divides us into transportation tribes — drivers, bikers, passengers, pedestrians — but in practice we are constantly switching among all of them. So it's invigorating to see a candidate for mayor, Scott Stringer, treat mobility not just as a technical and budgetary problem, but as a multilayered set of human activities. He's thought about how to move kids safely to class (by connecting 50 high schools with the city's bike-lane network), how to keep bus riders out of the rain (more shelters), how restaurants and shops can keep operating outdoors while still leaving room for foot traffic and wheelchairs (widen sidewalks), how to serve all the people who don't head off to the office at rush hour but travel around the clock, how slow walkers can get across the street without being crushed by a left-turning SUV (redesign intersections).
I don't know whether Stringer would make a great mayor of New York, or whether he's the best of the dozens of candidates. But if whoever wins the election winds up achieving even half of the agenda he's laid out, New York will be a city transformed. In the more perfect version of our starting scenario, your day begins on a street that's been jolted into activity by a mixture of tax incentives and streamlined bureaucracy. The small businesses, nonprofits, and arts groups that have repopulated the storefronts keep the sidewalks clear of snow and full of pedestrians. Garbage gets deposited in containers that are parked on the street in spaces reclaimed from cars. Citi Bike has expanded even to your outlying neighborhood, bike lanes are widened and defended by protective barriers, and buses speed along dedicated lanes, turning the lights green as they pass. Trucks unload in dedicated curbside spots, instead of double parking. Whoever you are, wherever you start, and wherever you're going, you get there more quickly, with less cursing and fewer thoughts of relocating to Maine or South Carolina.
The plan pulls together a lot of seemingly disparate proposals, many of which he or others have offered before, each of which would pit narrow-bore advocates (for buses! cars! restaurant deliver workers!) against parochial community groups, and all of them against the purse-string holders in Albany. He would pare back the derelict multilayered portion of the BQE into a trucks-only conduit with just one lane in each direction and a linear park above, healing the six-lane gash through Cobble Hill. He would introduce residential permit parking, allow subway riders free transfers to Metro-North and LIRR within the city limits, and widen bike lanes to accommodate two-wheelers hauling freight. And yet, despite its multitude of bullet points, the plan isn't a jumble of fantasies or abstract aspirations; it's a hardheaded how-to manual to get the city's gears spinning again. What ties this multiplicity of ideas together is clarity of vision, a hard-won understanding that every tweak to the way we move around also affects how much money New Yorkers make, how long they live, how easily they breathe, how fairly the system treats them, and what opportunities they enjoy. Transportation policy = streets policy = environmental policy = social-justice policy. It's crucial that the next mayor keep hammering that interconnectedness, because it's the only way to prevent every new proposal from devolving into eternal squabbles over minutiae.
Bold visions tend to trigger eye rolls. Another candidate, Andrew Yang, floated the old dud of an idea that the city should take over the MTA; without the state's tax-collecting powers, that's tantamount to acquiring a money pit. Stringer is more realistic about what he can control. "I want to be the Streets and Buses Mayor," he says. That title sells the office short, though. I'd prefer that he aspired to be the Mayor of Getting Around.
He wants to ensure that buses and subways run no more than six minutes apart, everywhere in the city, from the morning rush to late evening. No more three-bus caravans or 30-minute waits on a frigid elevated platform in Queens. He would pay for that efficiency by persuading Albany to funnel two-thirds of its gas tax revenues into public transit and one-third into highways, reversing the current proportions. That may be overpromising in the short term, but the past year has taught that even long-standing political givens can change more quickly than anyone thought.
Most important for a city dangling between pandemic-induced recession and climate emergency, Stringer makes it clear he's in a hurry. "We don't have to wait 20 years to do this," he says. His report builds on one that City Council Speaker Corey Johnson released two years ago and that the council later adopted, but it goes further, both in detail and urgency. "Too many plans set a deadline of 2035. I don't know what's so special about that year, but I'm going to make plans that I can accomplish in two terms as mayor."
Even if those turn out to be someone else's terms, instead of his, I hope the city's next executive embraces Stringer's sense of mission and shares his command of detail. In 2012, then–mayoral candidate Bill de Blasio dismissed former transportation commissioner Janette Sadik-Khan as a bike-lane "radical" and labeled himself an incrementalist. Eight years later, nearly all the candidates promise to revamp the city's 6,000 miles of streets, because they recognize the principle that Stringer's plan lays out: Being able to move freely, easily, and affordably, by any and all means, is the essence of New York's New Yorkiness, and that means New York has to change.