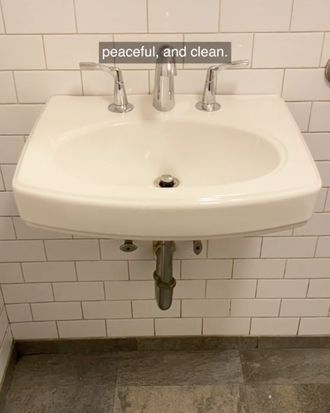 Photo: @sinkreviews/TikTok
While a certain corner of the internet has shouted, "stonks, stonks, stonks" for the past few weeks, my TikTok algorithm has me trapped elsewhere. In a place where stonks are usurped by sinks. Not the verb. Literal sinks. Like the kind you've been standing over, furiously scrubbing your hands raw in an attempt to curb disease spread for nearly a year. (Also before this year, but that's between you and your God.) Specifically, I can't stop watching videos from an account called @SinkReviews. It's what it sounds like: a guy wandering the five boroughs and reviewing the washbasins he encounters. A Hudson Yards sink has "brute insistence," the Staten Island Ferry terminal's "operates with a democratic dignity," and one in the corner at Sunny's in Brooklyn would be "right at home on a rickety whaling vessel." And lest you think this is silly and niche, which, of course, it is … know that more than 800,000 people follow this guy on TikTok.
Sink Guy has a system. Sinks are rated out of a possible five sinks. A zero rating is rare. Sinks with two separate faucets for hot and cold water score an automatic two. (Which honestly feels generous given how unpleasant it is to shuttle your hands between the hot and cold water trying to neither scorch nor freeze your digits.) Public bathrooms only and round numbers only, because, as the Sink Review guy says, "You can't have half a sink."
The appeal of the Sink Review man is how seriously he approaches his craft, analyzing the curves of an acrylic basin or the chrome finish of a faucet as though it were fine art. From dive bars to the Museum of Modern Art, he tackles his work with a high level of concentration and erudition. MoMA's sinks, for the record, score only a two out of five. The Dyson numbers in the bathroom have "uninspired" water flow and Sink Review guy finds them to be "high concept and ostentatious." An "attempt to broadcast taste and refinement … a shallow attempt at taking a shortcut to achieving style from an institution that should know better." It's a non-specific skewering that could effectively apply to any modern art exhibition, one that would bore you if it were, say, from an actual art critic about actual art, but delights when it's about, well, sinks.
The other draw to Sink Reviews is the critic's calm, steady tone. It's the kind of voice you might want to read you a bedtime story. Given my nightly TikTok habit where I watch videos in bed until my eyeballs begin to twitch or I drop my phone on my face and turn off the light to nurse my wound in shame … that's effectively what these sink reviews are anyway. Watching these reviews has the same comforting effect as watching videos of paint spiraling out into a vortex of color or people slicing bricks of damp sand. Except it's a guy quoting Shakespeare over some classical piano music while describing the sink at a bar you haven't been to in a year.
That's where Sink Review grates on me a little, I think. There's something so joyfully weird about SinkTok, the elevation of something so mundane you've used all your life but never really fully considered. (My apologies if you design sinks for a living.) But it's also a collection of videos of somebody roaming the city of New York during a pandemic for fun. Going in and out of enclosed spaces. Ostensibly riding public transportation — like, the subway. (For what it's worth, the account now sells hoodies, giving the profits to restaurant-worker relief funds. It also sell a number of other items that do not benefit charities.) It stresses me out in the same way that watching fictional characters on TV doing things that could expose them to COVID — like gathering in crowds or having dinner parties at a tables of eight indoors — stresses me out. Except this makes me anxious because it's real. Maybe I'm just envious, really. How nice to roam the city, to see new places, to take the subway somewhere other than the dentist. I want to be washing Miller High Life off my hands in the sink at Doris. Hell, I'd even settle for the sink on a moving LIRR train.