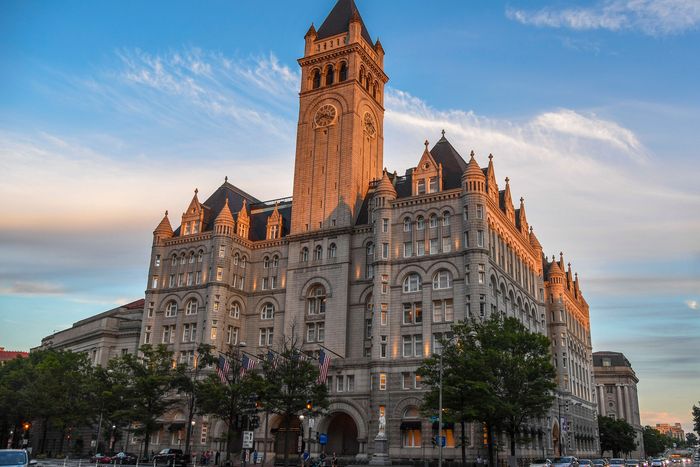 Photo: Jonathan Newton/The Washington Post via Getty Images
Things have looked sleepy at Trump International Hotel in Washington, D.C., since January 6, when the lobby was packed with insurrectionist guests after the Capitol riot. But judging by room prices, the hotel is expecting another rush. As first reported by Forbes, rates for March 4 have skyrocketed to $1,745 for a "QQ" room (that's two queen beds, not a QAnon reference), while the same room a week later is $745, according to the hotel's website. Surges in hotel pricing are common around big events, but what's happening on March 4? That's the last big grift of the Trump presidency — that is, for those who still think there is a Trump presidency.
QAnon conspiracy theorists believe that's the date Trump will be inaugurated as the 19th president of the United States. The particulars of this deranged theory — which took off in QAnon forums after Joe Biden's inauguration — are beyond nonsensical. The gist is that in 1871, the United States was secretly turned into a corporation (listen, this is coming from a group that believes lizard people control the world), and thus Ulysses S. Grant, who was also inaugurated on March 4, was the last legitimate president. Rooms at other hotels in D.C. over the same time period are not showing abnormal rates, suggesting that the price surge at the Trump Hotel may be driven by a very particular group of prospective guests.
It's not the first time the hotel has tried to capitalize on QAnon lunacy. When it was packed for the January 6 rally turned insurrection, rooms were going for up to $5,500 a night. That's a bold pricing strategy, but if a few people do fall for it, it'll make up for a lot of others who will just take their business down the street. It's still unclear whether people will pay this inflated price — but whether they do or not, they'll have to find the next political rapture to obsess over when March 4 passes and the president is still … Joe Biden.