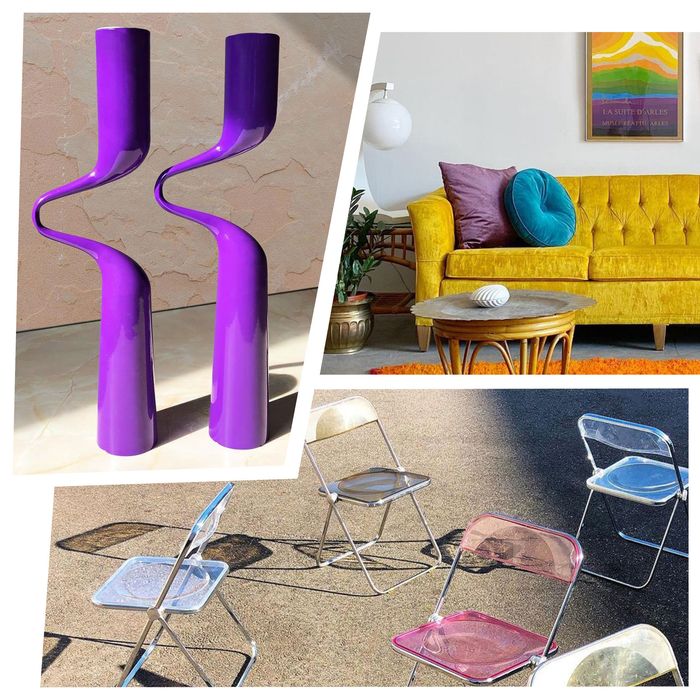 Photo: Clockwise from top left: @sillyhouse.nyc/Instagram, @dobbinstcoop/Instagram, @doubles_tennis/Instagram, @sillyhouse.nyc/Instagram
Like many New Yorkers who felt the walls closing in on their compact apartments during the COVID-19 pandemic, I reached a tipping point last month: I could no longer stand the sight of my surroundings. My furniture suddenly bored me.
What began as a casual desire for a new chair quickly became an obsessive hunt for the perfect chair. Browsing Craigslist seemed too gauche. Chairish, the Architectural Digest–approved retailer, was beyond the reach of my stimulus check. On Instagram, however, I soon found a throng of accounts selling vintage furniture, many of which have sprung up since the start of the pandemic to offer a mix of mid-century-modern relics, wavy mirrors, and textured cement busts — all at affordable prices.
I redoubled my efforts to find the chair, confident that it was awaiting me in this landscape of indistinguishable logos and shop names that seemed to have been picked out of a hat. Eventually, I stumbled across the feed of @doubles_tennis, a vintage dealer with more than 5,000 followers whose bio read: "Lost in the funhouse; curiosities across space and time." My eyes soon gleamed at a week-old post that advertised a black, cubic lounger lightly speckled with polka dots. Its chrome base and sleek profile made me think of something I'd see in an '80s film set in the Hollywood Hills. Afraid that someone else might get to it first, I ordered it, sight unseen, to my apartment.
When Madison Santos, the 25-year-old seller behind @doubles_tennis pulled up, he explained that the chair was "a Dakota Jackson," a designer known for his avant-garde pieces from the '70s and '80s, as well as his collaborations with the Steinway & Sons piano company. Madison pointed out the intricate pattern in the chair's upholstery, which didn't feature polka dots, as I had originally thought, but a motif of miniature crosses.
Madison will soon celebrate the first anniversary of his Instagram shop, which he opened after being furloughed from his cafe job last March. When I asked how much time he typically spends looking for new inventory, he told me that he puts in, on average, upwards of 15 hours per day, even on weekends.
His daily routine consists of waking up at dawn to drive to estate sales in neighboring states, only returning home when his car trunk won't close. As he haggles for a piece at an estate sale and maps out the quickest route to the next one, he has to reply to 20 messages about his latest post. After this, he still has to deliver sold items and unload new pieces into his storage unit. Later, against the cinder-block walls and lime-green security gates of the storage facility, he will stage a photoshoot for his latest finds, select the best images to crop and edit, and then upload the final product shots to his Instagram followers. It's all worth the effort, he says, because he knows "good photography sells."
"How can you devote so much time to something so strenuous?" I asked. "It's like an addiction," he said. He's looking not only for the Knoll chairs or Murano mushroom lamps that are universally popular, but also unique pieces other sellers might miss, like the wrought-iron horse-shaped John Risley cart he just picked up.
He attributes the success of his business to the rising trend of people making home-décor purchases while being stuck indoors, as those who have kept their jobs have more disposable income than ever before. He suspects that, like himself, buyers have grown sick of big-box retailers like Ikea and CB2. Indeed, Instagram has become an increasingly popular base for vintage furniture in recent years, with many sellers forgoing a brick-and-mortar shop to run their business exclusively on the platform. The pandemic seems to have spurred even more vintage lovers to make the leap.
Max McGuire, who runs @sillyhouse.nyc, started his account after losing his full-time job as a graphic designer in July. Just one month later, he was preparing to launch his own vintage dealership on Instagram. His feed features the globular lamps and lucite umbrella stands that everyone seems to covet, set against geometric and color-blocked backgrounds he edits in. "Some of the people in the community that have been around forever would hate to hear this, but I had no interest whatsoever in furniture before the pandemic," McGuire said. He decided he could apply his graphic-design skills and social media savvy to run his business while slowly learning more about the furniture through online research and from other sellers.
Max briefly toyed with the idea of focusing solely on his burgeoning Instagram business before landing another full-time graphic design job in October. Now he's attempting to juggle the routine of a nine-to-five with his lucrative hobby. But he is still trying to strike the right balance, squeezing in sales appointments during his lunch breaks. He's considering prioritizing the furniture gig, though it would admittedly be stressful. But he says, "100 percent I could make my living off of this."
He even has plans to open a showroom in the near future with another vintage seller, Lizzie Dolan. She runs @dolan.goods, an account that offers idiosyncratic glass vases and cane chairs at very reasonable prices. She spent about a year sourcing vintage for a store on the Lower East Side until its temporary closure during the pandemic, when she began selling the pieces she'd personally collected to friends. Eventually, she decided to focus solely on her Instagram shop, to which she devotes up to 16 hours a day, seven days a week.
"It's absolutely exhausting. I think that you have to have a real passion for it," she said, adding that a majority of her earnings go right back into her business. Despite her lower price point, which makes her wares more affordable than many of her competitors', Lizzie still feels that customers treat her business like it's a leisurely pastime. "In the beginning, I had a lot of people trying to bargain with me," she said. But "there's no wiggle room for bargaining when you're putting in [this] amount of hours and physical effort. People don't get it."
As sellers like Lizzie, Max, and Madison conduct business exclusively through their Instagram accounts, their days are consumed by the pressure to respond to an unceasing barrage of messages from prospective buyers inquiring about items posted mere seconds ago. Constantly being available online takes its toll. "For my sanity, my [phone] breaks occur when I've physically hurt myself," Lizzie said, adding that she has recurring back injuries and a broken finger from unloading items into her storage unit. "Even then, I post that I'm not going to be posting and give my reason as to why."
The only time Madison (@doubles_tennis) will silence the uninterrupted stream of DMs is while watching a movie — and even then, "only occasionally." "If I want to live on this, then I've got to be able to make a few sacrifices. Maybe I will get burnt out at some point, [but] I hope not." Behind this mini-boom in vintage furniture, an assembly of overworked entrepreneurs has been working around the clock to make a living from their so-called side hustle.
Sara Swan, who with her husband, Arthur, owns the Swan's House (@theswanshouse), a vintage store in Tarrytown, New York, has felt the impact of this recent wave of Instagram resellers. When she and Arthur opened their store in 2019, the business relied less on social media sales. Now the field is crowded with competitors. "Maybe they've just lost their job or are working from home and wanting to earn some extra money on the side. It's made it more difficult to source and to find those special gems that we used to find all the time," she said.
With their storefronts temporarily closed because of the pandemic, established vintage dealers have had to up their time on social media. Courtney Wagner, one of the co-founders of @dobbinstcoop, has been in business since 2015 and has two brick and mortar locations, becoming one of New York's most popular resellers of vintage. She told me that sales through Instagram accounted for over 50 percent of her revenue since the pandemic began.
"When we opened, we wanted to use Instagram to inspire people to come to [our store]," Courtney said. "Now, we wouldn't be able to make it without it." Dobbin St. didn't qualify for the New York Forward Loan Fund, an economic-recovery loan program for small businesses, and Courtney said that Instagram sales have helped to pay the storefront's rent. "There are not a lot of places to buy furniture, so Instagram [has become] kind of it."
The crowded virtual marketplace has forced resellers to use every technique at their disposal — graphic design, giveaways, self-promotion— to gain an edge on the competition. Lizzie mentioned that some accounts work with dealers rather than sourcing the stock themselves, increasing the risk of her showing up to an estate sale 15 minutes after the last Wassily chair has sold. But Courtney understands this newly intensified tug of war among dealers, buyers, and resellers, adding, "It's welcome competition. I totally get that a lot of people have to pivot because they don't have a job right now."
Sara hopes that this new crop of dealers can graduate beyond their overnight success to lessen their reliance on veteran sellers like herself. "On Instagram, I get a lot of people asking me to help them price things, and I just want to say, 'This is where you have to do the research. This isn't a kind of 'sit on your ass and look online and order a few things.' Find out why something is worth that much, why it's special, and why it justifies the price tag."
Still, compared to that of her previous design job, in fashion, Sara finds the vintage community to be positive and generous. She points out that many vintage accounts promote posts from their favorite shops on Instagram Stories. "It's direct competitors, really, but … if we all succeed, that only makes us stronger."
There is some payoff, besides the money, for the long hours and haggling buyers. "I find genuine joy when I know a piece has found its home with a rightful owner," Lizzie said. Her first sale, a set of four Daystrom chairs with their original upholstery, was one of her most memorable. "It's one of the reasons I love to get pictures of pieces that I sell from their new owners." She sleeps soundly in the knowledge that her customers are sitting comfortably in a set of newly purchased Cesca chairs she sourced with care. That is, until the 2 a.m. ping on her phone from a customer DM'ing her to ask, "Is this rug still available?"