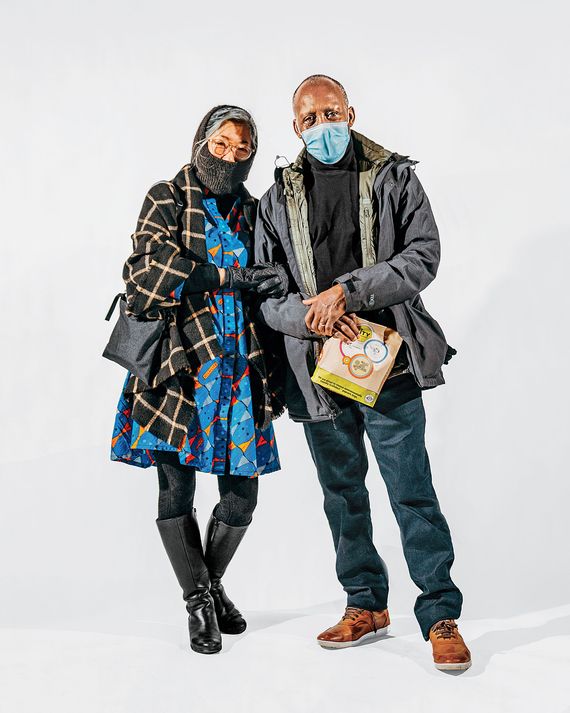 Keukmi and Lennox Ali.
Photo: DeSean McClinton-Holland
Keukmi Ali, Journalist, and Lennox Ali, Retired (pictured above)
What did you see?
Keukmi Ali: Nomadland. We had interest in it because it's about people our age, after retirement. Well, I'm not retired yet; I write for a Japanese newspaper. But my husband is. He worked in transit.
What did it feel like to be in a theater?
K.A.: Okay. I know the pandemic is still happening and people should stay home, but we needed to go out, to not lose the courage to go out. Plus, Lennox already got the first shot.
How did you two meet?
K.A.: He was the best man at my sister's wedding. Before that, I was living in Japan. Then I moved to New York to be with him. Since, I've taken him to the Asian countries, and he's taken me to the Caribbean islands.
Lennox Ali: Next, we'll go to Nigeria.
K.A.: We found out that's where most of Lennox's ancestors were from. We like to move, move.
How did you two meet?
Vedika Basavatia: I met Tapiwa virtually at this "tea" event that our college hosted; I'm a first-year at Barnard. Then she got a group of us out to see Minari tonight. It's been tough to meet people, so this was pretty great. And I'll stay friends with Tapiwa for sure. We have so much in common. We both love meaningful films.
Was it weird?
Dan Duran: I had a whole range of emotions. I had the virus last year at Paris Fashion Week and was really sick, and I still have such an intense fear of getting it or giving it to anyone. But it was really good once we saw how distanced it was. And if this is the new normal, then that's okay. It's pleasant not having to sit next to anyone. Because when you went before, who knew who you'd be next to — sometimes they could be creepy.
What was the last movie you saw?
Logan Light: I actually went to England in the middle of all of this and saw Tenet in a theater because they were open. It was in September, right before their second lockdown. I was one of three people in a theater that probably fit 450 people. There were no masks. Here, it was more crowded, but everyone had to wear masks and there was space. One experience felt safe for the wrong reasons, and the other felt safe for the right reasons.
Are you two married?
Ellen Friedman: Yes, for — Christ, for 56 years. We met on a blind date. Does anybody go on blind dates anymore? His best friend and my best friend were going out, so they put us together. I knew he was for me the first night. He was less sure.