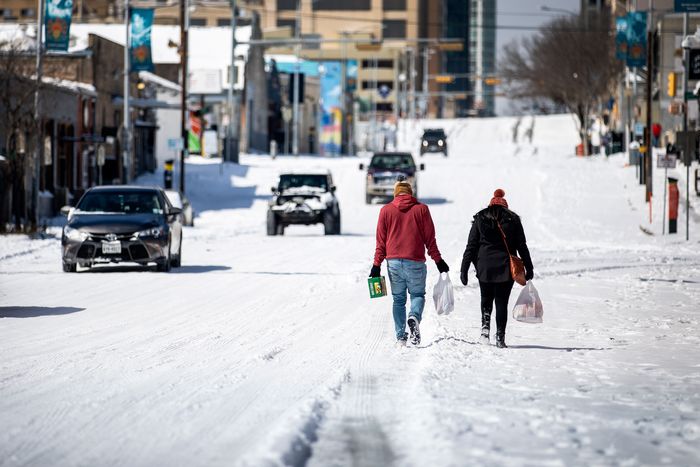 People carrying groceries after the February winter freeze in Austin.
Photo: Montinique Monroe/Getty Images
The first yard sign showed up in late February as many Austinites were still waiting to get their plumbing to work post-storm and standing in lines for bottled water. Tacked below a "FOR SALE" sign, a realtor's custom-printed placard declared, on behalf of the house behind it, "I ROCKED THE 2021 SNOWPOCALYPSE!"
Our house didn't quite "rock" the great Texas power outage last month. Neither did nearly half of Austin, which lost power for multiple days. For us, the crisis began at 5 a.m. on Monday, when my partner, Nina, was awakened by the baby monitor beeping "out of signal range" (the camera had lost power). It didn't seem too concerning at first — there had been a snowstorm, and such things happen. I had cell service but no internet on my phone, so I got the news from my neighbors and my parents: The energy company had announced "rolling blackouts." That sounded somewhat serious.
We piled more and more layers onto the baby as the indoor thermostat slipped under 60 degrees by late morning. My parents told me they had watched a press conference and that "rolling" was beginning to sound like a dishonest euphemism. I finally got a cell-data signal and saw that a city councilman was tweeting, against the official rhetoric, that the blackouts might continue for days without ever rolling back on.
When Nina went to scout the snow-covered roads, we found that struggling vehicles littered the roadsides and that several thoroughfares seemed impassible. I didn't trust our decade-old Prius to get us out safely. We had no friends with power within walking distance, and we certainly didn't have a generator. Then, Nina's friends Sarah and Jake reached out — they had power (perhaps because their house is near a juvenile-detention facility), lived a few miles away, and offered to take us in, even to pick us up in their four-wheel-drive vehicle. We piled into their car with the dog at our feet while Nina clutched the baby in her arms, squeaked up some treacherous hills, and finally made it to their warm house.
We were away from our house for four nights — two with Sarah and Jake, and, after they lost power on Wednesday, two more with another couple. We borrowed diapers and dog food, improvised group dinners with whatever we could find in the pantry, and worried from afar about the condition of our pipes. But we made it through just fine. A lot of our neighbors waited out single-digit nights huddled under every blanket in the house or sustained serious property damage. Dozens died around the city and the state, lonely deaths of neglect from hypothermia, fire, and carbon-monoxide poisoning.
My family was lucky, but our good fortune had little to do with the location of our home. As far as I can tell, our greatest stroke of luck was being part of a broad community stretched out across the city when the power went out.
A disaster can redraw the map of which local real estate is most desirable. The Texas energy fiasco revealed a secret layer of entire neighborhoods, like the central business district, as well as much smaller areas of a few blocks here and there, that we now know to be deemed "critical load" zones by power companies. The rules for which areas are "critical" are opaque, but these zones are said to include important infrastructure like hospitals and fire stations.
It's apparent from the realtor signs proclaiming victory over the snowpocalypse that some are expecting home prices to spike in "critical load" areas. If that's what happens, it won't surprise me. Austin is the hottest real-estate market in the country, a status likely driven by pandemic-era relocations of businesses and remote workers. And the new transplants have money to burn: Out-of-town buyers have $200,000 more in spending money than locals, and houses are being sold $50,000 to $100,000 higher than the asking price. Prices here will jump at the slightest provocation. At best, one might hope there's a corollary effect that makes homes a bit more affordable in non-critical-load neighborhoods like mine. But if this is the lesson we take from the week of privation and extreme duress that so many recently endured — that those who can should move next to a "critical load" hospital or fire station — we're missing a vastly more important takeaway.
Last summer, at the height of the pandemic, I was involved in putting a house up for lease. I spoke to several prospective renters, virtually and in person. Most were coming from other places. Austin appealed to them as a fun, livable city during the work-from-home era, a place where it is relatively easy to keep and use a car, with plenty of restaurant patios and parkland in and near the urban core. Still, how many of them had friends in Austin or would make any during the pandemic? Austin is friendly enough to strangers during normal times, but most of the ways a newcomer might branch out — offices, bars, social gatherings, in-person classes, gyms, and beer-league sports — have been more or less out of commission for a year. I thought about those people during the blackout, wondering if any had found warm shelter. I was cheered to hear about strangers helping one another via Buy Nothing groups, the city Reddit, and volunteer networks like Austin Mutual Aid. Still, I wondered, were most of the transplants just left in the cold?
On Wednesday, when Sarah and Jake lost power during the second storm that passed through that week, we didn't panic. By then, we had already surveyed our friends around the city, helping to connect those who had power with those who needed a place to crash. These included graduate-school friends, ex-roommates, colleagues, friends of friends and their siblings — the gamut of people you get to know after living a decade or more in a city. Gene and Sara offered to take us in, but Simone and Matt won out because they had more baby supplies. Micah, whom we had never met before he and his family came to crash with Jake and Sarah, drove us there in his four-wheel-drive car — with a proper infant car seat this time.
Despite its increasing reputation as a town full of new arrivals, Austin is also full of rooted networks like mine and Nina's, broad amalgams of friends, neighbors, and extended families. Such communities exist up and down the economic ladder and across racial and ethnic clusters, and they are perhaps nowhere so strong as among multigenerational Austin residents. It's clear that many have been deeply threatened by rising real-estate prices for some time and that the hot pandemic-era market has only further destabilized them. I've seen friends with more than one graduate degree priced out of a city once known for its affordability; for the working class, the situation is dire. It's bitterly ironic to imagine local networks of mutual support now strained anew by a hot market for "critical load" homes.
On the Friday after we evacuated, we finally returned to our house. Saturday, the last snow melted. On Sunday, it was 76 degrees again in Austin, as if nothing had ever happened — at least for those of us who weren't experiencing plumbing disruptions. We had made it through this crisis of government failure and official neglect, like so many Austinites, thanks to a rooted community that sustained us with everything we needed. The question that remains is whether these communities can now withstand the heat of our scorching real-estate market.