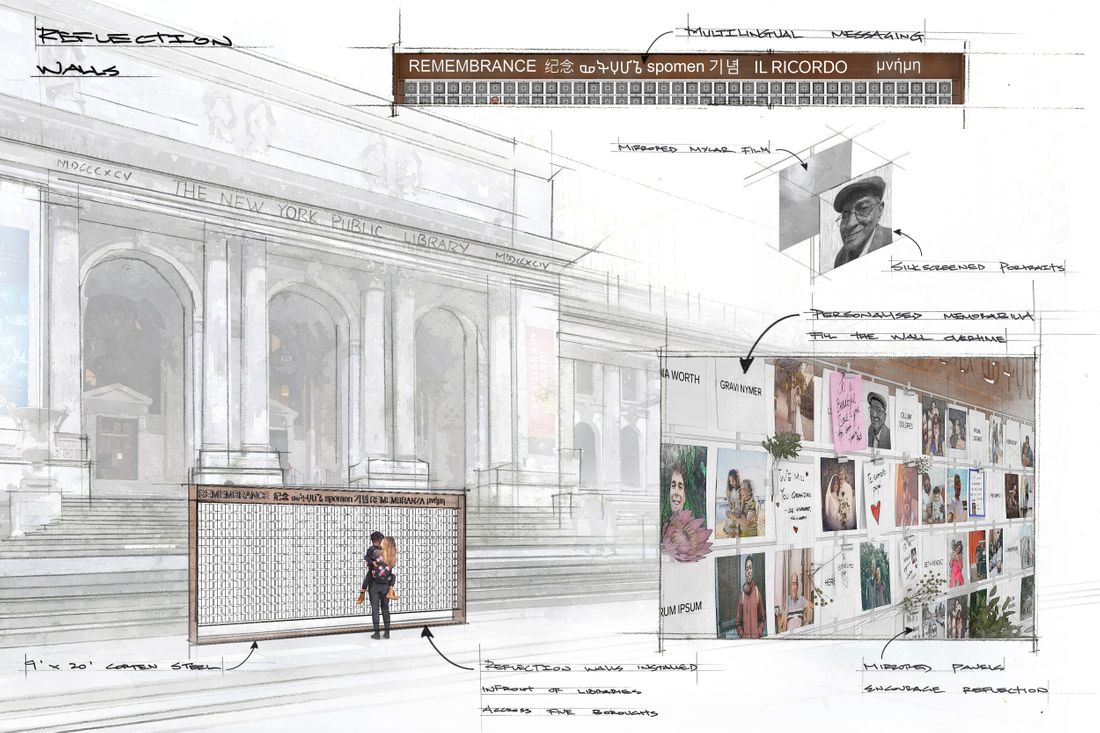 Art: David Rockwell and Rockwell Group
A year after New York City went into lockdown, COVID-19 has claimed the lives of more than 30,000 of its residents. The tragedy's scale has made it difficult to comprehend the private griefs so many of us have experienced: the million heartbreaks of lost friends, lost livelihoods, lost neighborhood fixtures, lost senses of belonging. Instead of proposing a grand permanent memorial, we asked a wide range of New Yorkers about the moments from the pandemic that stood out to them and how they would want those experiences to be commemorated. In response, a selection of architects and artists translated those memories into proposals for temporary installations. We imposed no budget limit and no restrictions: The result could be a sculpture, a mural, a pavilion, a song — anything that could become part of the streetscape for a while. Presented here is one of 15 concepts submitted by architects, designers, artists, and composers; the rest will appear over the course of this week.
Client: Peter Malvan
Homeless advocate and outreach worker
For the past year, Peter Malvan has been working with Midnight Run, the Urban Justice Center's Safety Net Project, and other groups to help the city's unhoused. This has been especially challenging during COVID, with people fearing that the crowded conditions in the shelters would spread infection. "I'm disabled, but I like to keep busy," he says. "I used to go to offices for in-person meetings. When virtual meetings happened, that got interesting because my phone doesn't always work. I didn't get paid, but I worked."
Malvan himself lived on the streets and in hotels for much of the year, until he moved into housing on Roosevelt Island on September 11, "like fully moved in," he says. He knows he is lucky: "The systems for getting people help are very secretive," he says. "The communications between the contractors is unclear. It's been a battle to get people into the single hotel rooms. The process of housing people is horrible." He notes that he only got a place himself after a journalist interviewed him. "When the story dropped, everyone got embarrassed, and I became a priority. And I am finding that's really how some people get housed, by embarrassing the powers that be."
He has lost many friends this past year, and he wants them to be honored. "I'd like to see, in different places, photo collages of people's faces who've passed in the community. I think every community should have a dedication to those from the community who passed. Something that will stand the test of time, because I don't think this time — or the people who passed — should ever be forgotten. A lot of people who helped build this city became homeless, and their loss shouldn't be forgotten."
He suggests public libraries as a location. "I think libraries are great places for memorials because they're archives of human life," he says. "Civilizations are archived in libraries, and loss should be there too, whether it's inside or outside."
Architect: David Rockwell, Rockwell Group
Location: City libraries
David Rockwell's proposal is a series of "Reflection Walls" installed outside public libraries, inspired by the ad-hoc community memorials on walls and fences that New Yorkers made to commemorate those lost during the height of the AIDS epidemic and after 9/11. The nine-foot tall, 20-foot-wide Corten-steel structures would be divided into 1,092 mirrored aluminum panels — 546 on each side. Each would be silk screened with the name and (whenever possible) image of someone from the community who died in the pandemic. Clips would be provided in order to add flowers or messages — a living memorial.
"Whatever we did needed to be a perpetual work in progress," says Rockwell. "This is something that is happening now." He sees it "almost like a vertical reflecting pool."