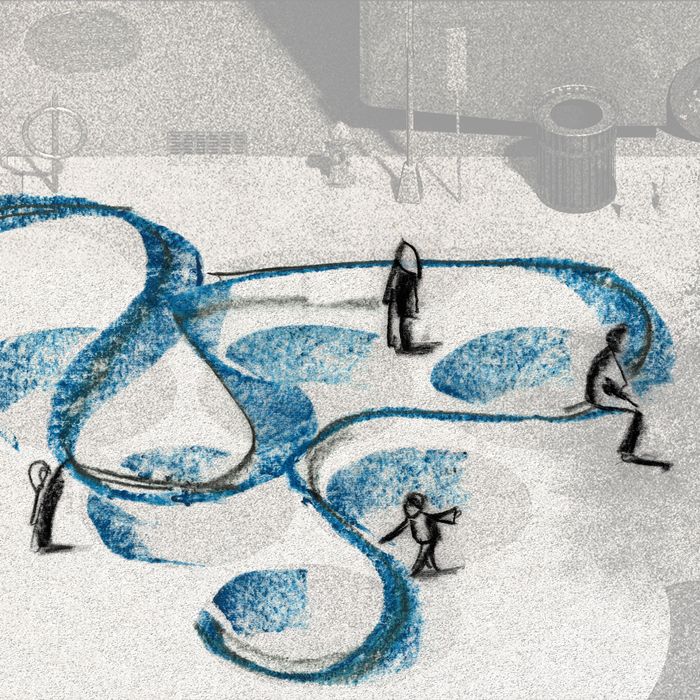 Art: Deborah Berke Partners
A year after New York City went into lockdown, COVID-19 has claimed the lives of more than 30,000 of its residents. The tragedy's scale has made it difficult to comprehend the private griefs so many of us have experienced: the million heartbreaks of lost friends, lost livelihoods, lost neighborhood fixtures, lost senses of belonging. Instead of proposing a grand permanent memorial, we asked a wide range of New Yorkers about the moments from the pandemic that stood out to them and how they would want those experiences to be commemorated. In response, a selection of architects and artists translated those memories into proposals for temporary installations. We imposed no budget limit and no restrictions: The result could be a sculpture, a mural, a pavilion, a song — anything that could become part of the streetscape for a while. Presented here is one of 15 concepts submitted by architects, designers, artists, and composers; the rest will appear over the course of this week.
Client: Sarah Phillips
Second-year resident at New York Presbyterian Allen Hospital
Phillips, a family-medicine resident, happened to be in the ICU at the hospital, which sits at the northern tip of Manhattan, when the first COVID patient came in in March. The hospital was preparing for the coming crisis. Normally she delivered babies, followed up with pediatric training, and worked with geriatric patients. But "by then all of my other colleagues were starting to be redistributed, and we were being pulled out of our clinics because normally, as family med residents, we spend a lot of time in the clinic and the outpatient setting, but they started pulling us back into the hospital for reinforcements." It was just the beginning of a year no one could have imagined: the shock in the eyes of people when they were told they would have to be intubated; the people who had to say goodbye to their loved ones over FaceTime; the many who died, frightened and alone. And then she'd go home to her fiancé, Mikey, and hope she could keep him safe. "When things were still really bad when I was in the ICU, coming home, it was like a metaphor at the door. It was partly because, still, there was so much we didn't understand about COVID that we thought it was transmitted more by touch. So I would literally walk in the door, take off all my clothes, get in the shower, and just kind of remove COVID from me physically and also emotionally. Then being able to hug Mikey after that, in our apartment here, was just everything. That gave me the strength to go back the next day."
Architect: Deborah Berke Partners
Location: Outside a hospital
Deborah Berke and Deborah Berke Partners' response to Phillips's experience is a series of places of contemplation and conversation linked together by "a ribbon of fresh water that curves along six-foot arcs." Its form is a sort of elevated stream. The idea was to create a memorial tribute that would incorporate the emotional and physical cleansing of water — present in many religious traditions — offering a living social place where families could come together. Children would be able to dip their hands or even their feet into the flowing water too. It would be a sanctuary of solace and renewal. The firm named the project "Reflect, Remember, Renew."
Berke says, "It's been a hard year for many. I hope our appreciation for one another has grown through all this. I cherish places in the city where people come together to share in common experiences, where they can share their own experiences and their memories."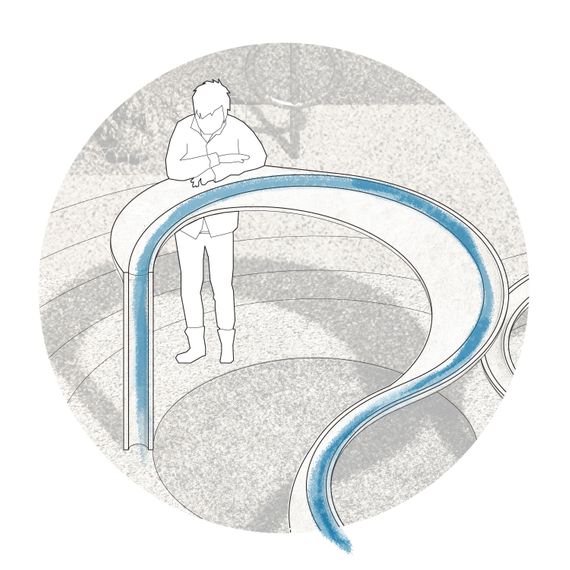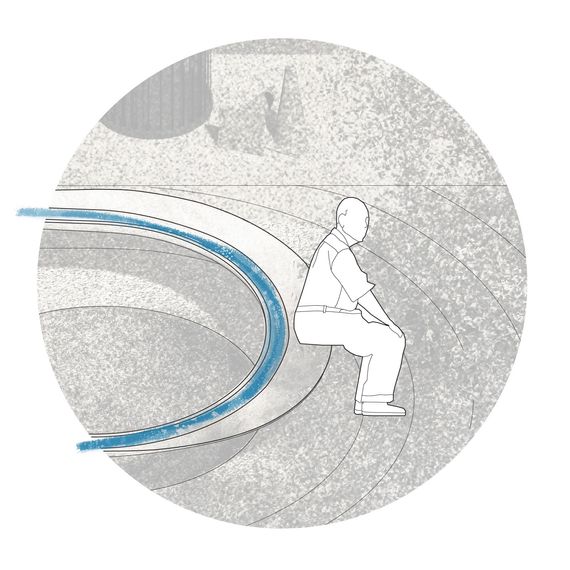 Berke started her architecture firm in 1982; it currently has eleven partners. In 2016, she was named dean of the Yale School of Architecture, having taught there since 1987. Her work, grounded in modernism, has at the same time been sensitive to the context and history of neighborhoods and specific sites when it comes to the reuse and repurposing of historic buildings.