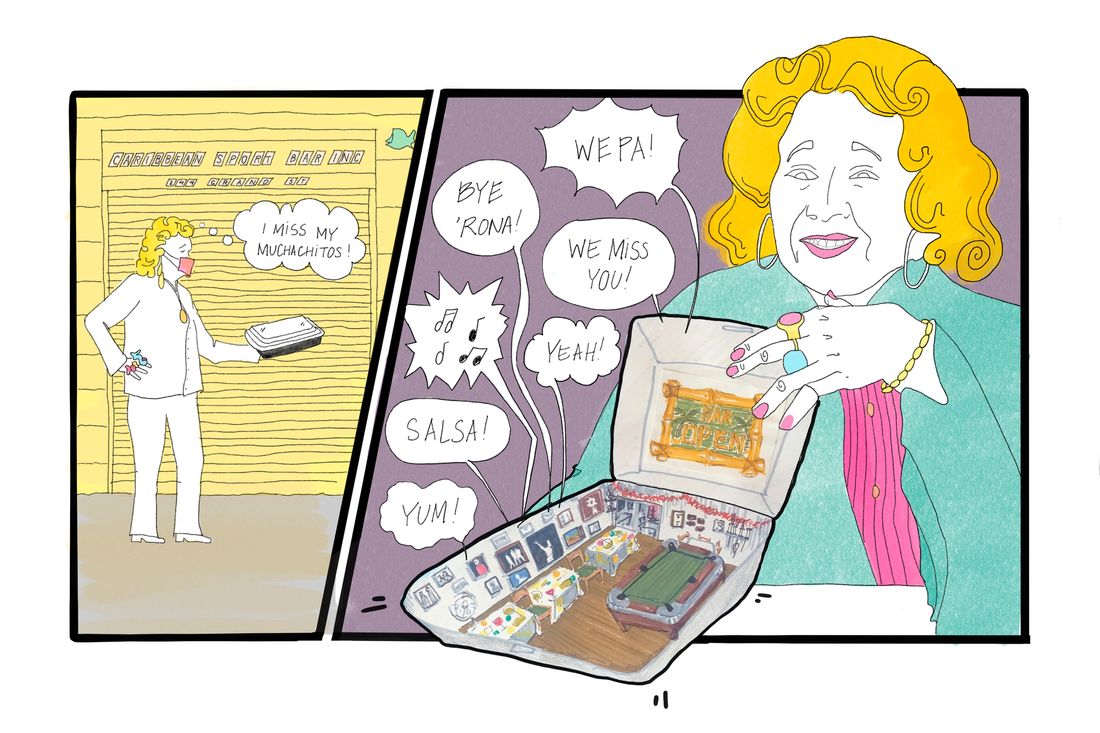 A year after New York City went into lockdown, COVID-19 has claimed the lives of more than 30,000 of its residents. The tragedy's scale has made it difficult to comprehend the private griefs so many of us have experienced: the million heartbreaks of lost friends, lost livelihoods, lost neighborhood fixtures, lost senses of belonging. Instead of proposing a grand permanent memorial, we asked a wide range of New Yorkers about the moments from the pandemic that stood out to them and how they would want those experiences to be commemorated. In response, a selection of architects and artists translated those clients' memories into proposals for temporary installations. We imposed no budget limit and no restrictions: The result could be a sculpture, a mural, a pavilion, a song—anything that could become part of the streetscape for a while. Presented here is one of 15 concepts submitted by architects, designers, artists, and composers; the rest will appear over the course of this week.
Client: Maria Antonia Cay
Owner of Caribbean Social Club, Williamsburg, Brooklyn
Maria Antonia Cay: "The only thing that has really affected me [over the past year] is not seeing my muchachitos. We all had so much fun here, and now we can only see each other for a little bit [at a time]."
Architect: Marvel
For nearly 50 years, Maria Antonia Cay has been the life of the party and the backbone of a neighborhood through her club, Williamsburg's Carribean Social Club, which everyone affectionately knows as Toñita's. It's one of the last remaining Puerto Rican social clubs in the city, and it was already fighting to survive before the pandemic. So when Cay had to temporarily close down last March during the city's first shutdown, the loss was all the heavier. No longer could people drop by for some beers after work and put a few bucks in the jukebox for a dance or join a game of dominoes. And forget about sitting down for one of her free Sunday lunches. Cay's 80 years old, after all, and it wouldn't be safe. Throughout the pandemic, though, her regulars — whom she affectionately calls her muchachitos — would drop by to say hello. (Cay lives upstairs.) She still cooks her Sunday pots of rice and beans, but now hands them out to go. "I've had to give [my regulars] food at the door in plastic containers," Cay says. It's definitely not the same.
The designers at Marvel — the multidisciplinary design firm behind St. Ann's Warehouse, the Naval Cemetery Memorial Landscape, Resilient Power Puerto Rico, and the newly revealed Union Square Park redesign — know firsthand from visiting the club in years past just how important Toñita's is to the neighborhood and to the city.
"[The club] is about the sense of community that she creates within that space," says Yadiel Rivera-Díaz, a partner and landscape architect at Marvel. "It feels like being in the living room or dining room of one of your tias back in Puerto Rico. It's just very welcoming."
Marvel's concept, which was designed in a collaborative open process across the firm, is twofold: First is a commemorative takeout clamshell called the "Container of Joy" — the clamshell equivalent of a souvenir cup that's decorated in the colors and patterns found inside the social club. Made en masse, these would allow Tonita to offer takeout in a more personal way than through ordinary plastic containers. And second, a reimagining of the street where Toñita's is located as the "Caribbean Social Block," which brings the club outside. Marvel proposes extending the sidewalk into two parking spaces, then casting chairs and long communal tables out of bronze (inspired by Tom Otterness's sculptures that pop up in public space) and placing them in the reclaimed public space — a sort of permanent streetery. The firm also envisions installing tall bronze poles along the sidewalks and in the lot across the street from the club (where Cay grows vegetables), so that the neighborhood can easily string up lights or flags to amp up the celebratory atmosphere for years to come. You can already hear the slam of dominoes on the tables.
Annya Ramírez-Jiménez, director of Marvel, has two words to describe what the firm wanted to achieve with the concept: "pure joy." It's a fitting tribute to a club that's brought so much happiness over the decades and a corrective to a year in which that feeling was sorely lacking.
Credits
Marvel opened up participation in the COVID Memorial Project to the entire firm, which is composed of architects, interior designers, landscape architects, urban designers, and planners. The firm set up a Miro board for ideation and invited anyone on the team to collaborate. The concept and sketches for Toñita's memorial are by Andrew Brown, Ana Cubillos, Eduardo Llinas, Isabel Jane Marvel, Marisa Lopez, Claudia Castillo de la Cruz, Annya Ramirez, Yadiel Rivera-Diaz, and Jonathan J. Marvel.