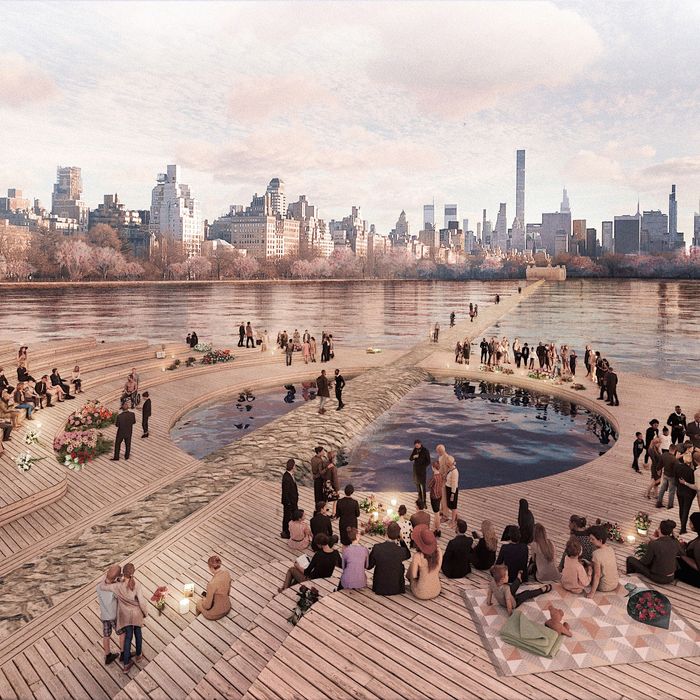 A year after New York City went into lockdown, Covid-19 has claimed the lives of more than 30,000 of its residents. The tragedy's scale has made it difficult to comprehend the private griefs so many of us have experienced: the million heartbreaks of lost friends, lost livelihoods, lost neighborhood fixtures, lost senses of belonging. Instead of proposing a grand permanent memorial, we asked a wide range of New Yorkers about the moments from the pandemic that stood out to them and how they would want those experiences to be commemorated. In response, a selection of architects and artists translated those clients' memories into proposals for temporary installations. We imposed no budget limit and no restrictions: The result could be a sculpture, a mural, a pavilion, a song—anything that could become part of the streetscape for a while. Presented here is one of 15 concepts submitted by architects, designers, artists, and composers; the rest will appear over the course of this week.
Client: Rabbi Rick Jacobs
President, Union of Reform Judaism
Rabbi Jacobs: My mom died in California in April, and because of the pandemic, I couldn't go to the funeral. I felt like I needed to be there as her son, but also as a rabbi, to help guide our family through the process. We held a Zoom funeral — which I'd done for others, but this was my mom! — and there was this moment when I heard the earth going into the grave. Normally, the smell of the earth helps to close and open different dimensions. That didn't happen here. The sound came through a computer microphone, and on some profound level I didn't have closure.
Religious communities are famous in their rigidity and staying with the status quo, and parts of us were stuck in the old days. But this is a profoundly "unsticking" moment. It's forced us to ask: How can we do things differently? I'm in my first year of mourning, so I pray with a minyan every morning, and I do it with many different communities. That's hugely comforting. We've had to find new ways to sculpt the rituals themselves, how they unfold, how we choreograph them. The point of mourning is to help us honor memory and also to let go. At the end of the shiva period [the seven days of mourning at home], you walk around your block to signify that you're going back to your life and back out into the world. It's a way of opening a new chapter. I did that: I walked around the block and I came back to my home, and because of the pandemic I just stayed there, stuck in the same chapter. And I realized this doesn't work now, so we're going to have to figure out how to walk around that block as a community.
Architect: Michael Arad, Handel Architects
Location: Central Park Reservoir
As the designer of the World Trade Center Memorial, Michael Arad, a partner at Handel Architects, is something of an expert in creating space for contemporary rituals of grief. The rabbi's call for new ways to gather, celebrate, and mourn, prompted Arad to search for a place where New Yorkers could seek each other out and be together, yet apart from the city. At first, inspired by Arnold Böcklin's 1880 painting Isle of the Dead, he imagined creating an island in the middle of the Central Park Reservoir, reachable only by ferry. Then he discovered the existence of a submerged 19th-century stone dam that cuts across the center of the Reservoir from one stone gatehouse to the other, one that could be revealed if the water level were artificially dropped. That led him to the idea of an installation that would give rise to new urban rituals as varied as the people who celebrate them.
Curbed's request for a temporary installation merged with the tradition of Yahrzeit, the annual commemoration of a loved one's death in Judaism. "I liked the idea that for one week each year, you could access a place in the city that at other times is just a submerged memory. The Reservoir exhales, the level of the water sinks, and the dam appears so you can traverse it on foot." At the halfway point, the causeway cuts across a circular floating island made of wooden planks, like a summer camp's swimming dock. The two sections open in the middle, leaving a core of water. On either side, a crescent of bleachers forms low hills in the middle of the water, giving visitors a way to gather into one large group or to separate into smaller clusters.
"I can imagine people enjoying themselves there, having a drink or a picnic, but I can also imagine them conducting a memorial service," Arad says. "If it's only open once a year, people will invent rituals that will go with it." No sooner has the architect sent in the drawings than he's already dreaming up revisions: He would reorient the seating to align with sunset on the spring equinox, and spend more time designing the passage through the stone gates at either end, both to make them accessible and to take advantage of the vestibule between the profane world of the city and the temporary floating sanctum.