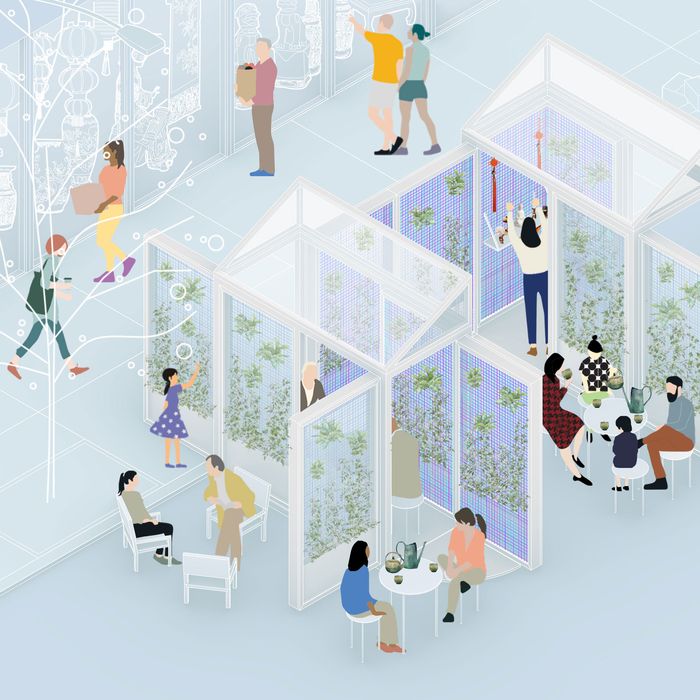 A year after New York City went into lockdown, COVID-19 has claimed the lives of more than 30,000 of its residents. The tragedy's scale has made it difficult to comprehend the private griefs so many of us have experienced: the million heartbreaks of lost friends, lost livelihoods, lost neighborhood fixtures, lost senses of belonging. Instead of proposing a grand permanent memorial, we asked a wide range of New Yorkers about the moments from the pandemic that stood out to them and how they would want those experiences to be commemorated. In response, a selection of architects and artists translated those clients' memories into proposals for temporary installations. We imposed no budget limit and no restrictions: The result could be a sculpture, a mural, a pavilion, a song — anything that could become part of the streetscape for a while. Presented here is one of 15 concepts submitted by architects, designers, artists, and composers; the rest will appear over the course of this week.
Client: Alice Liu
Manager, Grand Tea & Imports, Mulberry Street
Alice Liu: My parents founded [Grand Tea & Imports] in 2007. It started as one flagship on Grand Street, importing small-batch tea and organizing tea-culture events. My dad's nickname is Teafucius. In 2011, we merged with a Buddhism, feng-shui, and folk-religion specialty store that had operated in Chinatown since 1990. So Chinese families also buy spiritual goods from us to celebrate Lunar New Year festivities, wedding ceremonies, new business openings, and to practice ancestral worship.
We had three stores close because of the pandemic. So we had two locations operating at the beginning of 2020, and then we were starting two other locations that were opening, and then COVID hit. We couldn't support the rent of four places with barely any business or foot traffic. And then there was the fire … it was a three-alarm fire. It damaged the building that our flagship store was housed in as well as the building to the east of it.
My main memory of 2020 was moving a lot. We didn't hire a packing or moving company. It was just my parents, me and my boyfriend, a few of our family friends, and other family members hand-moving everything. Everything from altars to statues to paper goods to tea, all of our huge collections, carts and carts full of goods, just wheeling it with a hand truck. Our shelves, too, and boxes and boxes of inventory, just packing and unpacking, packing and unpacking. Think bronze statues and porcelain statues and giant resin-and-wood statues — and our shrines are humongous, taller than a human, like reach-to-the-ceiling kind of tall. And then those bigger altars that are full tabletop altars — we had to move all of those by hand one by one. We were just wheeling those across Chinatown.
Architect: MODU
Location: In front of Grand Tea & Imports
When the pandemic locked everything down last spring, Alice Liu's parents, who own Grand Tea & Imports, had to make hard choices; they closed three of their four locations, and Liu started working hands-on in the store while her parents assessed the risks and rewards of staying open. She and her family, painstakingly and by hand, packed and moved their delicate and fragile goods across Chinatown item by item. And then, in September, a fire swept through their flagship building, destroying the structure, and they had to move once again, across the street. Throughout the turbulent year, the one constant in all that change has been the family's altars: one in their home and one in the back of the store. "That's been a constant for us, that my parents continue their traditions in some form," she says.
Rachely Rotem adds that different cultures have different relationships between inside and outside; New York City, which has its own ecosystem of privacy and publicity — in which you can cry absolutely uninterrupted on the subway or live alone for 40 years without anyone ever thinking that's odd, for example — has already been pushing the envelope on what it means to engage with architecture. Phu Hoang and Rotem point to the ways in which temporary streetery structures have begun to change New Yorkers' idea of what can constitute a building or a space. Their contribution, then, is in line with all the pop-up structures that have taken over the streetscape and offers a new through-line of temporality, communal gathering, and ritual.
The concepts guiding their design — architecture that is adaptable, designed for scenarios rather than fixed outcomes — are ideas that the practice has been examining for a long time. Their tea pavilion–greenhouse for Liu is built for all seasons: designed to open up in the spring, summer, and early fall to visitors for sitting and sipping tea and then, in the winter, close up but remain visible, providing a glimpse of growing tea plants, jasmine, and other greenery.
The architects, like Liu, return to the altar as the centerpiece. What's intriguing to Hoang is how they cross building types, appearing in both residential and commercial spaces, demarcating and blurring the boundaries between the inside and outside. Rotem lists the plants that are designed for this place — tea plants, jasmine, and more — and points to how they begin to articulate a new kind of urban nature. In a year that has profoundly upended these boundaries, their flexible glass house gestures to private rituals and ceremonies shared with a broader public.
More From The Covid Memorial Project
See All