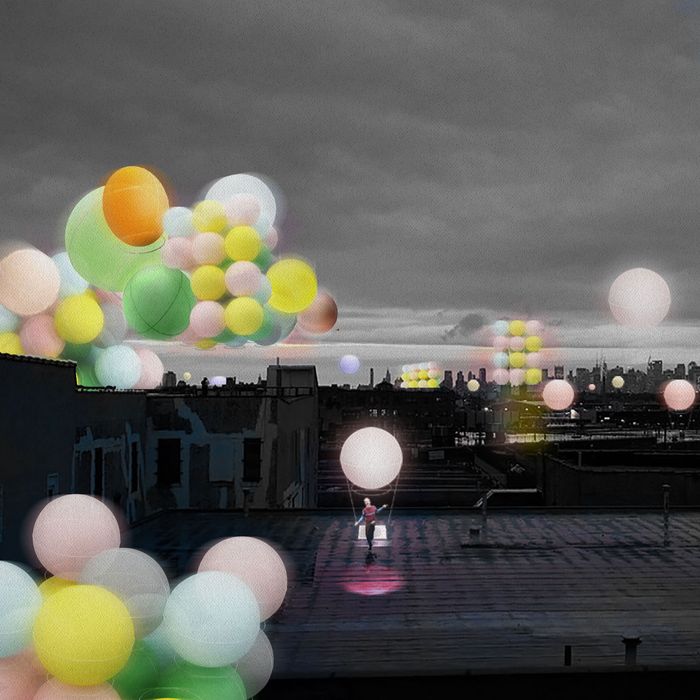 Art: Tommy Yang and Mark Gardner
A year after New York City went into lockdown, COVID-19 has claimed the lives of more than 30,000 of its residents. The tragedy's scale has made it difficult to comprehend the private griefs so many of us have experienced: the million heartbreaks of lost friends, lost livelihoods, lost neighborhood fixtures, lost senses of belonging. Instead of proposing a grand permanent memorial, we asked a wide range of New Yorkers about the moments from the pandemic that stood out to them and how they would want those experiences to be commemorated. In response, a selection of architects and artists translated those memories into proposals for temporary installations. We imposed no budget limit and no restrictions: The result could be a sculpture, a mural, a pavilion, a song — anything that could become part of the streetscape for a while. Presented here is one of 15 concepts submitted by architects, designers, artists, and composers; the rest will appear over the course of this week.
Client: Marcus Paul James
Broadway Actor, Ain't Too Proud: The Life and Times of the Temptations
Marcus Paul James: So then fast forward to that March 12 day, when we were told to stay home. Everything changed to the point where you're like, "Have I experienced something that no one will ever experience again? Will we ever go back to doing eight shows in one week? Will we ever go back to trying to cram 10,000 people into a 5,000-person space?"
One would think, "Ooh, I've got all this time. I'm gonna write everything I got. I'm going to finish these 18 things I've been wanting to start." And for me, it didn't come that way for two months. You need almost anything. A blank canvas for me is the scariest thing. Until June, in which my feelings got assaulted because we were watching things that no human being should watch and we needed to wake people up. That sparked me to write again, because then I had something to say. And there are some spaces in which we're never going to go back to.
So being a person of color in the commercial theater world requires you to understand the power and the sell-ability of your culture and how you deal with that. You know that you're the only Black person in the room and that you have a responsibility. But being the only Black person in the room, you don't have any power. So you either need to keep your spot in the room or you take up the purpose of trying to be 20 people in that room because you have to.
Now in that regard, people are now educating themselves about how this works, and all the things we think we needed were only imaginary. Theater isn't a building. It's the people. If there's no people, there's no theater. So if you think that Broadway or any play can only exist under the guise of these five white producers with all the money, that's a lie. Here are the 10,000 other avenues that no one's ever taught us or showed us that can work. You're waiting for a stage to perform on? Create a stage! Make our houses as a stage, make your roof as a stage! Let's actually continue to write, because when this comes back, they're going to try and do all the old things again, because nothing new was made. So we need to be making what we're going to be doing next.
Architect: Tommy Yang and Mark Gardner
Location: Citywide
In the spring of 2020, Marcus Paul James, an actor in the Broadway musical Ain't Too Proud: The Life and Times of the Temptations, was extremely busy: He was covering nine cast members' roles, releasing new solo music, and planning his first gala for a nonprofit gospel choir. Then, on March 12, it all shut down. The long, quiet period that followed, along with the devastating police killings that led to the resurgence of the Black Lives Matter movement, galvanized him to rethink the way theatre, and his role in it, was defined.
Mark Gardner, principal of Gardner/Jaklitsch Architects, was profoundly moved by James's story. As he says, "Being Black, being a performer, looking at how the Broadway community has put a lot of people out of work" — these were the elements that stood out. Gardner wondered, "How do you perform your craft? How do you get out there?" And he loved James's call for people to create their own stages, instead of waiting for one to appear.
And so Gardner and his former student, Tommy Yang, came up with a design of inflatable orbs that can float individually or be combined into a colorful canopy. A single performer could release one orb into the sky, marking her solo act, or the orbs could be bunched together to signal a larger performance. Yang, who was a student of Gardner's at Parsons and was tapped for his community engagement work, recalled the early days of the pandemic, when so many people connected on stoops, balconies, and the streets. "That became the drive for our project," he says.
What they intend to offer are what Yang calls "pockets of hope" — a design that can disrupt the power structures that James pointed out, the belief that we need those five white producers to create extraordinary theater. This project, coupled with James's drive to perform wherever he can, shows that all we may need are the fundamentals — light, color, sound — to make stages for new stories.