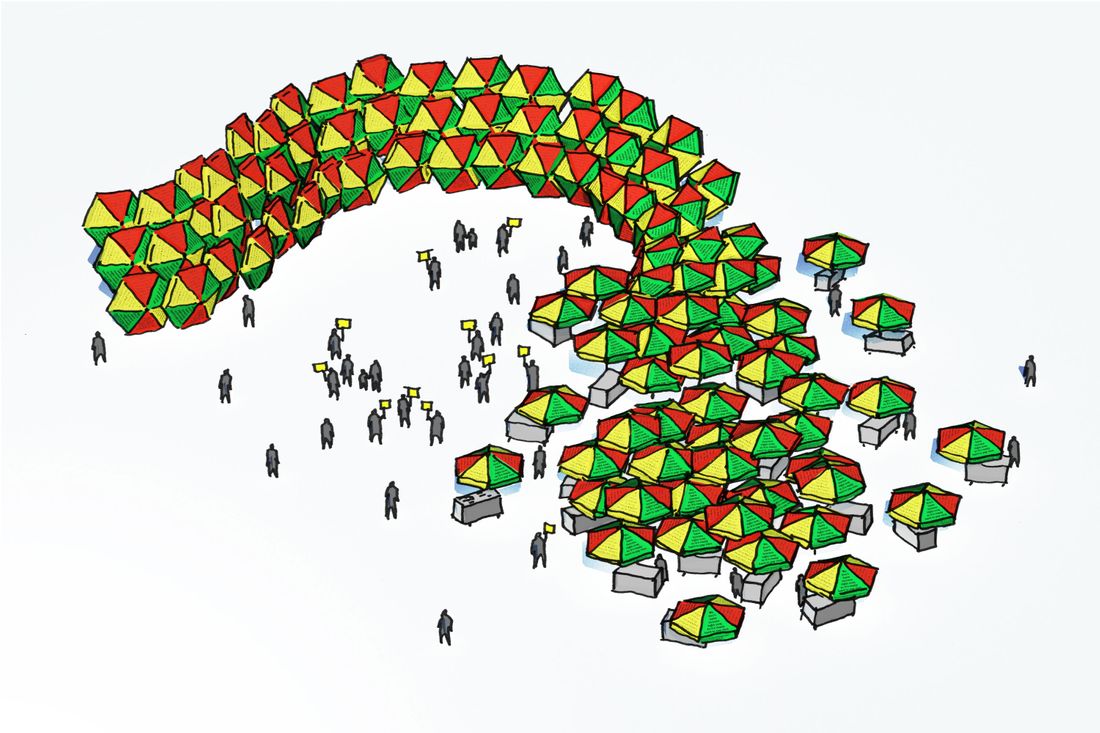 Art: Courtesy of Yeju & Chat
A year after New York City went into lockdown, COVID-19 has claimed the lives of more than 30,000 of its residents. The tragedy's scale has made it difficult to comprehend the private griefs so many of us have experienced: the million heartbreaks of lost friends, lost livelihoods, lost neighborhood fixtures, lost senses of belonging. Instead of proposing a grand permanent memorial, we asked a wide range of New Yorkers about the moments from the pandemic that stood out to them and how they would want those experiences to be commemorated. In response, a selection of architects and artists translated those memories into proposals for temporary installations. We imposed no budget limit and no restrictions: The result could be a sculpture, a mural, a pavilion, a song — anything that could become part of the streetscape for a while. Presented here is one of 15 concepts submitted by architects, designers, artists, and composers; the rest will appear over the course of this week. 
Client: Ki Wai Leung
Fruit vendor, downtown Manhattan
Ki Wai Leung: We have been closed since March, since the pandemic began. From March to June, we didn't go out at all, because that was the height of the pandemic. We went out for a little bit in the summer, but as the weather got colder, people haven't gone back to their offices, so there's no business on the street — there's no one outside looking to buy things. So even if we go outside, we can't sell produce and the food that we prepared, so we end up just throwing it away. A lot of the produce ends up being wasted because there's no one to sell it to. [My reminder of this year] would be a piece of produce, maybe a fruit, that ends up in the trash. It could be a banana, because it doesn't keep for a very long time and it's the one fruit that I ended up having to throw away the most. So it's really not worth it, and so difficult. Not only can we not go out to sell, but we don't have income, so it's really hard to pay rent, and also we fear for our own health because of the pandemic. So it's been really difficult.
This past year, mainly it's been a really anxious year, a year of a lot of uncertainties. We have a lot of payments that we can't make, like our rent; our landlord is always asking us for it, and it's just really difficult. There's a lot of bills, utilities — worrying about that is probably the biggest thing that's on our minds.
Designers: Yeju & Chat
Location: Citywide
Ki Wai Leung used to make a good living selling produce at the intersection of Centre and Canal streets. But ever since the pandemic began, he's lost the majority of his customers: the office and court workers who walked by his stand at least twice a day. Now, it takes around twelve hours a day to make a dent in his inventory, and he and his family have been living under constant economic stress.
Yeju Choi and Chat Travieso, who together form a collective called Yeju & Chat, wanted to directly respond to Leung's struggles. "What was heartbreaking was not only that this has happened, but that it's still going on," Choi says. Travieso adds, "People are still struggling to pay rent, to find income, so we wanted to create something that was useful in some way."
All of Yeju & Chat's projects are oriented toward function, whether that's using existing materials or emphasizing the utility of a design choice. For their proposal for Leung, they wanted to repurpose the near-ubiquitous street-vendor umbrella and turn it into a type of sign — one that could operate as a visual protest symbol or as a way of informing locals about resources (such as the hardship-declaration form, which prevents evictions) and other city programs that might remain out of reach for those without easy access to a computer.
"We figured that this umbrella could be a vehicle to promote these resources and calls to action," says Travieso. "There's a participatory element to it," Choi adds, explaining that this is a simple, movable prototype that could be deployed in different configurations depending on the need.
"These umbrellas are kind of symbolic objects," Choi says. "They could be anywhere, from Manhattan's Chinatown to Queens to Brooklyn to the Bronx, and they could be aggregated to create these moments of collective action and celebration or mourning," Travieso adds.
Most of all, Yeju & Chat wanted to draw attention to a significant social group that may not be getting that much attention and support. They point out that there are many undocumented vendors who have very little to fall back on. "We were thinking about all these different vendors and all these organizations that are fighting to support them."