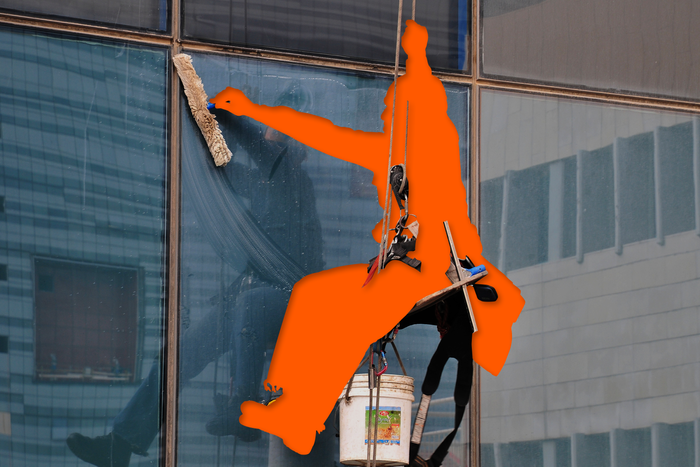 Photo-Illustration: by Curbed; Photo Alamy
For Craig Taylor's latest book New Yorkers (modeled after 2011's Londoners), the author spent over six years interviewing 180 of us, 75 of whom made it into this small volume: a private tutor, a cop, a doctor, a lice consultant, a personal-injury lawyer, a gay-rights activist, and a Salvation Army bell ringer among them. During these 400 hours of interviews, Taylor writes in the introduction, New Yorkers "did their self-​mythologizing on the go … They watched their life, related their life, made sure it was already a story, almost before the moment was done." Throughout the week, we'll be highlighting a few particularly interesting characters he met. On Monday, we heard from an elevator repairman, Tuesday we met a healer who specializes in "space clearing" New York apartments, and today it's Marvin Abram, who's worked as a window washer in the city for 28 years. "Abram is also a preacher at a Baptist church in Brooklyn," Taylor says. "He described his favorite views from the heights of New York in so reverent a voice it sounded like he was delivering a sermon."
I was really hard up for a job. I was working in the Garment District, bringing home about $90 a week and it wasn't making it. My uncle, who was a second-​generation window cleaner, I kept on asking him for a job. Finally I got one. He introduced me to a few people, I was sworn in at the union, and I went to cleaning windows. I've been cleaning windows since — ​twenty-​eight years later.
I've been doing everything from ladder work, stick work, belt work —​ where you hang out the window on a belt — ​and scaffold. I'm a well-​rounded person when it comes to window cleaning. Ground work and everything else. I wouldn't clean windows anyplace else in the world.
My first day was at the old Hanover National Building near Wall Street. They were showing me how to use a squeegee, how to clean the entrance doors, stuff of that nature. The belt was there for when I got there, I was a size 34 back then, and they took me up to the eighth floor and opened up the window, showing me how to put the belt on, how to reach out, and hook up, and how to proceed on climbing out of the window. I did that with no problem, because I wanted a job. I wasn't going to have any fear of heights. They told me, "Do what we tell you and don't fall." So that's the only advice I got. Short and sweet.
They taught me how to inspect the belt, even though it was brand new. You still have to inspect it, because the belt is primarily made out of fiberglass, and make sure the runners are intact, the springs are working on the clips, make sure it's not dry-​rotted, make sure it wasn't kept in a dry place that has a lot of heat or a place that might have too much moisture.
When you're doing belt work, it becomes your responsibility to protect your belt, protect your tool. Because that's something that, physically, you take home with you or keep in your locker. Your life really does depend on it. Most of the time, scaffold men, they're rescued. There's very few fatalities on a scaffold. But when you're a belt worker, it's the complete opposite. Because if you haven't been taking care of your belt, doing the right things when it comes to being well kept, as far as your belt, you don't get any second chances at all. It's history. You're supposed to return a belt in every four years. They get broken down, get rebuilt, or they get destroyed and the company purchases a new belt.
That first day, I went out on the eighth floor. The ledges might've been about two inches wide. I wanted to get it over with. I just wanted to get out there and close the window, stand out there for a few seconds, and come back in and get it over with. But as time went on, it became second nature to just climb out a window and do what I have to do. It became second nature.
I have some people take the squeegee from me saying, "I can do that," and it just comes out horrible. It's not like you're cleaning a glass table, or a mirror at home, or anything like that. There was one squeegee when I started, now they have a bunch of different brands of squeegee. I use Ettore, I'm an old-​fashioned guy. I stick with the same squeegee. The Ettore squeegees have been around since the '30s. An Ettore handle, a brass handle, will last ten years. They have Sorbos, and the Ninjas, and all that. But one might be brass, the other one might be a plastic handle. It doesn't matter, I can clean a window with any squeegee you give me.
I was taught to never take a squeegee off the window, unless it's completely clean. I start from the left-​hand corner, make my way to the right-​hand corner. Don't remove the squeegee off the window until it's clean. With experience, I could take it off and know how to put it back on. And not leave a line, you know. When you're first starting out, you walk away from the window, you don't see the line. But when it dries and the sun hits it and you're like, Wow. There it is. And that's what the customer says too.
Window cleaners see interesting stuff when we're out there. Sometimes you might be in a commercial building, where part of it is residential, and so you just stumble upon stuff. People don't expect to see you out there that early in the morning, you know? People might be walking around naked, or engaging in sexual intercourse or things of that nature. It startles the window cleaners.
We are always listening for strange sounds on the scaffold. When we inspect it, we don't take the scaffold apart but we check the cables, you know. At least the cable that we can see, that's out. We might raise the scaffold up four or five feet to look under it, make sure there's no loose parts. Then there's some stuff internally within a scaffold that we can't get to. But we know what we're supposed to hear and what we're not supposed to hear. We're listening for sounds that might be abnormal. Grinding, the cables being chewed up, or something like that.
I've worked with people where you could actually see  . . . ​ They climb up the ladder, and you can feel the ladder shaking because their legs are shaking. You wonder like, What's going on? What's wrong with you up there? You see people, really hesitant, climbing out of the window. You have to talk people back in because they're scared. They're scared to actually lean back on a window. You have to lean back on the belt. You can't stand straight up on a window to clean a window, you know. You got to lean back. You've got people that are like, "Ah, no, I don't want to lean back, no!" It's funny, you laugh at it. It's not funny at the time. But you're like, "C'mon and do it, we have to do our jobs. Lean back."
Excerpted from New Yorkers: A City and Its People in Our Time by Craig Taylor. Copyright © 2021 by Craig Taylor. With permission of the publisher, W. W. Norton & Company, Inc. All rights reserved. This selection may not be reproduced, stored in a retrieval system, or transmitted in any form by any means without the prior written permission of the publisher.