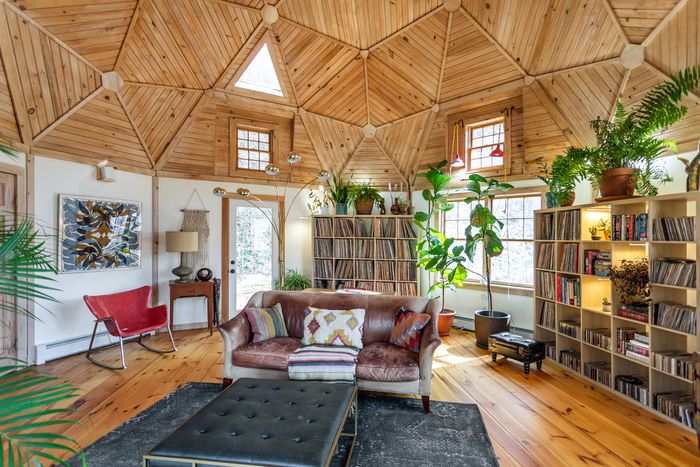 Set on a hillside across from a horse farm (across the river from the Appalachian Trail), this double-dome home was originally built in the mid-2000s by a young circus performer who wanted high ceilings so he could practice juggling.
Each of the two domes has 30-foot wood ceilings, which are still in great original condition. Everything else in the house was "in shambles" when current owners Courtney White and Carlos Moreno purchased the property in 2017. The couple renovated the roughly 1,762-square-foot house piece by piece with some help from White's father, a contractor, and two local carpenters. The exterior work alone included new cedar siding, new doors and windows, a wraparound deck, and a gravel firepit area.
The bigger dome, which the family calls "The Lodge," measures 32 feet in diameter, has pine floors, and is anchored by a freestanding black and yellow Malm fireplace. It's also where the dining area and a fully renovated kitchen with a stainless-steel farmhouse sink and blue calcite countertops live (White says the geode stone is meant to bring "calming vibes" and "good communication"). And there's a lofted living space (which could be used as a large bedroom, in addition to two bedrooms on the lower walk-out level). The loft also has a big bathroom with angled ceilings.
The second dome, dubbed "The Great Room," is smaller at 28 feet in diameter but is completely open with no loft. "Every weekend, we would lay on the floor on big pillows and listen to records and stare at the ceiling and zone out," White says.
The acoustics, as it turns out, are particularly cool in a dome home. "Even if you're up in the loft, you can hear all the way downstairs," White says. "We don't have to yell. The sound just carries perfectly."