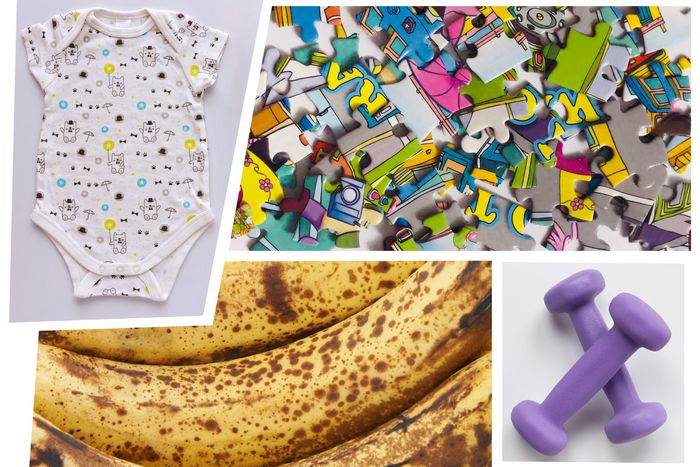 They won't cost you.
Photo-Illustration: Curbed; Photos: Getty Images
A Brooklyn woman was making banana bread. She had one rotten banana and needed another, so she posted an "ask" on the Buy Nothing Fort Greene–Clinton Hill–Downtown Brooklyn Facebook group. Within three minutes, she had seven rotten banana offers. Such is the power of Buy Nothing, a constellation of hyperlocal Facebook groups in which members ask for what they need, offer up unused miscellany, and get to know their neighbors through the unique bond of exchanging stuff.
Buy Nothing is like Facebook Marketplace's "Kumbaya" cousin. During the pandemic, as we're all sitting at home amid our clutter, membership in these groups has been expanding throughout the city. It is explicitly not about marketplaces or transactional relationships. Rather, its mission is to "give, receive, lend, share, and show gratitude in hyperlocal gift economies, where the true wealth is the connections between real neighbors." The "value," then, comes not from the item or service being exchanged (how much do seven rotten bananas cost, after all, even at Citarella?). Instead, it comes from creating community and perhaps consuming and trashing a little less. The Fort Greene–Clinton Hill–Downtown Brooklyn group, the second-largest of the city's 75 or so groups, has about 3,500 members. Its moderators receive more than 100 new-member requests weekly.
There are Buy Nothing guidelines: You can be in only one group at a time, and you must live within its neighborhood boundaries. In New York City, that neighborhood can be a mere ten blocks long. (The Buy Nothing organization is worldwide, but, as with everything else, New York has its unique spin.) You must join as an individual, not as a business. You can be kicked out for trying to sell or barter. And there are three self-explanatory types of posts: the give, the ask, and the gratitude.
In this city at this time, when people are huddled in apartments in a live/work/school/leisure swirl or on the move — trading up because of the market downturn, trading down because of job loss, moving back to Indiana — everyone needs both more and less stuff. Lately, people have been giving up full rooms' worth of furniture to make space for home offices, giving away entire apartments' worth of furnishings when they leave town, or simply decluttering because they have spare time. Meanwhile, people need more things to entertain themselves and their children. They need (and scramble to take) free weights, ethernet hubs, office desks, decorations for homeschool pods, crafts, kitchen gadgets, jigsaw puzzles — almost anything that looks good or will do. And dog items. Especially dog items. "Everyone is getting a dog," says Eddie, the administrator of one Upper East Side group that consists of 3,300 members in 14 blocks. "We are a community with plenty more than we need. I just finished playing a video game I got from the site. Now I can pass it along." Gifts and asks aren't just goods but services as well. A neighborhood walker may offer to pick up and deliver items while on his journey. Some members have offered to help find vaccine appointments, write résumés, or provide life coaching. There's a lot of packaged food, too. The other day in one midtown Buy Nothing group, someone offered a slightly used jar of peanut butter described as "95% full" after buying it for a big baking spree that didn't happen. (Someone took it.)
As for the actual handoff, occasionally things are left with doormen or at front doors. But unlike an Amazon delivery or a Goodwill drop-off, part of the Buy Nothing experience is the face-to-face exchange (socially distanced and masked, these days). "The value comes from little conversations when people drop things off," says Anna, a co-moderator of one of the Brooklyn groups. "It is the only thing that gets them out of the house and interacting with new people."
One would think the deal is first come, first served. On the contrary, often a giver is encouraged not to favor the person sitting at home all day hitting refresh. A Buy Nothing concept is to let the post "simmer." It's up to the giver to choose the item's new home. Sometimes an element of play creeps in too. Consider the bottle of prosecco this past Valentine's Day: The giver challenged potential recipients to tell a story of how the bottle would be used, and it went to the spinner of the best tale. A giver can use a random-number generator from the internet, pick names from a hat, or ask people to tell a joke or write a haiku.
No matter how specific the request, there's something out there, as in this household emergency: One fall weekday morning, someone's 4-year-old used the last temporary tattoo in the house, and the 2-year-old exploded into an all-out tantrum. Mom posted the urgent need for temporary tattoos and got ten responses in ten minutes. The family took a glorious (and calming) walk right away to get the toddler temp-inked.
The expected exchanges (children's clothing, kitchen gadgets, electronics) are posted along with the unusual, like habanero-infused honey, unpotted aloe-plant babies — which received interest from 45 people! — and carpet cleaners. It's not all cheap stuff, either. Peloton bikes, family-heirloom cut crystal, jewelry from the ex — all have turned up. So have utterly simple things: three 12-packs of ramen noodles ordered in the wrong flavor, say, or a big package of macadamia nuts from Hawaii about to expire.
Buy Nothing groups have lately been enriched by "stooping," the process of discovering discarded items on the street, posting pictures of them to the group, and getting them to an interested recipient. The Upper West Side group even has a super-stooper, a member who organizes expeditions through the neighborhood. This was how one lucky member got a potting bench. The bench was spotted; a picture was posted. The member who wanted it posted an ask to get help with delivery. A couple from the neighborhood grabbed the potting bench and stored it in their lobby. The recipient picked it up and lugged it home three days later. There's even the domino transfer: Someone gets a king mattress and gives away a queen. Someone else takes that queen and offers a full. Then someone finally gets the kid his own twin bed and upgrades to the full.
There is also merry-go-rounding. Jigsaw puzzles have apartment-hopped throughout the past 11 months. One person will finish the puzzle, post a picture, then pass it along. One member gave a computer monitor to someone who needed it for a few weeks. It was passed along. After several hops, it ended up with the member's sister, only to come back to the original owner and be sent out again. And then there's the saga of the toilet snake. Imagine it's 7 p.m. and your toilet clogs. You put out an ask and sure enough, within minutes, you have your toilet snake. And who needs to buy and keep that? You hang on to it until the next neighbor needs it.
Amid the goofy stories, there are somewhat more profound ones. Earlier this year, one member moving out of a shelter into an apartment asked the local Buy Nothing group for help. More than 100 comments later, that group fitted out the family's entire apartment — furniture, bedding, clothing, toys. Often, people prepare bags of clothing and toys to offer new babies. Once the newborn has outgrown those clothes (usually in, oh, about three days), they are washed and passed to the neighborhood's next baby.
The weather will be beautiful soon; the pandemic may even be over one day. People will emerge from their huddles to greet their newfound friends in the park or the streets. The toddler will be reading some other kid's old book, the baby will be in the neighbor's old stroller, you'll be wearing their old shoes, they'll be wearing your jacket. And everyone hopes the toilet snake will have found its way to someone else's apartment.