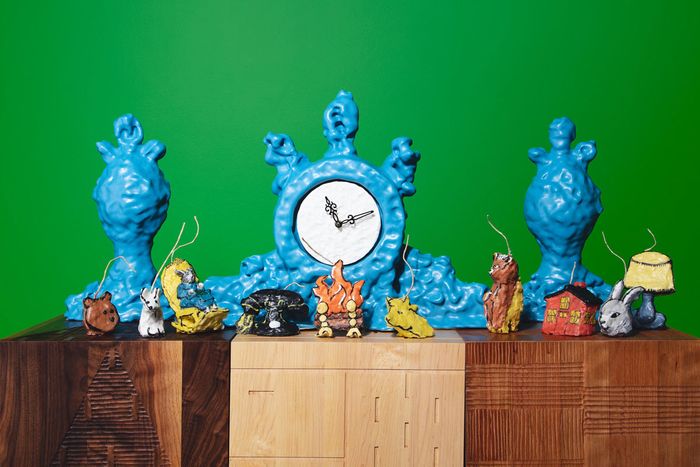 The "Goodnight House" exhibition at Fort Makers includes candles by Janie Korn and a ceramic mantlepiece by Keith Simpson.
Photo: Joe Kramm, Courtesy of Fort Makers
From time to time, I'll be sharing the objects (and the people who make them) that I'm particularly excited about, as well as noteworthy design news and goings-on.
Perhaps it's because I'll be moving soon, but home goods have been on my radar lately. This week I'm sharing a few that I covet, plus a couple exhibitions that speak to how we build and who we celebrate.
Janie Korn's Candles at "Goodnight House"
In the ever-expanding world of sculptural candles, Janie Korn continues to make some of the most fun and unexpected ones around. (Would I burn her tiny bust of RBG? Probably not. But Chuckie? Get me a flame thrower.) Her latest are part of "Goodnight House," an exhibition opening at Fort Makers's Orchard Street gallery next week, which will feature a room composed of artists' interpretations of objects in the story — the clock, the balloon, the night sky — that have helped kids (including me) fall asleep for nearly 75 years. Korn's contributions to the show are candles in the shape of a bear, a mouse, a rabbit, a cow, and burning fireplace logs. On view March 18 through May 27.
There really is a tool for every job, which is something I learned firsthand growing up around my dad's wood shop. In the world of Japanese woodworking — which relies on complex joinery rather than screws, nails, and glue to hold things together — there are very specific saws, chisels, drills, mallets, and planes that enable artisans to do their job. When Practice Becomes Form: Carpentry Tools From Japan, a new exhibition designed by Sou Fujimoto at the Japan Society, has many of these traditional tools on view, as well as examples of the joinery made using them. One of the most impressive is the enormous wide-blade rip saw (Maebiki-oga), which has a two-foot-long, one-foot-wide blade. Unlike American saws, its teeth are sharp on the side facing the handle and cut using a more efficient pulling motion. Through July 11.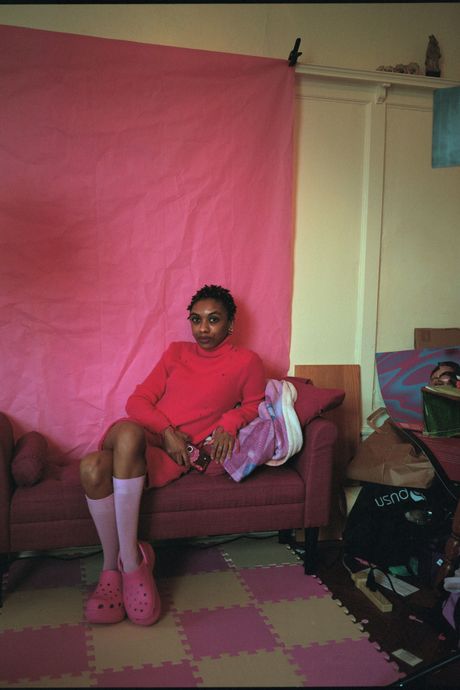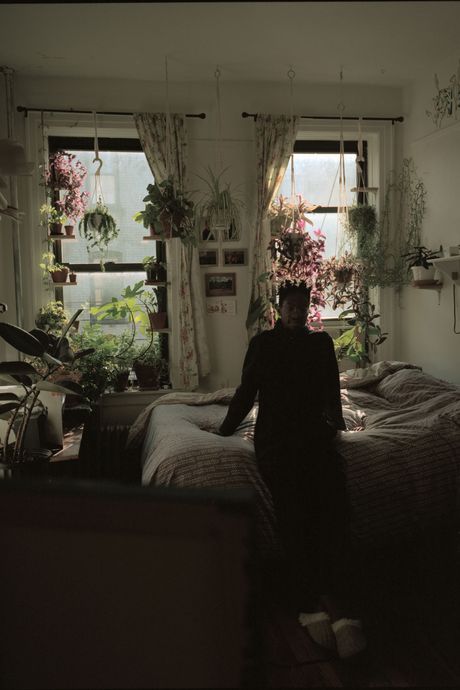 There's always a level of voyeurism in an editorial home tour, and perhaps a promotional boost for the designer hired to compose the space, if it's that kind of home. But there's also an archival dimension: Creating records of how people exist and move through their most intimate spaces. In a recent photo essay for Dweller — a music festival-turned-online magazine focused on Black creatives — photographer Gregory Harris visits the homes and workspaces of three Brooklyn artists in Flatbush and Clinton Hill who have created sanctuaries for themselves. The accompanying text examines the disconnect between how Brooklyn is often characterized in film and television (aka all-white casts in all-white spaces) and the lived experiences of its creative residents, which are infinitely more diverse and rich. Harris's project challenges that disconnect, and allows us into the world of people like the painter Ryan Davis, whose plant-filled bedroom looks like a terrarium, and audio-visual artist RaFia Santana, who lives around musical instruments from three generations of her family and extended her famous obsession with the color pink to her furnishings.
Faye Toogood's Dough Tableware
Design has gotten rounder, puffier, and kind of inflated-looking over the last few years. The British designer Faye Toogood epitomized the trend with her 2018 Roly Poly chair, and now she's translating it to home goods through a new tableware collection, aptly named Dough. It'll include mugs, plates, pitchers, and platters ranging in price from $55 to $270. No firm date on launch, but it's expected to go on sale before summer. Sign up to be notified when on Toogood's website.
Essential Workers on Bus Shelters
During the pandemic, artist Aya Brown has been illustrating loving portraits of the city's essential workers to celebrate and honor their contributions to the city. Some of them have been blown-up to human scale as part of her exhibition Black women: you are essential, we love you, we see you, which appears on nine bus shelters in Brooklyn and is nearing the end of its 30-day run. (We love a good bus shelter exhibition at Curbed.) It's a reminder that even as we're approaching the one-year mark of lockdown, these women haven't stopped working to keep our city going — even after hazard pay ran out. Brown makes sure they receive our continued support and attention. See the locations here. Through March 14.