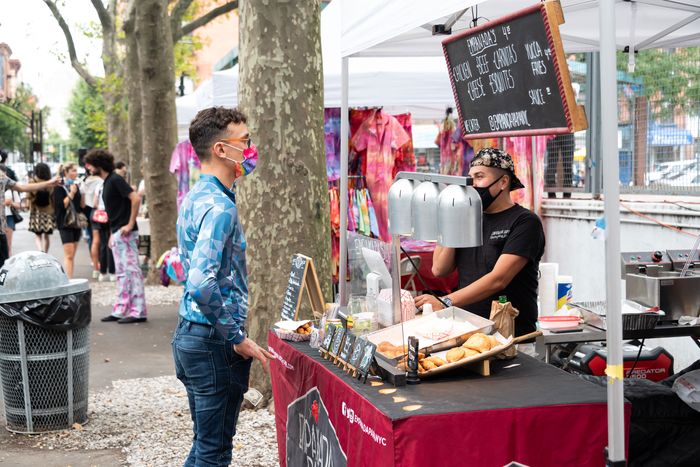 Photo: Noam Galai/Getty Images
On summer and early fall weekends, an empty concrete lot behind the Seward Park Co-ops echoes with R&B jams as New Yorkers amble through, buying anything from Argentinian-style empanadas to vintage advertising prints. It's been that way since 2010, when the Hester Street Fair made its debut on the Lower East Side, building its reputation as a place to find local artists and vendors. But 2020, when the market somehow managed a COVID-safe, socially distanced season, might have been its last: Curbed has learned the Seward Park Co-Op board will not be renewing the fair's lease.
The move startled both the fair's organizers and its vendors, who were preparing to reopen on April 10. "It comes with much surprise and sadness that the co-op is considering a different operator for the original Hester Street Fair lot," David Komurek, the owner of the fair, told Curbed. "We had an amazing time, brought a lot of people to the neighborhood, and started a lot of businesses there." Hester Street was a place where you might find a "microbe tee" from a sustainable shop called Mindblown or buy CBD soap during one of the fair's many theme weeks, including girl power, vintage day, and pride. Several local businesses, including Kopitiam and Partybus Bakeshop, got their start at the fair before graduating to brick-and-mortar locations.
The Hester Street Fair had a ten-year license agreement that ended last year. Over that period, and perhaps owing to the fair's very success, the co-op has received numerous proposals from other street-fair operators, and as the agreement with Hester Street lapsed, the board decided to examine other options. "Following meetings, research, presentations and interviews with several prospective operators, the board has decided to continue and reinvigorate the outdoor market at Hester Street with a different operator, whom we feel will bring fresh ideas, an impressive track-record, and substantial operational and marketing experience, to the space," Wei-Li Tjong, the board president, told Curbed. The co-op plans to announce the new operator soon.
That leaves many Hester Street vendors, some of whom have been struggling to keep their businesses afloat throughout the pandemic, in limbo. Sarah Feldman, the owner of the jewelry shop Prince Peacock, had been participating in the fair since 2018. Feldman says they were able to make some money from their business last year and even put some amount into savings thanks to the customers they met and sold to at Hester Street last season. "It devastates me that they are pulling the rug from so many vendors who rely on this as a way to pay rent," they said. Another jewelry vendor, Katie Gogishbili, says the fair's last season gave her hope that her business could survive the pandemic. She's spent months getting ready for this year's fair: "I was coming up with new ideas and creating new pieces — I was ready to rock it this year. And now I don't know what to do," she says.
Tjong said that vendors interested in participating in the new market can contact the board. The new operator, which has previous experience running other fairs, is expected to expand the market by adding new weekday hours and additional programming. Still, even if there will still be a fair, vendors are saddened by the decision. "To not have Hester Street Fair is to not have the Lower East Side," Feldman says. "It is a cultural hub of art and community."