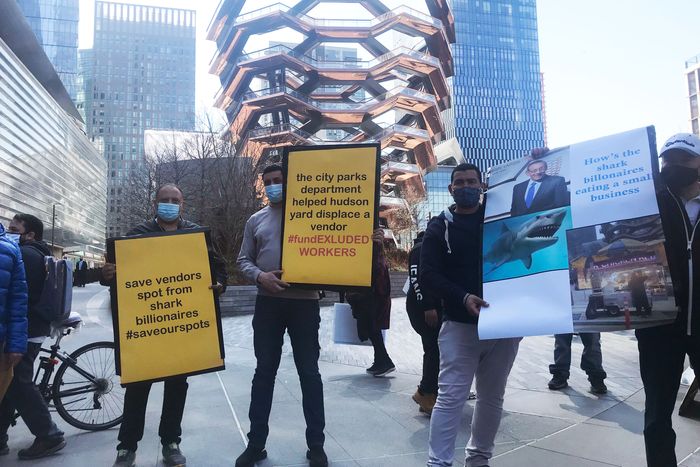 Mohamed Awad, a street vendor from Egypt, has been selling hot dogs and halal food on 33rd Street between Tenth and Eleventh avenues since 2014. Today, he and his four partners have three food carts there. When they started out, construction had not even begun on the Related Companies megadevelopment known as Hudson Yards. But once it opened in 2019, Awad, his partners, and their employees began to face harassment from the police and Hudson Yards security, even though their carts are on a public sidewalk outside the line of glossy black cylinders that delineate Related's property. On Monday, he and at least two dozen other vendors and workers, all of whom are immigrants, fought back in a protest outside the mall, waving signs reading: "SAVE VENDORS." "There's no room for us," Awad said during the protest. In the shadow of the Vessel, they chanted, "aquí estamos y no nos vamos" ("we're here, and we're not leaving") as several police officers lingered around the area. "It is time that the real estate industry stopped running our city and controlling our public space," Mohamed Attia, executive director of the Street Vendor Project nonprofit, said. "Our public space is made for all New Yorkers and visitors to use and utilize, not to be privatized by billionaires."
Lately, the private-property line has seemed to expand as Related has added new landscaping elements that Awad and others believe are intended to push them out of Hudson Yards altogether. In early 2020, the developers built two tree beds right where Awad had been parking one of his food carts along the curb. In January 2021, Related got a temporary four-month permit to extend those tree pits, effectively blocking Awad and his partners from parking two more carts there. (They laid off employees shortly after that.) That left Awad with just one cart on the corner of 33rd and Hudson Boulevard, by an entrance to the complex. Then in early March, a bulbous concrete planter — the only one in that vicinity — was placed right there. City regulations explicitly require vendors to leave a 12-foot-wide clear path on the sidewalk in front of their carts, and these changes effectively built him out of business.
After their rally, several street vendors took it upon themselves to push back, literally. The Street Vendor Project had found that Related didn't have a DOT permit to set out that planter. So several street vendors worked together to shove it just far enough to make room for Awad's cart, as Hudson Yards employees and several NYPD officers stood by. Police warned them that if they made even a small scratch on the planter, they could get arrested for damaging private property. (Related did not respond directly to questions about the permits. "Hudson Yards and the High Line experience extraordinary visitation and as a result public open space needs to be managed for everyone's safety," a spokesperson said. "The city has clear regulations that are specifically designed to keep the streets and sidewalks safe.")
Awad says he's been told many times that he should just move to a new corner altogether. "They told me 'you're not gonna win this — the owner is a billionaire, and they're going to kick you guys out.' But I'm not selling drugs. I'm a hot dog guy. I've been here before all of them. It doesn't mean I own [the space], but this is a public street. I'm not going to give up."
By Tuesday morning, the planter had been moved back, leaving Awad no legal space to set up his cart.