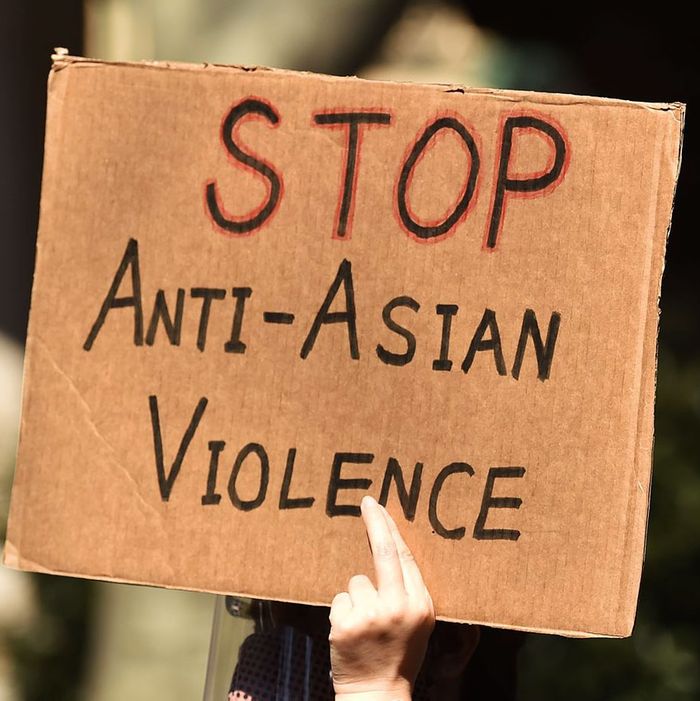 Photo: Stephen Lovekin/Shutterstock
On Sunday, after marching in a protest against anti-Asian racism with her 7-year-old daughter, Katie Hou was punched in the face by a man who saw her homemade protest sign. The attack on the 37-year-old woman, an accountant and immigrant from China, was one of five against Asian Americans last weekend, including one involving a man who was left in critical condition after an assailant shouted a racial slur and punched him in the head. They come one week after a white gunman in Atlanta murdered eight people, including six women of Asian descent. So far this year, there have been 23 attacks on Asians in New York City, according to the NYPD, compared to 29 such incidents in all of 2020 — putting New York on track for a particularly gruesome year. On Monday, a 27-year-old man was arrested and charged with a hate crime for allegedly assaulting Hou. We spoke with her about the attack and what she hopes people take away from her experience. Here's what she had to say.
At my daughter's school, they're learning about race, about discrimination. That's why we went to the protest in the first place: We need to speak out and say what we think is right. I was hesitant mainly because I understand the risks. But after my daughter heard that there is a protest, she said, "Let's go!" and we started making our sign. I thought it was a good experience for her, so I encouraged her and we went together. We live in Midtown West, and we took the subway to Union Square. We stayed for maybe an hour and a half. There were a lot of people. I would say a couple of thousand. So it feels good that the community has a lot of people and they want to passionately express themselves. Most of the people were clapping, and the cars were honking. It felt good to be a part of that.
We left early because my daughter was a little bit tired. We were close to Astor Place and 8th Street and were walking toward the subway stop. That's when I saw a man walking toward us, and he asked for our sign, I thought very nicely. I thought he was going to use it at the protest, so I said, "Okay, you can have it." It said "RACIST = PSYCHOPATH." But after we walked away, he started to destroy the sign. I guess what was written on it really offended him. He was stepping on it and tried to throw it into the trash can, but it was too big so he was trying to rip it into pieces. I tried to stop him. I was yelling loudly, "What are you doing?" I walked toward him. Even though he's a big guy, I got in his face, and he punched me in the face twice — to my mouth and my left eye. My body tells me it's very dangerous, but my mind tells me, Go for it. So I chased him maybe five or ten yards, and I tried to grab him but I twisted my ankle. So he ran away, saying, "I'm from the NYPD! You will all be arrested!" It was so sudden and so fast. I honestly didn't think much; all my actions were just automatic. My first thought was to immediately grab him and call the police.
My daughter, she watched and was terrified. She was stunned watching this happen to her parent. I think she learned a lot through this incident and also the protest. She speaks very little compared to before; she just doesn't want to talk about it much. So I'm just trying to let her recover. We didn't talk much, but she thinks what we did was right and does not regret it. Now, looking back on what happened, I think it's not very safe to just walk on the street or ride the subway. I'm hesitant. Before, I wouldn't have this feeling. Even though I'm recovering, it doesn't mean I'm thinking it's okay for me to just go outside.
It was really horrible because that's what we protested against, and then it happened. And not only me but several cases of attacking Asians happened this weekend. I knew this could happen — you see the anti-Asian hate crimes increasing; that's the whole reason we went to the protest. But I'm still really shocked that this actually happened. This is a very real issue in this country and this city, and we need to confront it and encourage more Asians to speak out, to stay safe but at the same time stand up for ourselves and others bravely. I feel like it's the chicken and the egg. Why do we get attacked? Because we appear not to be strong. After this attack, I feel it's really important to send a message to the whole Asian community that we need to stay strong and stand up for ourselves when this kind of incident happens. Don't be scared; be vigilant.
There were a lot of helpful people around who chased him into the subway and took some photos. That was very helpful for the police. When the police came, I told them everything, and they gave me a police report. They took me into the ambulance, and the person in the ambulance wrapped my foot and he gave me an ice pack and then took me to the hospital. There, I got treated and checked by the doctor. He checked my head and my bones in my left foot to make sure my bones are okay. Then they exchanged the ice packs for crutches. By 2 p.m., we left for home.
My husband is in China, and he called me a few hours later. He was very worried at first about me and my daughter, but he was very proud of what I did because we need to stay strong. We won't be safe until everyone is safe. After this, I feel like protesting is really necessary, and we need to do further actions to stop this from happening again. I really like the motto of my daughter's school: "Brave for self, brave for others." And I think that's exactly what I want to say to the community.