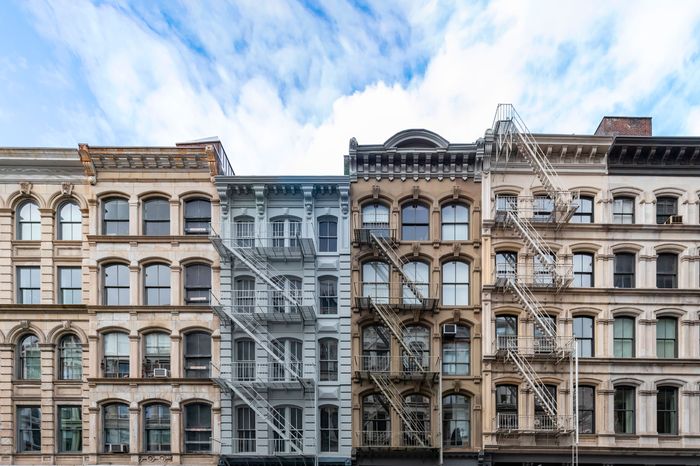 Photo: deberarr/Getty Images/iStockphoto
So you're looking to rent an apartment in Manhattan? Lovely! No need to rush because you'll have plenty of options — and good ones, too. Rents are way down, and if the landlord is trying to play hardball with you, just tilt your head a bit, give them the stink eye, and they'll cough up as much as three free months of rent, even in luxury buildings. What an exciting time for you!
And … it's not going to last much longer. As a glorious reopening of New York City beckons in the second half of this year, the Manhattan rental market is doing a sharp return to behaving like its old self. "The window is closing," said Lucas Callejas, a broker at Triplemint. "If things continue at the rate they're going, I might dare to say that by the summer, the rental market will be recovered, and the price difference between then and pre-COVID might be minimal, if anything at all."
Depending on how you slice it, rents in February were down somewhere between 10 and 15 percent in Manhattan compared to a year ago, but brokers Curbed spoke with all described a tidal change in Manhattan's rental market over the past few weeks. Mihal Gartenberg, a broker with Warburg Realty, said a luxury building in downtown Manhattan this week changed its concessions from three months of free rent to two, and she notes that she has a client whose children moved back to the city because their friends already had, suggesting a potential snowball effect.
"What has changed over the last month is the young professionals wanting to come back to New York City, even if they are working from home," Gartenberg said. "I am seeing a lot more movement, and I'm seeing things renting more quickly. None of us have a crystal ball, but if you want those great deals, now's the time."
Douglas Elliman's February rental report backs up these anecdotes. The past month saw the highest number of Manhattan leases signed in the month of February since the company started tracking the data in 2008. The amount of free rent landlords were giving to lease-signers in Manhattan in February shrank by 8.7 percent from January, and the median rental price for a Manhattan apartment stayed flat after months of drops, strongly suggesting rental prices have found their floor.
Inventory has also dropped 5.6 percent, and while that would seem to suggest that all this activity is eating away at the huge backlog of unrented apartments that accrued over the course of the pandemic, bear in mind that a number of large-scale landlords are simply deciding to leave some of their properties empty — a practice called "warehousing," which limits supply and pushes up rents. According to the real-estate-analytics provider UrbanDigs, landlords took 1,826 apartments off the market in February. (New York State Assembly member Linda Rosenthal of Manhattan proposed a law last year that would fine landlords who warehouse an apartment for more than three months.)
Fortunately for renters, it takes time for things like a spike in leasing activity to cause asking rents to rise, so the window of opportunity that's closing hasn't quite slammed shut — yet. "The apartments that I've listed [over the past month], everything has rented at the asking price, and I haven't given any kind of free rent," said Warburg broker Bill Kowalczuk. "And it only took about two weeks to get something rented, as opposed to back in July or August, when things were on the market forever."