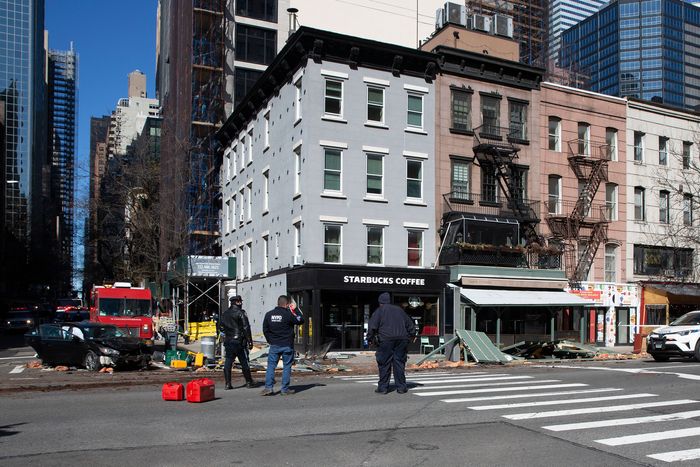 No one was killed.
Photo: Ted Shaffrey/AP/Shutterstock
When you're eating dinner just off the curb of a New York City avenue, large vehicles barrel at you unsettlingly fast. Streeteries are required to be banked with sandbags and heavy water-filled plastic barriers, but you're still vulnerable, still face-to-face with monster grilles and too-bright headlights, particularly if your table is at the leading edge of a traffic lane that isn't otherwise blocked off. Today, the nightmare really happened: The driver of a white van traveling at a very high speed caused multiple collisions along Second Avenue near 50th Street around 8:40 a.m., toppling a streetlight, tearing through scaffolding, and turning a streetery cabin into a heap of teal-painted lumber. The crash sent at least eight people, including two children ages 5 and 7, to the hospital.
According to eyewitness reports reported at PIX 11, the white van first struck a black sedan near 50th Street, spinning the car around in the intersection and into the streetery in front of Crave Fishbar, which was, thankfully, unoccupied. The debris from that crash — including those barriers meant to protect diners — sprayed across both Second Avenue and 50th Street, where security cameras outside Blank Slate Coffee captured large fragments of plexiglass and patio furniture flying onto the sidewalk, narrowly missing a pedestrian. The van driver continued downtown, hitting a fruit stand located beneath scaffolding on the west side of the street and finally coming to a stop at the corner, where the street sign for Second Avenue is now canted into the middle of 49th Street.
Second Avenue is closed from 51st to 48th streets, except for buses, which are being waved through, slowly, by first responders. The driver of the van, which is registered to an elevator repair company, reportedly remained at the scene and was taken into custody, according to the New York Daily News.