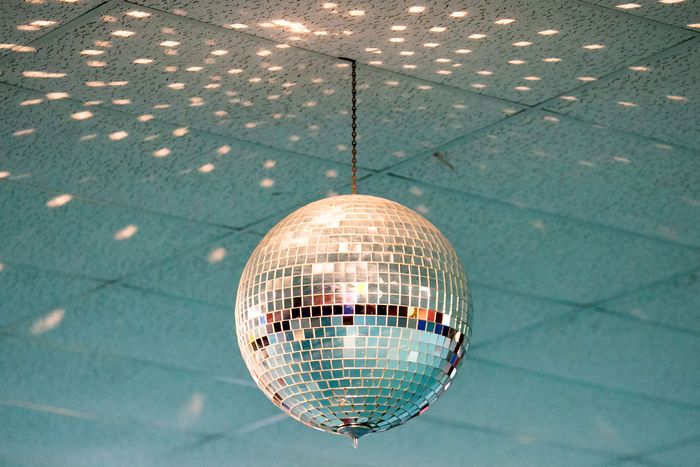 Photo: jennifer m. ramos/Getty Images
Whiling away half an hour in a chain drugstore, caught in a low-stakes consumerist trance — a forgettable, if pleasant, bit of city life before the pandemic — was never quite so mundane in Greenpoint's so-called disco ball Rite-Aid. For years, the pharmacy at 723-725 Manhattan Avenue, next door to Peter Pan Donut & Pastry Shop, was beloved for its sloping floors, cavernous main room, and that sparkling artifact of its roller-rink past — that is, until it closed last fall. Now, it's set to be largely demolished, leaving many Greenpointers displeased — and some ready to fight back.
Here's everything we know about this quirk of a chain pharmacy and its rather opulent past.
The building began its life as a vaudeville theater.
This plot of land was originally part of the Meserole homestead, owned in the 18th and 19th centuries by one of Greenpoint's earliest colonist families, who were known for their apple and cherry orchards. Long after Greenpoint's agricultural heyday, the Meserole Theater recalled that past when it debuted in 1921. The building had a striking white-stone façade decorated with a garland-and-cow-skull motif and a grand marquee, and it could seat 2,000 patrons. Initially a vaudeville theater that would later show films, the Meserole was designed by Eugene DeRosa, an Italian immigrant who was responsible for more than 40 theaters in the city — including the Gallo Theater, which would later become Studio 54. Inside its capacious main room was a massive domed ceiling, molding carved with flowers and frolicking children, and an M.P. Möller pipe organ for silent-film accompaniment. A crystal chandelier hung from the center of the dome; it seems that, even in the '20s, DeRosa's creations tended toward disco.
Later, it was a roller rink — and then a Liquidator's Arena.
The cinema lost some of its luster in its later years, and was operated by United Artists at the time it closed in 1978. But it quickly reopened as that most '70s of venues: a roller rink. Greenpoint Roller Palace, part of the Laces franchise, was a logical business for the circular space, and the likely source of the disco ball (no word on what happened to the original chandelier). The seats were removed from the main room to make way for the rink, and there was another skating area on the mezzanine level. The sloping floor was put to good use as a sort of drop-in to the central rink, where an expert skater known as "Dr. Love" could usually be found.
The roller-rink days came to an end in 1986, and 723-725 Manhattan Avenue became a discount emporium called Liquidators Arena (and later another discount emporium called "Odd Lot"). Then came a series of pharmacies: Genovese, Eckerds, and, finally, Rite-Aid in the mid-'90s.
Throughout it all, the building retained many of the original DeRosa details, including the sloped entryway. But the floors became dingy over the years, and the atmosphere could be more drab than elegant. The original ceiling around the dome was painted black at some point, and harsh track lighting was installed. The disco ball stayed too, and the odd contrast of vintage glamour and grimly lit pharmacy wares, with the slightly ragged mirrored orb hanging over it all, struck almost everyone who walked in the door.
Up next is a five-story apartment building — likely sans disco ball.
According to requests filed with the Department of Buildings this winter, Double U Real Estate, the building's developer, is planning a partial demolition of 723-725 Manhattan Avenue. The two-story building will be no more, but the cellar and foundation will remain in some form. A five-story mixed-use building, with a day care and private roof terraces, is planned for the site.
Beyond the loss of an eccentric, slightly unnerving Rite-Aid, the neighborhood is mourning the imminent destruction of what some consider a historic landmark (although it's not technically landmarked). Recently, a group of preservation-minded citizens started a Facebook group to organize against the demolition, as Greenpointers reported. "They've erased Greenpoint," group admin John Altyn says. "The Greenpoint I grew up with is pretty much gone." The organization's efforts are just beginning, but Altyn hopes to find some path to preservation. He'd like to see the building become an art-house theater, a project he thinks he could help bring to life because of his background in Hollywood (he's currently working on the soundtrack for a movie called Family Property 2: More Blood).
If Double U Real Estate's plans proceed unchecked, there's no word yet on whether any of the building's characteristic features will be preserved, or if the disco ball will succumb to the wrecking ball. But for now, at least, the project is on pause due to violations at the construction site.