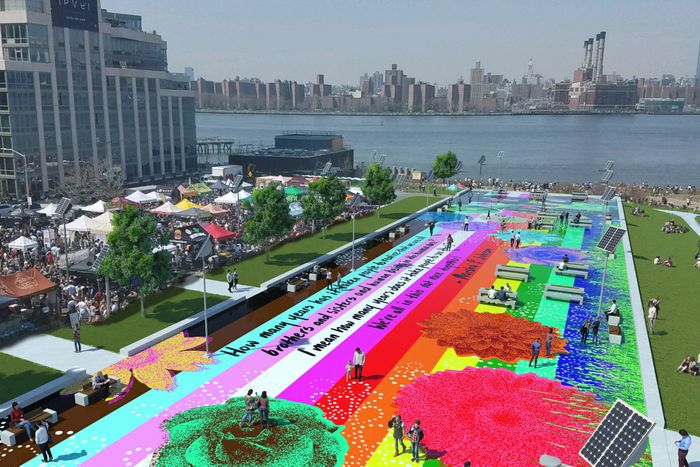 Art: Courtesy of the New York State Parks Recreation & Historic Preservation Office
Last year, East River State Park in Williamsburg was renamed for the late Black trans activist Marsha P. Johnson and became the first in state history to be named after an LGBTQ figure. Since then, the state unveiled a design to revamp the seven-acre waterfront space that has upset a lot of locals. What began as a celebratory milestone is now a battle over what makes a park, well, a park. Here's the rundown.
Who's fighting? North Brooklyn residents and community board members versus the New York State Office of Parks, Recreation and Historic Preservation
What do we know about the park? East River State Park is a perfectly acceptable spot to eat breakfast sandwiches and dog watch, but it has always been better suited to hosting the Smorgasburg food market and sweaty rock concerts than a grassy hang. It belongs to a small category of waterfront parks that feel like industrial remnants (it was built on the site of a former marine terminal, after all). But are its patches of grass and sand dear to locals? Without a doubt, yes.
What's everyone mad about? As part of the park's redesign, roughly an acre of concrete slab will be covered with a thermoplastic mural printed with rainbow stripes and planted with eight-foot-tall sculptural flowers as a tribute to Johnson, who often wore flowers in her hair. Locals are livid that the redesign doesn't include a major expansion of green space or real flower beds. They also say that local residents never had a chance to offer meaningful feedback. Cristina Herrera, the founder and CEO of Trans Latina Network, who lives around the corner from the park, called it disappointing that the state's first public space dedicated to a trans person didn't include more feedback from queer locals.
Wait, do locals just want to preserve their park the way it is? Not really. Plans to transform the local park into an educational space have been in the works since 2018, but, unlike the mural design, were presented to the local community board several times and are moving forward without controversy.
The blow-by-blow: The new design was announced last August, but state officials waited until a few days before the park was set to close for construction in January to present it to Brooklyn Community Board 1. This only allowed a single meeting for locals to weigh in and learn about the park's closure.
State officials told the community board that this was because the board did not hold meetings for part of the year. But in February, in a letter Community Board 1 sent the park system, the board chair emphasized that their office had never closed.
A spokesperson for the state parks system told Curbed it did make good on its vow to "consult with the New York City LGBTQ community" on the new design by consulting focus groups last year composed of LGBTQ+ organizations from across the city, a trans historian, and the Marsha P. Johnson Family Foundation. Brooklyn-based Moey Inc, a woman- and minority-owned business and LGBTQ+ firm, designed the park's "artistic and interpretive elements," according to the state.
Who landed the latest hit? After outcry, the plan to shutter the park from January until June has been called off, and it's now partially reopened. Since then, North Brooklyn residents launched a petition, which has garnered more than 1,000 signatures, that includes biographical details from Marsha P. Johnson's life (she "was known to spend her last dollar to buy flowers to lift her spirits") and climate-resilience logic ("Non-permeable plastic and asphalt surfaces violate the principles of best environmental practice") to make their case. The residents hope to carry the momentum of getting the park partially reopened to force the state to pause the whole plan. Following that outrage, four local elected officials penned a letter to the state parks commissioner on February 26, urging him to suspend construction at the park, at least until a March 4 parks committee community-board meeting to discuss residents' concerns.
Fight highlights: "It's almost stereotypical at this point. People just think, Oh, it's queer people so we're going to make a gay flag as a park," said Mihalis Petrou, a horticulturist who has worked on North Brooklyn parks and who identifies as gay. "It's just redundant and uninventive and it's going to have an impact on the local wildlife. We could have a nuanced tribute that honors marginalized people by celebrating nature. It's a missed opportunity."
"Olmsted must be rolling in his grave," said Katie Naplatarski, a North Brooklyn parks advocate and longtime Greenpoint resident. "To coat a park in plastic? Are you kidding me? That is so fundamentally wrong."
Who's favored to win?: An altered design could be on the horizon. After the public outcry, state parks temporarily halted construction on the project in early March as officials discuss how to move forward with the revamp. But we probably still won't see a boon of new green space. A spokesperson for state parks called the slab "extremely popular with the community for events, casual recreation, and picnicking," and added that the area is already getting an injection of new green space, with plans to expand the neighboring city-owned Bushwick Inlet Park. It's unlikely, but not impossible, that the state will toss out its redesign midstream. But with new support from local elected officials, concerned neighbors now have slightly better odds.