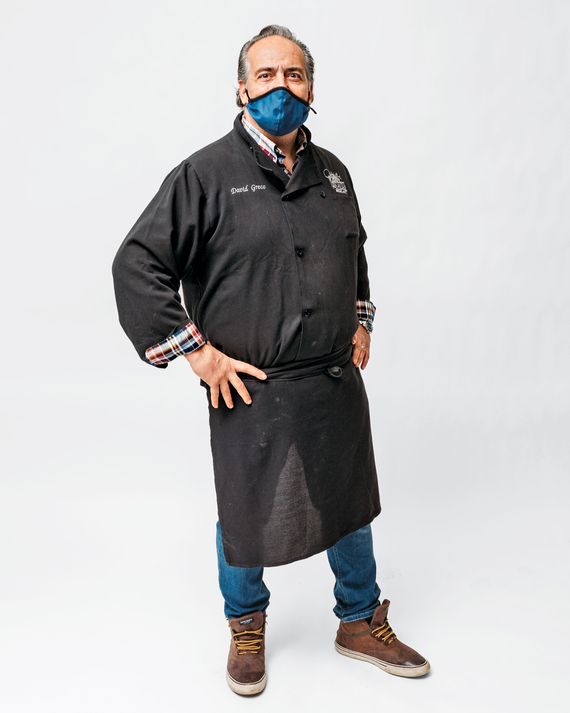 David Greco.
Photo: DeSean McClinton-Holland
David Greco (pictured above), Deli owner, Little Italy, the Bronx.
What are you here for?
To get my pickup fixed. I've known Steve, the owner, a long time. Everything with Steve is "Don't worry, I got it," and he always does. I've met his mother and father, and he has his mother's class and his father's savvy. He's had me cater his home. I brought  pasta e fagioli and roast beef. He loves roast beef.
So do you own a restaurant?
Mike's Deli on Arthur Avenue. My father's business; he started it in the early 1950s. We called him Mussolini; he was tough. But people loved him and not just for his salami. He was dynamic, a showman. He had a twin brother, and their motto was "Wine, women, and mozzarella."
Did you close during the pandemic?
Never. It's all about the customers. I'm not loud like my father, but I'm good with them. The celebrities, too, because I treat them like friends. I've fed De Niro, DiCaprio. James Spader, recently. I had to make him a roast pork.
What cars are you working on?
A BMW and a Lexus. Same issue. They got this silicone that protects the wire harnesses, and rats get in under the hood and chew up the wires. But it's no problem for me. I'm a high-end auto master. I have what they call the Midas touch.
Are you a car person?
To be honest, not really. I have an '08 Nissan Altima. Growing up, my father had a Chevy Astro van with no rearview mirrors. That's what he taught me to drive on. We'd go to the Woodlawn Cemetery, and he'd let me drive around chasing wild turkeys.
You're the owner?
I am. The story is I'm a second-generation American. My dad grew up in Greece under German rule during WWII, which is how he learned to work on cars — from German soldiers. He opened S&T in the '70s. When I came into the business, we had four employees. Now we have over 30.
What kind of car do you have?
A minivan. She's here getting some bodywork. My whole big Puerto Rican family worked for GM, so they've always been very into cars. For me, it's all about ease of access. The train is cool, but I'd rather drive myself around.
*This article appears in the March 1, 2021, issue of New York Magazine. Subscribe Now!