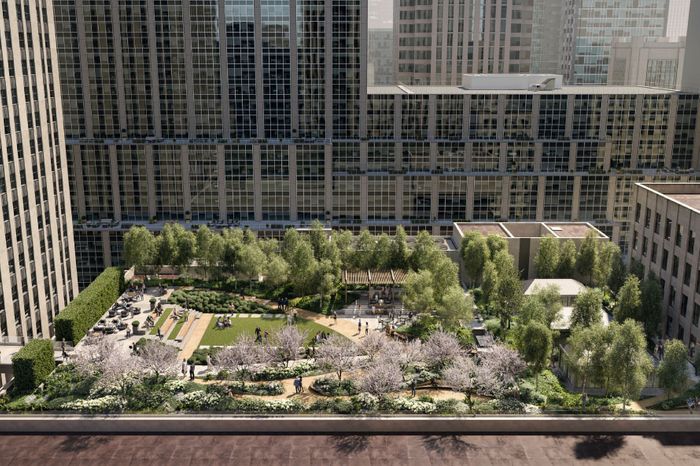 The future roof garden (just add Rockettes).
Photo: Courtesy of the NYC Landmarks Preservation Commission
A garden for the Rockettes! That's the big revelation in the plans for Radio City Music Hall, approved with enthusiasm by the Landmarks Preservation Commission last week. In these renderings, the roof over Radio City's auditorium is covered nearly from end-to-end with greenery and winding paths, and it's accessible not only through the theater's building itself but also from the Sixth Avenue tower next door, via a nifty little eighth-floor skybridge that will be built through what was, up to this point, a couple of windows. The commission's Frederick Bland called it "a great affirmation," and given that barely a generation ago, Radio City Music Hall itself was on the verge of demolition because it seemed obsolete, it's hard to argue.
Even on rigid preservationist grounds, it's a plan with legs. When the early renderings for Rockefeller Center were shown in 1932, the rooftops and setbacks of nearly all the buildings were covered in greenery, and quite a few of those gardens were actually built. Some were not intended as functional spaces for office workers to visit: They were visual gardens, meant purely to provide relief as one gazed down from an office window on high. But others were usable, and they were all over the complex, even on the narrow setbacks of the RCA — later GE, now Comcast — Building. The garden around the 11th floor of the tower was particularly lavish. (One of the RCA Building's rooftops, over by Sixth Avenue, had a semicircular fountain, and it's still up there, dry.) There were catwalks on the plans, never constructed, intended to connect the garden levels, too. Ten Rockefeller Plaza even had a glassed-in conservatory on the roof. Three of these green areas are still in place, atop the two low buildings that front on Fifth Avenue and 1250 Sixth Avenue, and they are occasionally rented out for things like photo shoots and the odd product launch. But they remain principally gardens for viewing, not for lunchtime hanging out or tourist visits.
How did all of this happen? It was a brainstorm of Raymond Hood, one of the Center's principal designers, drawing upon the ideas of the visionary Swiss planner and architect Le Corbusier. According to Daniel Okrent, author of the definitive Great Fortune: The Epic of Rockefeller Center, Hood persuaded the developers to go for it by the most basic means possible, telling them, "You can charge an extra dollar per square foot in rent." It was lucrative enough, Okrent says, that "they doubled the structural steel to carry the weight of all that soil." Hood called them "Gardens in the Sky."
The original roof space built for Radio City Music Hall, though, was meant for using rather than looking. It wasn't green; it had tennis and shuffleboard courts and café tables. "That was different from the other gardens that Hood put in," Okrent says. "They said, 'We can provide some fun for the staff, and provide some publicity for the Rockettes,'" who were occasionally photographed there in the early years. But the Radio City roof deck was eventually closed, and the ones on the RCA Building "went the way of all gardens," Okrent says, at least until this plan appeared.
The new scheme (it's called Radio Park, and comes from the landscape-architecture firm HMWhite; the bridge is by G3 Architecture Interiors Planning) seems to be part of a general attempt to get more use, and presumably income, out of Rockefeller Center's less active spaces. Tishman Speyer is also reworking the stairway down to the sunken plaza where the skating rink is installed each winter, making it more accessible and, perhaps, more lucrative throughout the rest of the year "They've done several things in the past few years, but most of all underground," remarks Okrent. "The concourse was a money-loser for 60 years, and they've turned it into a really nice version of a suburban mall, with a lot of marble — though it doesn't much look like Rockefeller Center." And if monetizing that otherwise non-income-producing roof is what they want, this seems like a can't-miss plan. Imagine having your wedding atop Radio City Music Hall: sounds fabulous, and would carry a rental fee worthy of a Rockefeller.