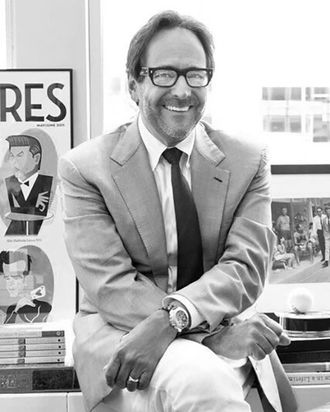 Photo: Courtesy of the family of Richard David Story
I was far too intimidated to ever speak to Richard David Story at New York Magazine when we both worked there in the late 1980s. He sat at a desk just outside editor-in-chief Ed Kosner's wood-paneled office; nearby were Peter Blauner and Nicholas Pileggi, writers who, like Story, ate the world whole. Story was Kosner's managing editor, a big job in those pre-internet days when the weekly magazine — fat with news and gossip and the latest on everything — helped set the agenda for the city every Monday. He wore cowboy boots, often propped up on his desk, well worn and always polished.
Story, who died last week at 68, honed his craft in the days when magazines showed us the world. But first, an editor like Story had to hear about it. He was a magical connector, holding court at his favorite restaurant, Il Posto Accanto, owned and run by his great friends, Beatrice Tosti di Valminuta and her husband, Julio Pena, with his wife Jennifer Crandall and an ever-expanding circle of friends. Everybody was enchanted by him and everybody wanted to be part of the party, which was life with Story.
Born in Oklahoma City, he moved east to attend Williams College. Besides New York, he also worked at Vogue, InStyle, and USA Today, but he really made his mark when he became editor-in-chief of Departures in 2000, a post he held for almost 17 years. Shortly after he started, he asked if I would be a contributing editor. I asked him what he wanted me to do and he said: "I want you to find the person who grows the tiniest, most perfect roses, wherever they are in the world, that nobody knows about." In other words, the challenge was on to sleuth out magical realms.
Great editors manifest miracles in one's career, and Richard did that for me over and over again with his insatiable curiosity, his magnetic ability to make and connect friends all over the world, and his unerring eye for the authentic. After Richard Avedon gave me the gift of photographs he did in Paris in the 1950s, chromes that he found in his archive that had never even been cut and were still in their original paper envelopes, I thought, This is my story on the tiniest, most perfect roses. This is the treasure I can bring Richard for Departures, and he ran the story (seen below) in the March–April, 2005, issue, beautifully designed by the brilliant art director Bernard Scharf, and I had never been so proud.
Many years after that conversation, Richard called me and said there was a story he wanted me to do on the island of Li Galli off the Amalfi coast, once owned by Nureyev, whose estate sold it to hotelier Giovanni Russo, who naturally had invited Richard and Jennifer to lunch there. Photographer Michael James O'Brien, and his husband, Zoltan Gerliczki, and I set off for Li Galli after staying at Le Sirenuse, the jewel of a small hotel in Positano, owned by two of Richard's great friends, Antonio and Carla Sersale, who ran the hotel as if you were family friends. It was not lost on me that many years prior to that trip, I had gone to Positano, also staying at Le Sirenuse, when Antonio's father, Franco, was still alive and he took us out on his boat and we circled the island of Li Galli. I remembered thinking how much I wanted to get onto the island and explore everything and find out what had enchanted everyone going back to Homer, who wrote about the Sirens singing to Odysseus from the island's rocky shore. It was so mysterious and so filled with legend. I remember thinking on that boat ride that this was as close as I'd ever get, and I was lucky to get this far. How could I have known back then that I would meet the larger-than-life Richard David Story, who was to become one of my biggest mentors, and closest friends, someone with whom I shared a deep sense of humor, and who opened up the world for me in ways that enriched my life, and kept enriching it along with his beautiful soul mate, Jennifer Crandall, and his son, Zachary, up to the last minute of his life.