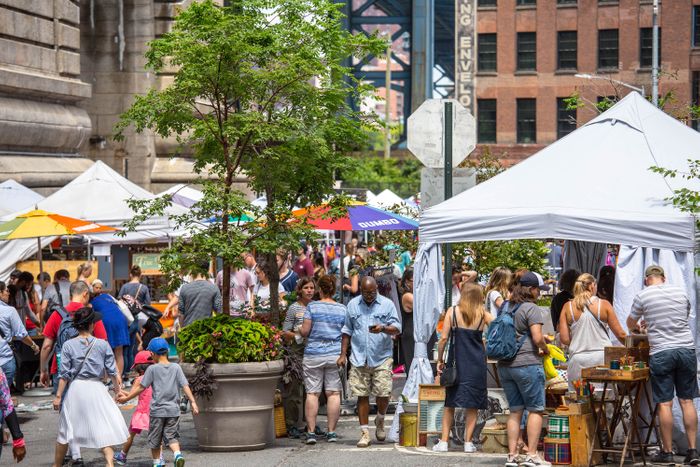 Brooklyn Flea in pre-COVID times.
Photo: Scott Lynch
After Curbed first broke the news that Hester Street Fair wasn't getting its contract renewed by the Seward Park Co-Op, it turns out that Smorgasburg, the outdoor-market operator of the food fairs and the Brooklyn and Chelsea Flea, has been tapped to take over the space. The new fair, scheduled to open mid-April, will be called — surprise! — Hester Flea.
Due to COVID restrictions, Hester Flea will debut at 50 percent capacity on Saturdays, with between 20 and 25 vendors in the space, and then add Sundays in May or June. Smorgasburg might also open the flea market during the week for special events. The operator doesn't have a list of vendors just yet, but is planning to host a mix of furniture, decor, ceramics, jewelry, vintage clothing, and antiques sellers, as well as a couple of local food businesses. As for Hester Street Fair veterans, Smorgasburg is encouraging them to apply: "We certainly sympathize with the plight of folks who were selling [at Hester Street Fair] who no longer have a place to sell, or feel like they don't have a place to sell because the operators have changed," Eric Demby, co-founder of Smorgasburg, told Curbed. Demby added that Smorgasburg wants Hester Flea to continue to be a neighborhood destination while also bringing "some folks from different parts of Downtown."
This weekend, Smorgasburg will also reopen at the Chelsea Flea as well as at both of its Brooklyn Flea locations in Dumbo and Williamsburg. However, the popular Smorgasburg food markets — including the locations in Williamsburg, Prospect Park, and World Trade Center — will continue to be closed because of the large crowds they usually draw.
Hester Street Fair supporters have certainly wanted to avoid this scenario. Over the past few weeks, dozens of Lower East Side locals and some longtime vendors have been rallying to support Hester Street Fair; an online petition now has over 6,000 signatures. But with today's Smorgasburg announcement, the Co-Op's decision is a done deal: Hester Flea is moving in.