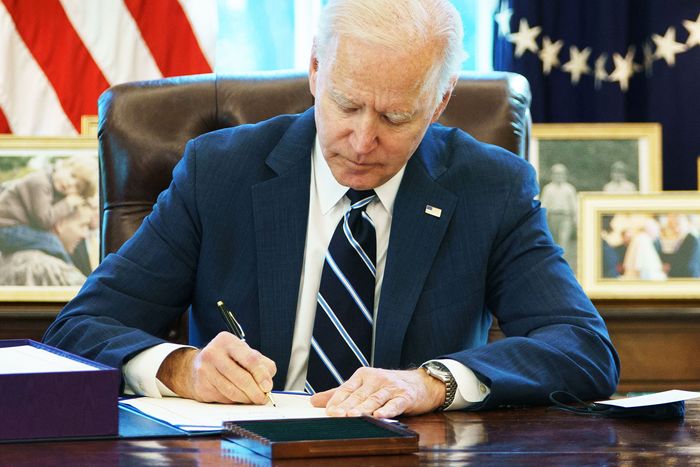 There's $6 billion in there just for New York City.
Photo: Mandel Ngan/AFP via Getty Images
President Joe Biden has signed the $1.9 trillion American Rescue Plan, the third pandemic-era stimulus and, potentially, one of the most consequential economic packages in U.S. history. Passed by Congress last night — without a single vote from a Republican — the plan includes transformative fiscal policies including direct payments to most Americans, new financial support for families, and enough money to supercharge vaccine delivery to every corner of the country. And it also includes billions of dollars that will go directly to New York City.
"Take stock of this moment, everyone, because it's extraordinary," said Mayor Bill de Blasio at a press conference this morning. Although more money flowing to individuals will certainly help bolster the local economy — people who make under $75,000 will get checks for $1,400, and people receiving unemployment benefits will see boosted payments — what's particularly notable about this plan is the array of New York–specific allocations that will begin to nudge daily life not just back to normal but toward the promise of an even stronger city. As Senate Majority Leader Chuck Schumer said just hours before the bill was signed, "What I say to New Yorkers, very simply, is help is on the way."
$6 billion just for New York City
This stimulus contains something that the previous acts didn't: direct fiscal relief for cities, counties, and states. New York City will get $6 billion, a notable number as the mayor's office recently announced the city itself was facing a $5.25 billion budget shortfall, although it's not clear how much money will go to restoring city services. Another $12.6 billion will go directly to the state, and while not all that money is spoken for, at least one earmark is for $358 million drawn from both funds to build broadband infrastructure. The bill also includes $3.9 billion for New York's individual counties and $825 million for smaller cities, towns, and villages; Schumer's office released a detailed explainer on Wednesday with how much each jurisdiction in the state will receive.
More vaccines in more places
Just about one percent of the stimulus fund is allocated for an expanded nationwide vaccination effort. From this funding, New York State will see 100 new vaccine sites, run by federal administrators from the Department of Health and Human Services. The plan will include a focus on increasing vaccine equity, using existing community-based health clinics in neighborhoods which have been disproportionately hit by COVID-19.
A windfall for transit
This is the big one for New York City people. As part of a $30.5 billion infusion for public transportation nationwide, the country's largest public-transit system will get more than one-fifth of that amount, about $6.5 billion, an absolutely vital grant that MTA officials say will avoid service cuts. (That is vital, because fewer trains mean more close-packed passengers breathing on one another: The Long Island Rail Road, which had moved forward with some of those cuts this week, will restore weekday service by March 29 due to concerns of overcrowding.) In anticipation of the bailout, a planned fare hike was canceled and subways began running overnight again, which is slowly boosting ridership. Amtrak will also restore daily long-distance train runs with its $1.7 billion of relief.
Transformational change for children
A total of $170 billion nationwide for school reopenings will send at least $12 billion directly to New York City classrooms, not only for K–12 schools but also to community colleges and public universities. A new child tax credit (as much as $3,000 for kids 6 to 17 and $3,600 for kids under 6 for households making less than $75,000, or $150,000 filing jointly) will allow parents to receive an advance on that credit through monthly payments of $250 or $300 per child starting as early as this summer. Because of this tax credit, and other anti-poverty initiatives including rental-assistance and nutritional programs, the stimulus has been touted as a way to "cut childhood poverty in half" nationwide. That will almost surely be felt to a greater extent in a place like New York City, where about one out of five children lives below the poverty line, a figure that's slightly higher than the national average.