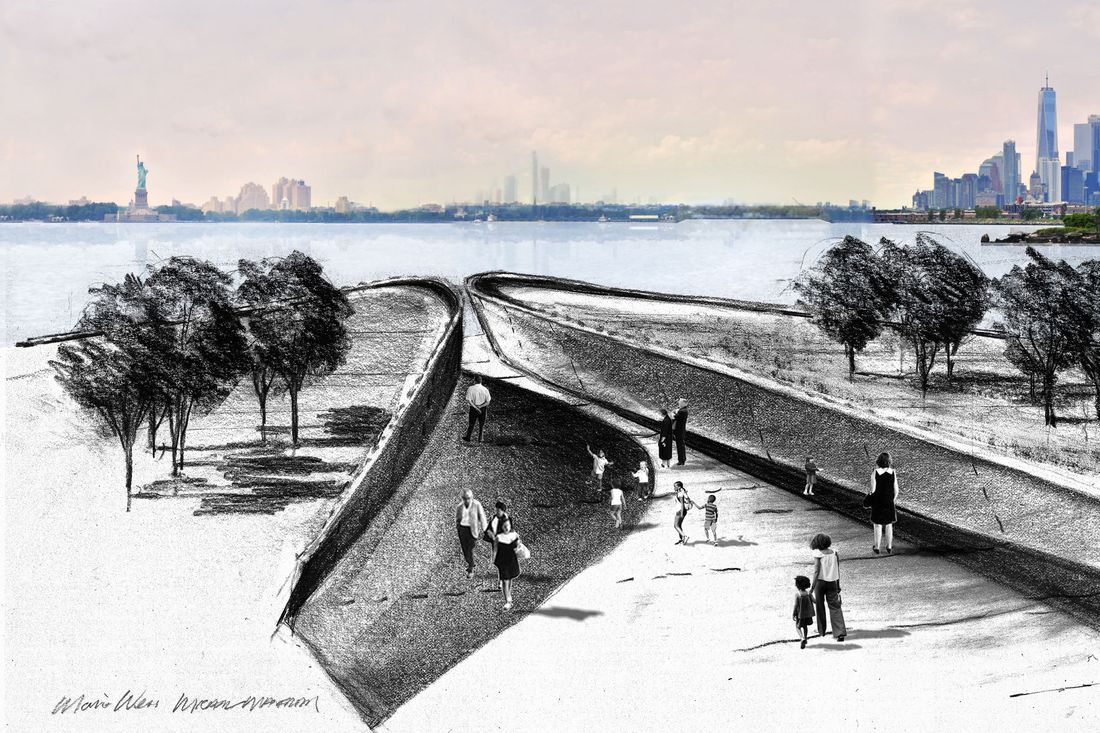 Art: Marion Weiss and Michael A. Manfredi
A year after New York City went into lockdown, COVID-19 has claimed the lives of more than 30,000 of its residents. The tragedy's scale has made it difficult to comprehend the private griefs so many of us have experienced: the million heartbreaks of lost friends, lost livelihoods, lost neighborhood fixtures, lost senses of belonging. Instead of proposing a grand permanent memorial, we asked a wide range of New Yorkers about the moments from the pandemic that stood out to them and how they would want those experiences to be commemorated. In response, a selection of architects and artists translated those memories into proposals for temporary installations. We imposed no budget limit and no restrictions: The result could be a sculpture, a mural, a pavilion, a song — anything that could become part of the streetscape for a while. Presented here is one of 15 concepts submitted by architects, designers, artists, and composers; the rest will appear over the course of this week. 
Client: Reed Caldwell
ER doctor at NYU Langone (Brooklyn)
Dr. Caldwell:
Those of us who work in health care are social people. We find fulfillment in connecting with patients and their families, and our co-workers. Spending hours and hours in PPE has changed the way we interact with people. We wear masks all day every day, and this obscures people's voices, makes emotional inflections difficult to interpret, and obscures facial expressions. We wear gloves, which insulate touch. Many of us go home feeling lonely, defeated, depleted, without our usual ways to recharge. I live on the same street as a hospital, and that's where they parked trailers for dead bodies. I'm used to having a stressful, hard job, but not to having all the fun canceled.
I have memories of holding the phone above the face of a patient who's suffocating so that their family can say good-bye via Zoom. I had a woman who came in with COVID, and she kept saying, "Please don't let me die. I have a disabled child, and I'm the only thing my child has in the world." She died within the hour.
When I look back, I see a tunnel that's dark and cold and quiet, with a tiny light at the end. And despite working harder and faster to move toward that light, it never grows brighter. But it's also important to talk about resilience. I work among incredible people. For the first time, our work has put us and our families in harm's way. And yet despite being physically and emotionally exhausted, our whole team — clinicians, housekeepers, lab workers, everyone — continues to show up every day and take care of our patients, our families, and each other.
Architects: Marion Weiss and Michael Manfredi
Location: Bush Terminal Park, Brooklyn
Dr. Caldwell witnessed the worst of the pandemic's assault in New York, and its never-ending flow of lonely deaths took a toll on him and his colleagues. The husband-and-wife firm Weiss/Manfredi translated his vision of a silent tunnel, but also his toughness and optimism, into an earthwork at the edge of Brooklyn — a physical passage through time. Two rising walls swoop toward each other to form a dark, constricted passage and then pull apart to open onto the bright city. It's a sculpture half buried in the earth, virtually invisible until you stumble onto it, drawn by the water and the Manhattan skyline beyond. "We wanted something that sneaks up on you the way COVID snuck up on us," Weiss says. "Something that would capture the sense of traveling from the known world to a horizon that's getting brighter but will be forever changed." Weiss and Manfredi see it as a fundamentally optimistic work, a way of reminding visitors of those months of loneliness, then alleviating it by reintroducing them to the city we all share. "Because of the intense isolation, Dr. Caldwell lost his community," Manfredi says. "Now, in reestablishing that and reconnecting to a larger metropolitan community, there's this sense of moving forward."
The design reminds us of other ways that neighbors managed to share a collective experience, even in the midst of isolation: Embedded in the concrete are pots and pans like the ones that homebound New Yorkers banged each night at 7 p.m., honoring medical workers with joyous clangs. "I was cooking something last night, and I realized I was using the same pan that I loved to pull out at 7, because it had a nice timbre to it. Our neighbors had a different kind of pan, and we knew they were there from the noise." The passageway that Weiss and Manfredi envision would be more metaphorically than acoustically resonant: Beat the wall with a wooden spoon and it won't ring. Yet what could be a more apt way to recall the dark days of spring than a muffled, echoless din in a tight, lightless canyon?