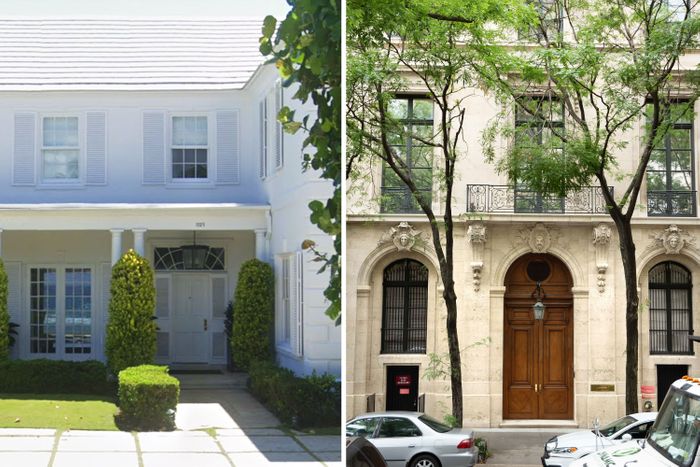 Either way, you might want to burn some sage.
Photo: Left: Google Maps, Right: Kevin Hagen/Getty Images
Say you've got $50 million to spend. (Congratulations.) You want a really, really nice place with a really, really nice vibe. As it happens, you had, this week, two amazing options, both of which happen to be horribly cursed! A Trump-family house in Palm Beach has been put back on the market at the newly elevated price of $49 million. And Jeffrey Epstein's mansion on the Upper East Side, which he always claimed was the largest private home in town, just went into contract for $50 million. Which terrible person's property do you buy?
Shockingly enough, people were not clamoring to buy the Epstein townhouse. "I don't know who would want it," one broker told the Post, adding that a few potential buyers hung up the phone, offended, when it was suggested to them. The price fell from $88 million to $65 million to $50 million over the course of seven months. And if the buyer can somehow manage to stop thinking about what went on in there, it is a lovely old home constructed in 1932 for a member of the Straus family, which owned Macy's. It's near the Frick Collection and the luxury shopping on upper Madison Avenue, and were you to move in and try to sleep there at night, it would definitely positively not give you the world's worst case of the creeps.
The Trump property, by contrast, is almost surely a cursed second home rather than a cursed primary residence. It's on the ocean, with 194 feet of beach frontage. Also, it's across the street from Mar-a-Lago and comes with a membership in the club. Unlike the Epstein house, it's had its price jacked up, rather than decreased, owing perhaps to the owner's name; it had been listed at $20 million before, and has been available to rent at $100,000 per month. (Possibly the owners will need the cash soon.) "Because of its proximity and its lack of privacy, it would probably be a difficult thing to sell to someone who's not a Trump supporter," the Douglas Elliman broker Guy Clark told Bloomberg. Until 2018, it belonged to Donald Trump's sister, Maryanne Trump Barry, who sold it to a family trust for $18 million. Since then it's been renovated, with a restaurant-grade stove in the corner of the single blandest kitchen you've ever seen. The former president (who reportedly hates to be called "the former president") didn't live there, so buyers will merely have to eradicate the stench of his family business rather than concealer stains, Dictator Chic design choices, or the world's second-worst case of the creeps.
Or you can save a few bucks and buy Bernie Madoff's old beach house for $17 million instead. At least he only stole a bunch of old people's retirement money.