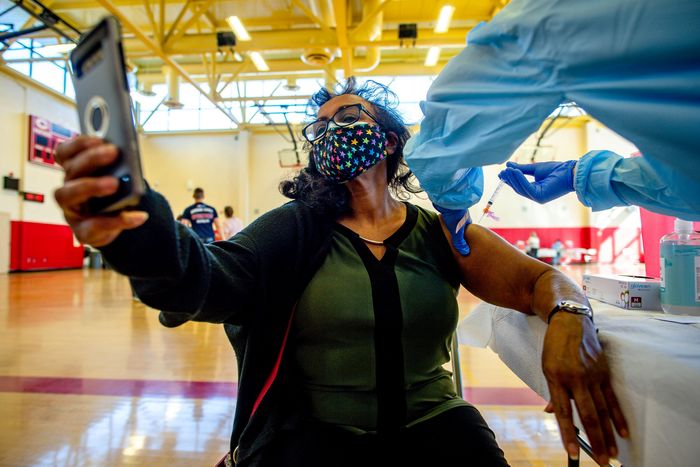 Photo: Watchara Phomicinda/MediaNews Group/The Press-Enterprise via Getty Images
With about 3,000 people daily getting shots at Brooklyn's Medgar Evers College and York College in Queens — both home to new mass vaccination sites jointly run by New York State and the Federal Emergency Management Agency — plus the other sites across the city, there are now nearly 1.4 million New Yorkers who have received a first COVID-19 vaccine dose, with 2 million total doses (first and second shots) administered in total. Supply problems are becoming less of an issue, and with the approval of Johnson & Johnson's one-shot vaccine, rates will likely pick up even more, giving us space to consider other pressing questions about the jab, like: Can I take a selfie?
The short answer is yes — even at Medgar Evers, where signs that read "No photography allowed" flank the entrance to the vaccination room. The signs, a FEMA press person assured me, are intended to protect the privacy of the people working there and that "people being vaccinated are allowed to take selfies of themselves." If your health-care worker is in the shot, you can ask permission before posting. And the question of selfies, though some pearl-clutchers in newspaper opinion sections will try to convince you otherwise, is not so trivial: From pictures of Jonas Salk, who invented the polio vaccine, giving the shot to his family in 1953 to an image of a 21-year-old Elvis getting his polio vaccine three years later, photography of inoculations has a long history of positive public-health messaging. Documenting what I have come to think of as the beginning of the beginning of the end seems like it can only help — both in terms of showing people who are more than ready to get vaccinated that people they know are getting the shot, and maybe warming up others who are still suspicious of it.
Elsewhere in the city, the selfies-only rule, which is more or less standard, is a little more obvious. There's a designated selfie booth and a step-and-repeat at the Javits Center. At the other city-run vaccination sites, staffers hand out the equivalent of "I voted" stickers: "I got vaccinated at Citi Field." Scanning the grid of images tagged with that location on Instagram, you'll see a mix of baseball memes and people celebrating a first shot; at Aqueduct, it's horse-betting infographics about track bias and pictures of vaccine cards. The cognitive dissonance is a vivid way to observe how the city's mass-gathering spaces have been repurposed for mass vaccination — and as more and more pictures are posted, to see that we really do have a shot at reaching herd immunity.
Though some have definitely taken the no-photography signs at face value (and at least one person was told that her phone would be confiscated), there are still plenty of vaccine selfies being taken at Medgar Evers College: people in Chewbacca masks, Lakers masks, floral-print masks, plain old KN95s. There are pictures of vaccine cards, of the seating area where you have to wait briefly post-jab to make sure you don't have a bad reaction, and of the particular outfit worn for the occasion. (The cold-shoulder sweater shows up in a few, making sense for once.)
Roz "The Diva" Mays, a plus-size personal trainer and pole-dancing instructor, shared a short clip of her jab with the nearly 60,000 people who follow her Instagram. She said it was a way to address the very understandable fear of the medical system, and the vaccine in particular, among Black Americans. "I don't think I'm going to change the minds of people who are anti-vaxx," Mays said, "but if there are people who are on the fence and who are scared of the process, those are the people who I hope got to see a positive example."
For all the chaos and frustration around booking COVID-19 vaccine appointments, getting the actual jab is about as smooth and easy an experience as you could imagine. Or at least it was for me when I got my first Pfizer dose over the weekend at Medgar Evers. My appointment occurred about two weeks before what will be my first anniversary of getting COVID, which my whole family then caught. We're okay now, but it was an incredibly harrowing experience. As we come up on year two of the pandemic, I got a vaccine that was developed in record time using groundbreaking technology that will help subdue a virus that has touched every corner of the globe. It was both underwhelming and momentous. So naturally, I took a picture.