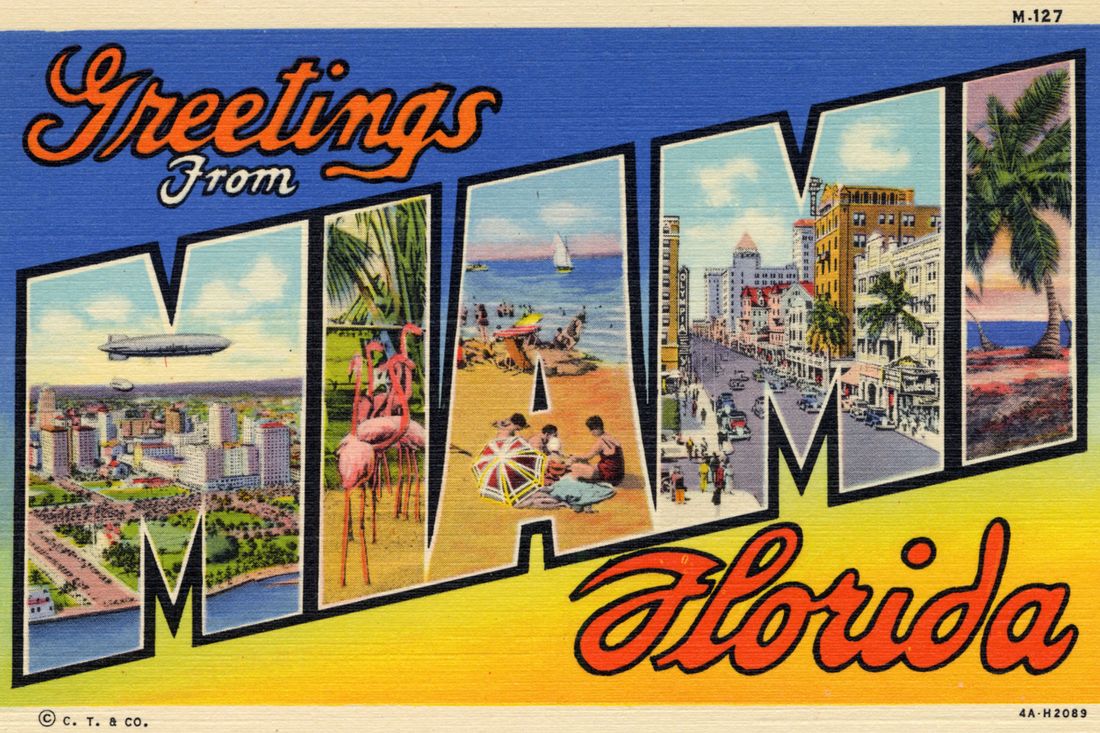 Photo: Heritage Image Partnership Ltd /Alamy Stock Photo
South Florida has long been a seasonal destination for New Yorkers, but in the year of COVID, it began to seem like a one-percenter exodus was taking place. Miami, bristling with starchitected high-rises, islands packed with waterfront mansions, and an art scene that has become world-class in the past 20 years thanks to Art Basel, was eager and prepared to graduate from flashy getaway to permanent home. Palm Beach, roughly the same physical and aesthetic distance from Miami as the Hamptons are from Manhattan, was already the winter home of Wall Street grandees as well as whoever wanted to cozy up at Mar-a-Lago. "December was one of the busiest months of our careers," says high-end real-estate broker Jill Hertzberg of Coldwell Banker's Jills Zeder Group. Art galleries opened branches to serve their relocated collectors, as did name-brand restaurants to serve their sunburned regulars, and Goldman Sachs has been looking into moving part of its asset-management division there. But with winter receding and inoculations on the rise, the question is how permanent this trend will be (even if the taxes are lower). As one Wall Street exec recently told Bloomberg, "The main problem with moving to Florida is that you have to live in Florida."
Big-Money Migrants
➼ Scott Shleifer: Co-founder of New York–based Tiger Global Management, he broke a Florida record, paying $122 million for a mansion on two oceanfront acres.
➼ Ken Griffin: In addition to amassing a Star Island estate in Miami, the Citadel hedge-funder has put at least $350 million into more than 20 acres of lots just south of Mar-a-Lago.
➼ Donald Trump Jr. and Kimberly Guilfoyle: Moving to a seven-bedroom mansion in Admirals Cove, a private community and club in Jupiter (not on map), 20 miles north of Mar-a-Lago. They have enough frontage for an 85-foot yacht. Guilfoyle is also reportedly considering annexing the house next door.
➼ Donald Trump: Just months before the pandemic, the lifelong New Yorker declared himself a Florida resident — which means Mar-a-Lago. Although an agreement with the town says club members aren't allowed to live there full time, Trump's lawyer contends that, as the "mayor" of the club, Trump is a "bona fide employee," which would make it okay. The town council will vote on it in April.
Wall Street Beach
➼ Citadel Securities: Moved some of its trading floor to the Four Seasons Resort Palm Beach last March.
➼ Elliott Management: Paul Singer is moving his $41 billion fund south, reportedly to the under-construction 360 Rosemary office tower.
➼ Steve Cohen's Point72 Asset Management is also moving into 360 Rosemary.
… And Some Restaurants That Followed Them
➼ Le Bilboquet: Once dubbed "the snobbiest restaurant in New York City." A branch opened this year, owned by onetime Warhol muse Jane Holzer.
➼ Sant Ambroeus: Madison Avenue, the West Village, Soho, Southampton, and now Palm Beach. Miami likely next.
➼ La Goulue: Since opening, it has become a good place for plutocrat spotting (Stephen Schwarzman!).
➼ Almond: Bridgehampton, the Flatiron District, and now here too.
➼ Swifty's: The late great society café, reborn.
Along With Some Blue-Chip Manhattan Art Galleries
➼ Skarstedt: Recently opened with a KAWS show.
➼ Lévy Gorvy: Currently showing: Pat Steir.
➼ Pace: Kenneth Noland.
➼ Acquavella: Tom Sachs.
➼ Paula Cooper: Group show: "The Politics of Desire."
➼ Lehmann Maupin: McArthur Binion, Teresita Fernández, and Nari Ward.
Big-Money Migrants
➼ Dan Loeb: The founder and CEO of Third Point paid $20 million for a six-bedroom spec mansion.
➼ Gabe Plotkin: His Melvin Capital Management was one of the short sellers knocked sideways by the GameStop Reddit revolt. He spent $44 million on two adjacent bayfront homes.
➼ Peter Thiel: Last fall, the co-founder of PayPal and the venture-capital firm Founders Fund (and early Trump supporter) bought side-by-side mansions for $18 million one island west of the Standard hotel.
➼ Keith Rabois: Thiel buddy and VC investor in Yelp, LinkedIn, PayPal, and Square, bought a big boxy white house for nearly $29 million.
➼ Ken Griffin: The Citadel hedgie sold his penthouses at Miami Beach's oligarch getaway, Faena House, and is assembling approximately $95 million worth of lots on Star Island to build a palace on.
➼ Jon Oringer: Alex Rodriguez's former waterfront home went for $42 million last year to the Shutterstock founder, who is reportedly New York's first tech billionaire.
➼ Douglas Sacks: The Goldman Sachs managing director spent $11.7 million for a unit at Eighty Seven Park designed by Renzo Piano.
➼ Daniel Glass: The founder of Manhattan-based Glassnote Entertainment Group (Mumford & Sons, Childish Gambino) spent $6.6 million on a Piano pad.
➼ Cindy Crawford and Rande Gerber: Paid close to $10 million for a 3,800-square-foot 1955 teardown just before New Year's. They'll be down the bay from Oringer and Plotkin.
➼ Tom Brady and Gisele Bündchen: Bought a 1.84-acre waterfront lot, which includes a teardown, for $17 million on Indian Creek Island. They are said to be selling their Tribeca apartment for nearly $40 million.
➼ Ivanka Trump and Jared Kushner: Bought a 1.8-acre lot on Indian Creek Island for $32 million from Julio Iglesias. As they wait on construction, they're renting at the Arte condos, within walking distance from their eventual home.
➼ Meanwhile, according to People magazine, in January, Ivanka's half-sister, Tiffany, was "actively looking for a house in Miami Beach."
➼ Karlie Kloss and Josh Kushner: Jared's brother and his pregnant model wife, Karlie Kloss, are reportedly living in a waterfront Miami Beach manse on North Bay Road.
Wall Street Beach
➼ Icahn Enterprises: Billionaire Carl Icahn, who has lived seasonally on posh and ultraprivate Indian Creek Island since 1997, made 2020 the year to move his New York investment conglomerate, Icahn Enterprises, to Sunny Isles Beach (not on map).
➼ Founders Fund: Signed a lease in Brickell City Tower.
➼ Blackstone: Stephen Schwarzman's hedge fund set up shop at 2 MiamiCentral.
… And Some Restaurants That Followed Them
➼ Cote: Michelin-starred Korean steakhouse, now in the Design District.
➼ Freehold: Now open in Wynwood, replete with a pizza shop aping '70s NYC slice joints and pies by Roberta's alum Anthony Falco. (Speaking of Roberta's, the restaurant operated pop-up in the Design District back in 2017 and is rumored to be seeking a permanent Miami space.)
➼ Osteria Morini: Expanded south from Soho.
➼ Pastis: Keith McNally's Meatpacking District bistro will open in Wynwood in the summer of 2022.
➼ Red Rooster: In December, Marcus Samuelsson opened a second edition of his Harlem boîte, the Red Rooster, in Miami's Overtown neighborhood and decked it out with artwork by Rashid Johnson, Mickalene Thomas, Kara Walker, Pope.L, and Hank Willis Thomas.
➼ Carbone: The outpost of the Thompson Street original, with art curated by Vito Schnabel. According to Artnet, Aby Rosen and Clive Davis were spotted there recently.
➼ Soho Beach House: This location long predated the pandemic, but it's a good place to find expat tech and finance bros weighing whether they would be happier Zooming in from paradise full time. But are the schools good enough?