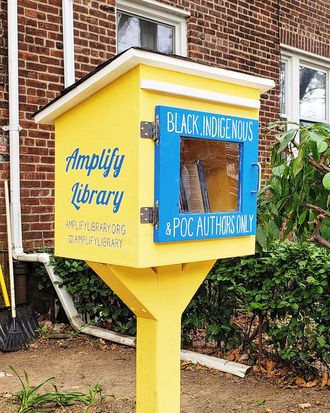 Photo: Courtesy of Amplify Library
Next to the Jackson Heights community fridge on 80th Street and Northern Boulevard, there's a small wooden box anchored in a flower pot. It's painted blue and yellow and says "Black, Indigenous & POC Authors Only." Open the door, and you'll find books like Darnell L. Moore's No Ashes in the Fire and Ijeoma Oluo's So You Want to Talk About Race. It's one of the four Amplify Libraries that have cropped up around the city since last September. There's also one on Mott Street, just south of Canal in Chinatown; on Linden Street in Bushwick; and on 44th Street in Sunnyside.
Little Free Libraries — those tiny "take a book, leave a book" kiosks that got their start in Wisconsin in 2009 — are some of the most beloved forms of mutual aid in cities (though some library scholars criticize them as "neoliberal politics at street level," considering that regular public libraries already offer free books). There are over 100,000 Little Free Libraries around the world. New York City has at least ten of them, and there's even one in a subway station. Back in 2013, the Architectural League even commissioned designers to make free libraries as part of the Ideas City exhibition. But Virginia Polik and Jessica Nelson, the co-founders of Amplify Library, thought the concept could catch up to the times.
Polik, who is unemployed and currently applying to law school, and Nelson, who works full time in health-care public relations, conceived of the Amplify Library last summer, during the George Floyd protests. The two friends, who met during high school and are now in their mid-20s, wanted to contribute to the movement, and the city, in a lasting way — something more tangible than the anti-racist reading lists that were circulating during the height of the protests. "Someone posts something [to Instagram] one day and forgets about it the next," Nelson says. "There's no action … It was frustrating to me."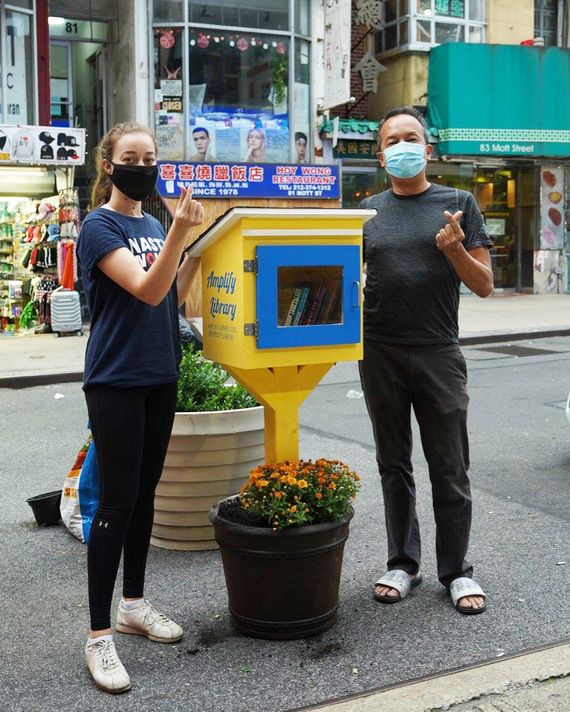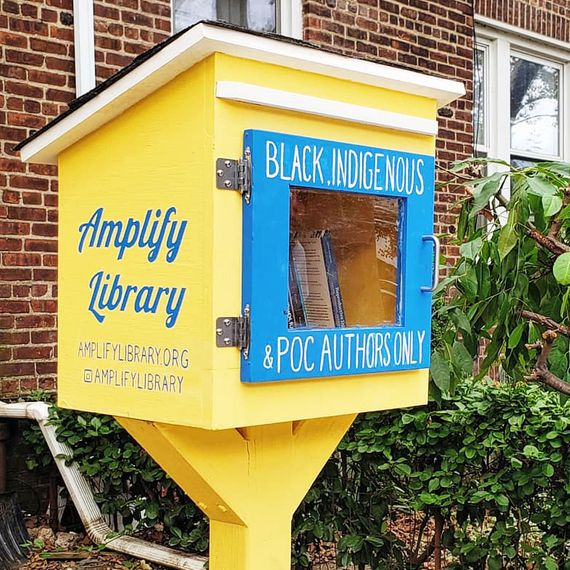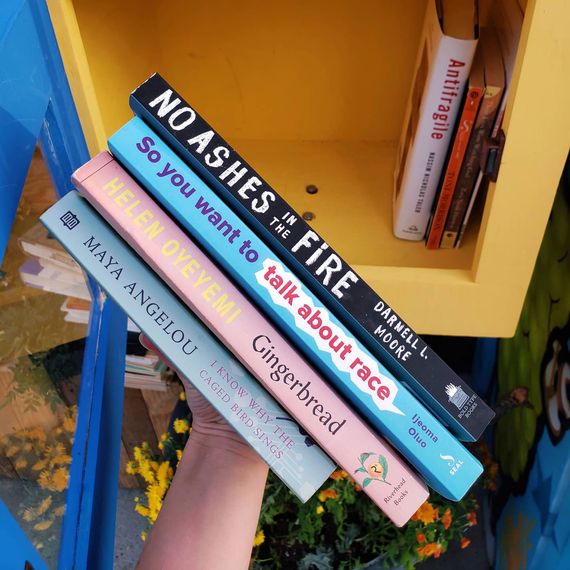 Because Polik has a heart condition and was living with roommates who were immunocompromised, she couldn't participate in the protests in person. But she recognized that for those who wanted to access the books on the anti-racism reading lists, stores were often sold out of the titles and city libraries weren't open. "I thought there should be a place where people can share these resources and have better access to them," Polik says. "And also to books that aren't just on anti-racist reading lists, but are by BIPOC authors."
Polik, who learned carpentry growing up, built six libraries herself and self-funded the $450 materials cost. Not wanting to just plop the libraries in random neighborhoods, Nelson and Polik reached out to local community groups who were already doing mutual-aid and anti-racism work to see if they would like to partner with them. The first Amplify Library went up in Chinatown, in early September, and is maintained locally by the mutual-aid group Send Chinatown Love. It was followed by libraries in Jackson Heights (placed next to that community fridge) and Sunnyside, Queens, in late September. A Bushwick Amplify library, installed next to the bookstore Mil Mundos, went up in late December. Amplify is working to place the remaining two — right now they're in storage at Polik's apartment — with community partners; one will open soon in a Harlem garden.
Polik and Nelson, along with the partnering organizations, try to stock each little library with books that will be relevant for their respective neighborhoods and include materials for all ages. They also try to source as many books as they can from BIPOC-owned bookstores and request that any donations do not come from Amazon. Those who want to donate can access guidelines and an address on their website. The community partners keep an eye on the kiosks to make sure nothing is in there that shouldn't be (they've had to remove VHS tapes, for example) and that they are well stocked. If they aren't, they let Nelson and Polik know, and the two will deliver more books.
Amplify hopes to install more libraries in the city and is figuring out how to scale up in a sustainable way. Little Free Libraries are fairly expensive to install: Polik has seen fundraisers for individual little libraries in the $200 to $300 range. She and Nelson plan to post blueprints so other people can build their own libraries and possibly partner with them. Amplify also has a 501(c)3 application pending so it can raise more money (it currently does not accept monetary gifts) to support the program, and does welcome book donations to its P.O. box.
So far, the response to the libraries has been positive — aside from the occasional "all books matter" type of feedback from a potential community partner — which is heartening for Polik and Nelson, especially when they think of younger readers. "A lot of people don't have exposure to Black authors; I didn't when I was in high school," Nelson says. "We're creating a space where kids can come and know it's different from any other free little library."