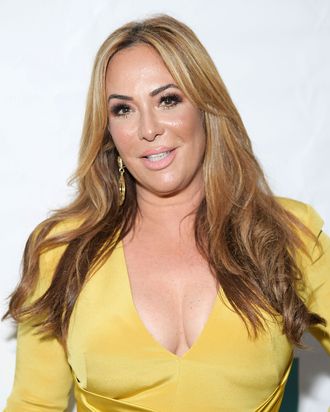 Photo: Michael Loccisano/Getty Images
As the city moves toward finally closing Rikers Island, everything from green infrastructure to housing to additional runway space for LaGuardia Airport has been suggested to replace the 413-acre jail complex. Barbara Kavovit, a construction executive who has starred in Bravo's The Real Housewives of New York City and is running for New York City mayor, has her own wild vision for Rikers: Turn it into a colony for the city's homeless. The idea, Kavovit told the Commercial Observer, is to create "a facility, a town within itself" on Rikers that would offer rehabilitation to homeless New Yorkers grappling with mental-health issues and addiction. This campus would offer "psychological testing and evaluation" and, through a two-to five-year plan, provide jobs and offer housing until residents are ready to rejoin society.
This is a profoundly bad idea. After more than 80 years as a jail complex that has disproportionately incarcerated Black and brown New Yorkers in a violent and dysfunctional environment, we would turn around and fill it up with another marginalized population? Take the people who have it hardest of all in this city, yank them from their communities and the thread of support they offer, and relegate them to an island? It may be well-intentioned, like an overscale halfway house or mental-illness-treatment complex, or it may be something less idealistic, a get-them-out-of-my-face operation. Either way, we need to call Kavovit's idea what it is: an internment camp.
Putting aside the stigma of Rikers, its remoteness — why it became a jail complex in the first place — makes it a poor candidate for a social housing and rehabilitation experiment, partly because whatever is built there would require a new transportation network of ferries, bus lines, and bike bridges. Even more critically, the island requires a colossal environmental cleanup. The decomposing landfill used to expand its shores is leaking methane gas. The jails flood regularly — an issue that's going to worsen with sea-level rise. All of these things would take a lot of time and a lot of money to address. That's why some have proposed it be adapted for infrastructural use alone and insist that no one should live there. Kavovit's right to say the next mayor should have a comprehensive plan to help homeless New Yorkers. But a starting point is not to treat them like second-class citizens that should be shipped to the middle of the East River to be forgotten.