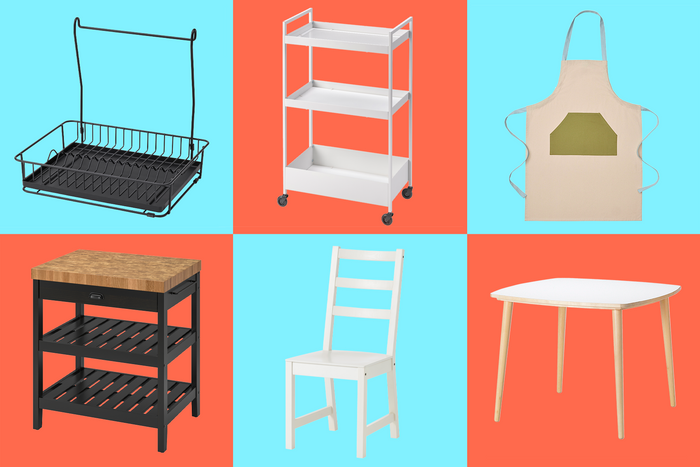 Whether you're a cooking connoisseur, takeout guru, or microwave master, chances are, you spend a lot of time in your kitchen. The kitchen is often treated like a central, just-passing-through consumption station, but that doesn't mean you have to settle for decorations or products that are past their prime. (Goodbye, rusting pots and chipped glasses.)
Spring-cleaning season is the perfect opportunity to update your space. And there's no need to spend a fortune on overpriced upgrades, since IKEA has plenty of modern essentials for every type of kitchen — and they all look more lavish than they cost. Below, you can browse rejuvenated basics and restaurant-worthy accessories to spruce up your kitchen, regardless of your culinary adeptness (or your budget).
NISSAFORS Utility cart
This sturdy, wheeled utility cart allows for extra storage space in even the smallest of small-space kitchens. It's big enough to hold utensils and countertop accessories, yet sleek enough to stash away once the cooking is done.
NEREBY Wall shelf
The NEREBY Wall shelf, made from birch and supported by steel, makes the most of blank backsplashes and small countertop setups. Free up cluttered space by storing spices, hanging dish towels, and setting aside sponges or cleaning essentials.
SÄRDRAG Induction cooktop
IKEA has a range of energy-saving induction cooktops, like SÄRDRAG. Featuring auto-size detection, a designated pan-rest zone, and a built-in cooktop timer, grilling, boiling, and sauteeing become a breeze.
VADHOLMA Kitchen island
Don't have enough space for a full dining-room set? No problem — this VADHOLMA island provides plenty of room for two bar stools and extra appliances. The countertop is made with a thick oak veneer, making it durable for chopping and mixing ingredients, while the sleek black exterior will complement any aesthetic.
SMÅÄTA Chopping board
Perfect for meal prepping and ingredient shredding, this chopping board is made of solid wood that's gentle on knives. Use it as a decorative serving tray for charcuterie, cheese, or crudités.
STORSINT Wine glasses, set of 6
The STORSINT collection includes a variety of sleek glassware to mix and match when setting the table. In lead-free crystalline, this oversized silhouette has a smooth stem and no seams — a fine choice for a celebratory night.
UPPLAGA 18-Piece dinnerware set
Introduce classic, expertly crafted dinnerware to your kitchen with the UPPLAGA set, an affordable bundle with a timeless feel. All of this set's items are made from crisp white porcelain that's both microwave- and dishwasher-safe.
OMTÄNKSAM table
Sleek, simple, and compact — this space-saving, minimalist table is an essential piece for those trying to make do with a smaller dining area. There's plenty of room for different chair silhouettes as it features no bulky underframe and slender legs.
NORDVIKEN Chair
A low-impact way to decorate your space, the NORDVIKEN chair distributes weight evenly, and the angle helps maintain good posture while sitting through dinners or work-from-home afternoons. Ideal for dining-table setups, the simple white hue can mix and match with a variety of decor.
GRILLTIDER Apron
This apron, made from soft cotton, features practical pockets for small items: like your earbuds or dish towels. Its easy loops are perfect for hanging up the apron after use, and the adjustable neckband makes for a comfortable fit.
HULTARP Dish drainer
The HULTARP series offers smart solutions to small-space problems — like having tiny countertops, for example. This aesthetically pleasing dish drainer can hang on a wall or sit on the counter, since it features a removable tray to collect water droplets or splashes.
This advertising content was produced in collaboration between Vox Creative and our sponsor, without involvement from Vox Media editorial staff.